PLATFORM | ARTIFICIAL INTELLIGENCE
Generative AI for the contact center.
Embrace a new era of automation and Intelligence  for ultimate cost savings and operational excellence with contact center solutions powered by Talkdesk AI.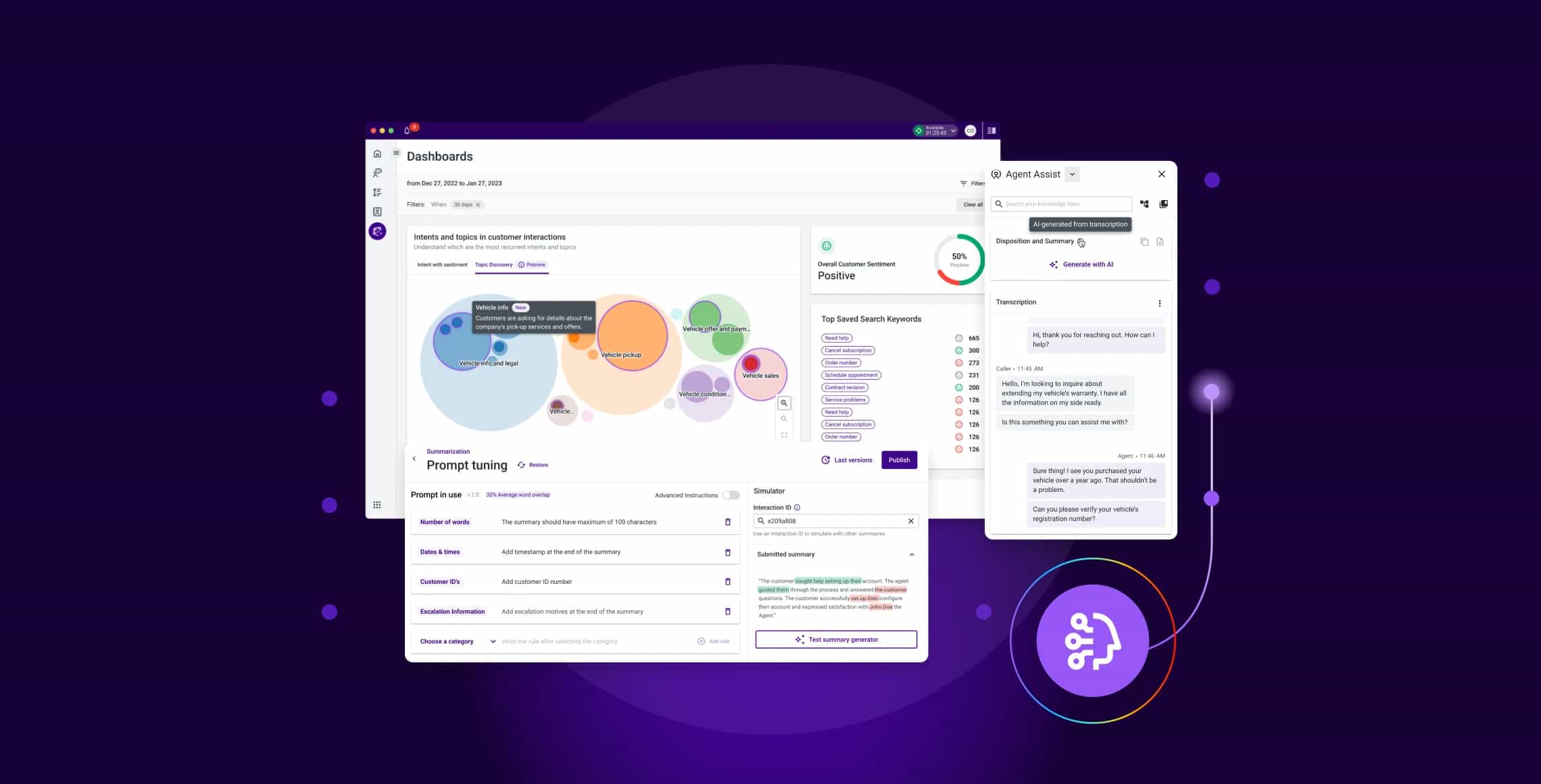 The intelligent foundation for modern customer experience.
We believe that better customer experiences start with artificial intelligence. With the help of AI, companies can not only respond to a customer's needs and wants seamlessly across channels with personalized, intelligent service, but also predict and prepare for their future needs and wants. These invaluable insights enable companies to really listen to their customers and make them feel more connected—improving customer experiences, reducing costs, and driving operational efficiencies.
AI that actually transforms your business.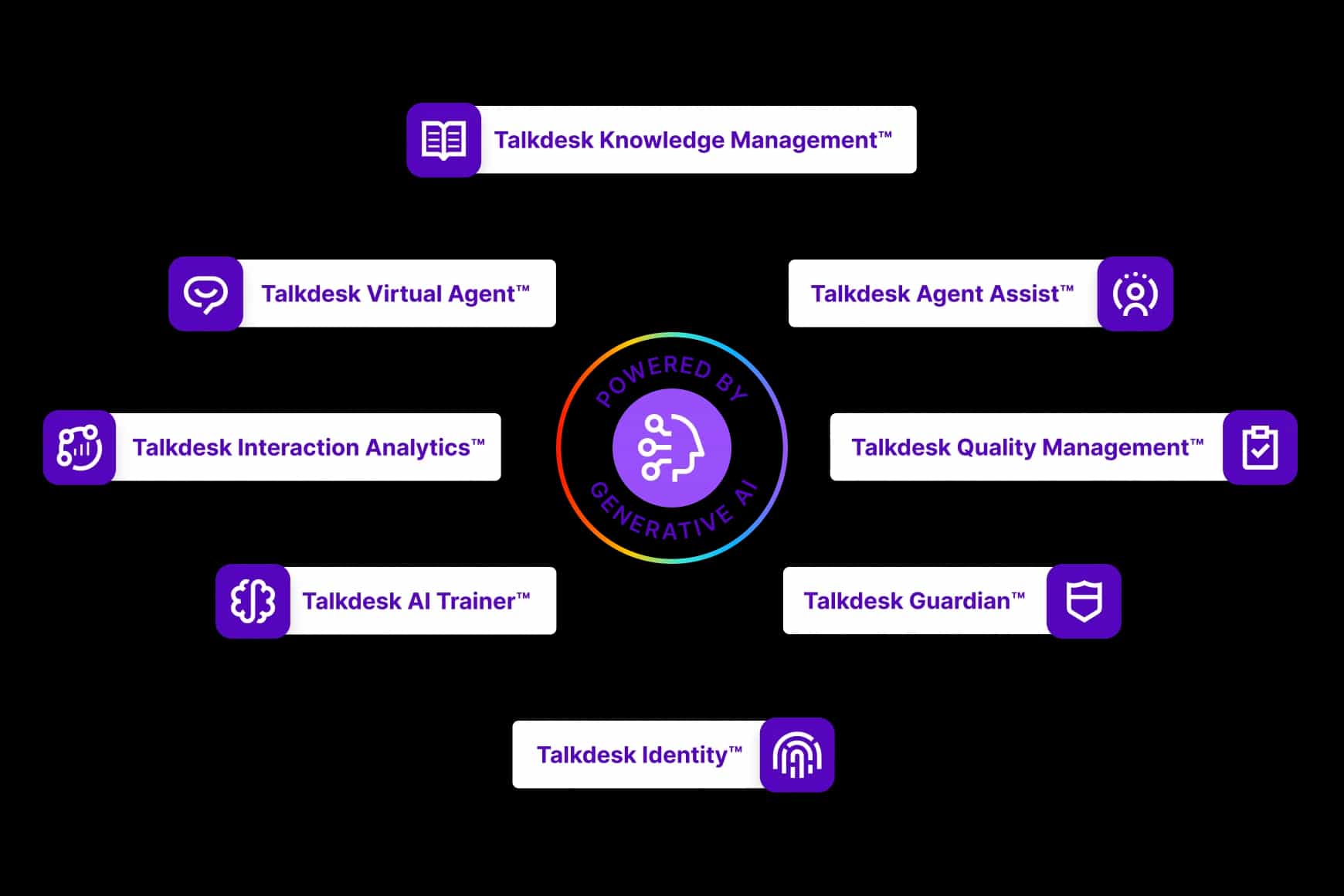 AI that actually delivers ROI without complexity.
We leverage AI to transform every step of the customer journey for a faster and more frictionless customer experience. Our CX Cloud™ and Industry Experience Clouds™ are supercharged with generative AI to automate customer self-service, empower agents, uncover hidden opportunities, and operationalize AI. We're putting powerful technology into the everyday tools that make customer service the best it can be.
AI that actually improves self-service rates.
Deliver precise responses 24/7 with our automated self-service solutions, now enhanced by GenAI. Use pre-built virtual agents, already designed for your industry's top use cases, or make your own in seconds—no manual scripting or designing required. When live help is needed, our bots seamlessly transition customers to live agents, complete with AI-generated notes.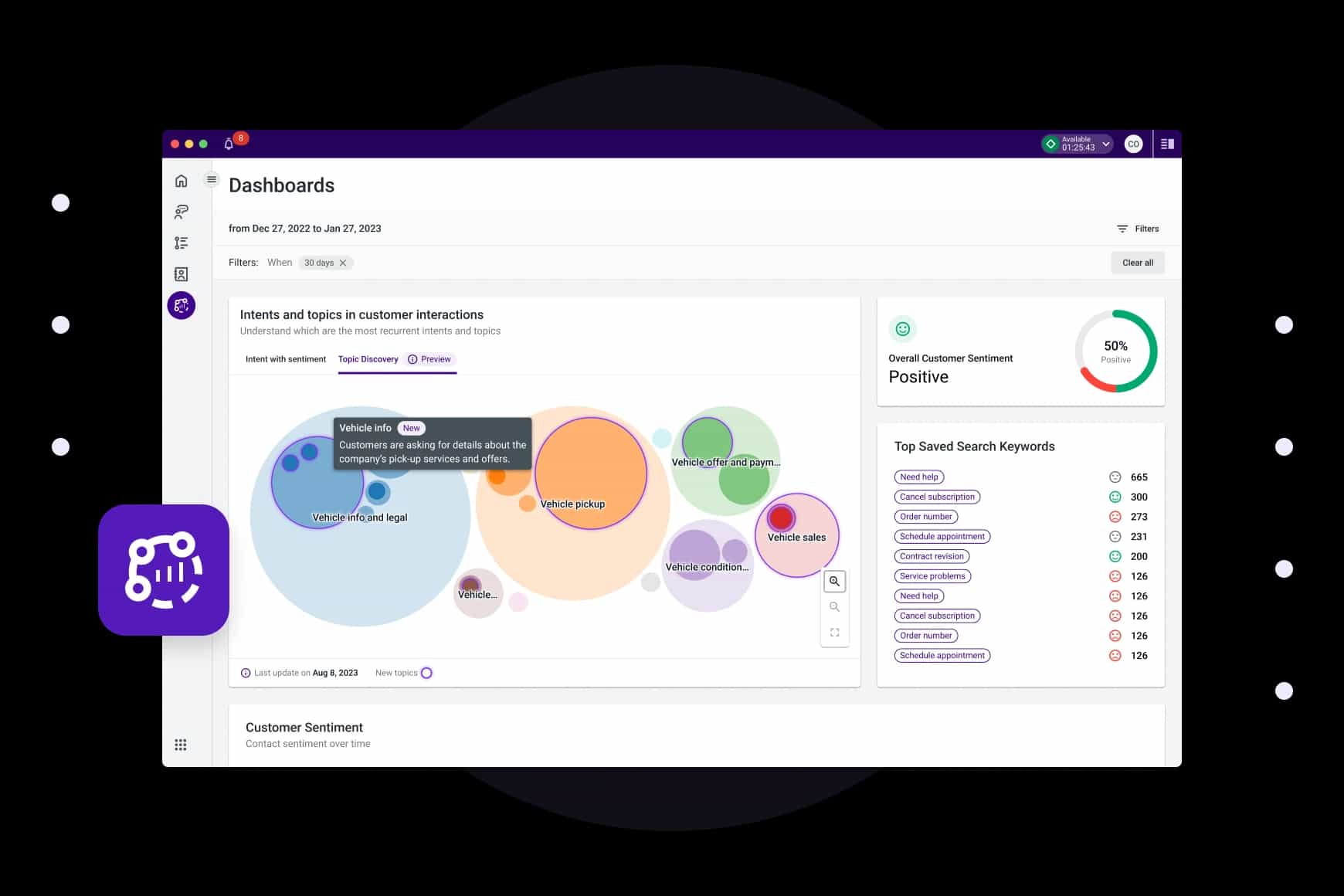 AI that actually reveals unknown unknowns.
Talkdesk Interaction Analytics™, powered by generative AI, captures and analyzes all customer interactions, revealing key trends, topics, and sentiment. This helps you understand customer intent, gain insights, and discover hidden opportunities.
AI that actually helps agents help customers.
Empower your service teams with Talkdesk Agent Assist™, a personalized AI assistant. It listens, learns, and delivers automated answers and recommendations in every conversation. Supercharged with generative AI, it reduces after-call work, speeds up handle times, and makes your agents' jobs easier.
AI that's actually safe and effective.
Talkdesk AI Trainer™, now with generative AI, lets non-technical staff build AI models in seconds. New dashboards and tooling enable you to predict, monitor, and control AI outcomes throughout your contact center.
"Every 1% penetration into my answering, into my contact rate, generates $1 million worth of revenue. That's multiple times higher than my annual cost of Talkdesk. It's not a cost center. It's a profit center."
Ken Cohen SVP Sales & Business Development at JK Moving
AI that actually drives continual improvement.
Talkdesk QM Assist™ augments your evaluation capabilities by adding AI and speech analytics to Talkdesk Quality Management™. Empower your supervisors and quality analysts with searchable transcripts, sentiment analysis, and end-to-end automated interaction scoring so they can spend more time coaching agents.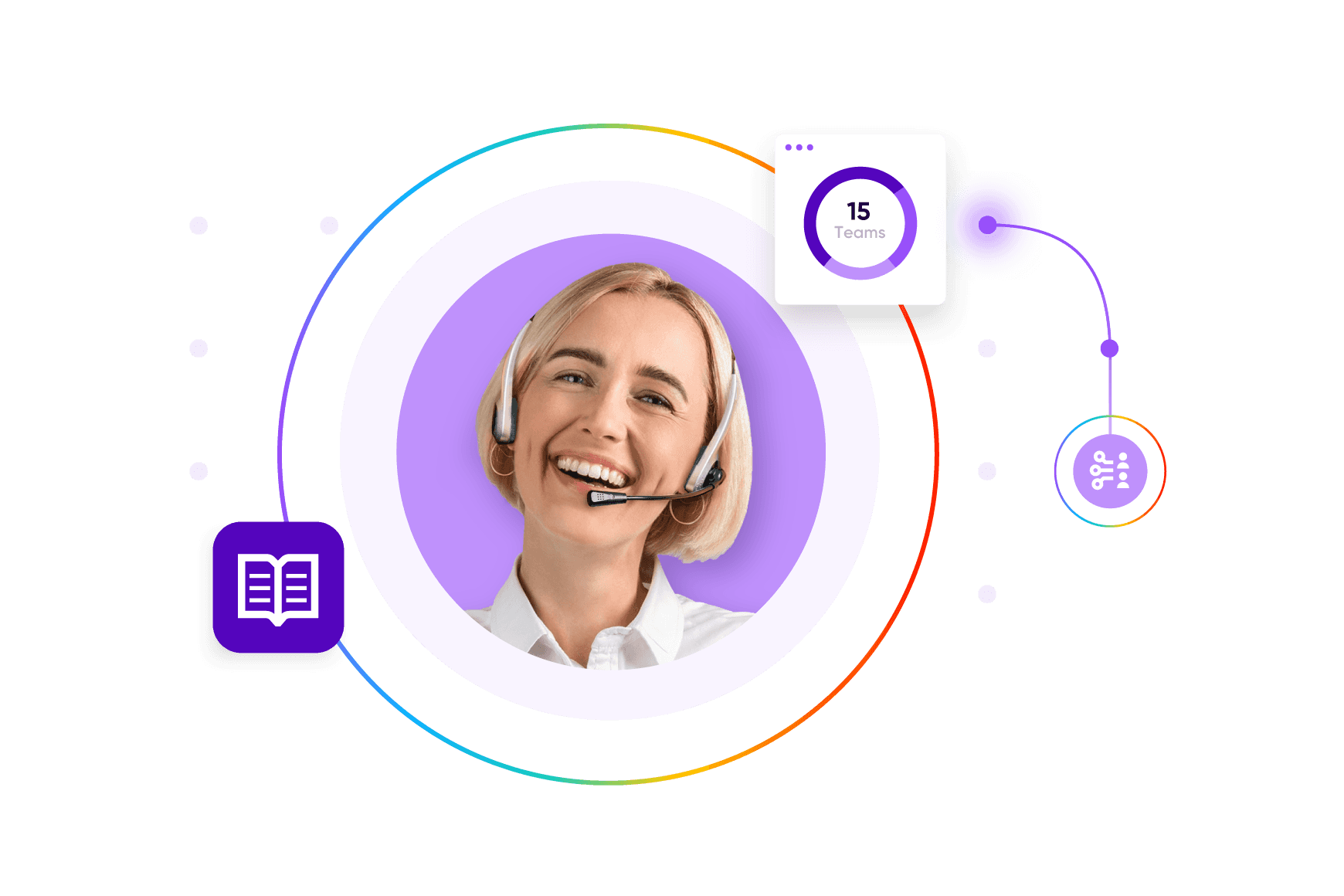 AI that actually gives answers, not articles.
Supercharge tools like Talkdesk Agent Assist™ and Virtual Agent™ with Talkdesk Knowledge Management™, now powered by generative AI. Equip agents and customers with concise answers, not lengthy articles, to speed up handle times and enhance employee and customer satisfaction.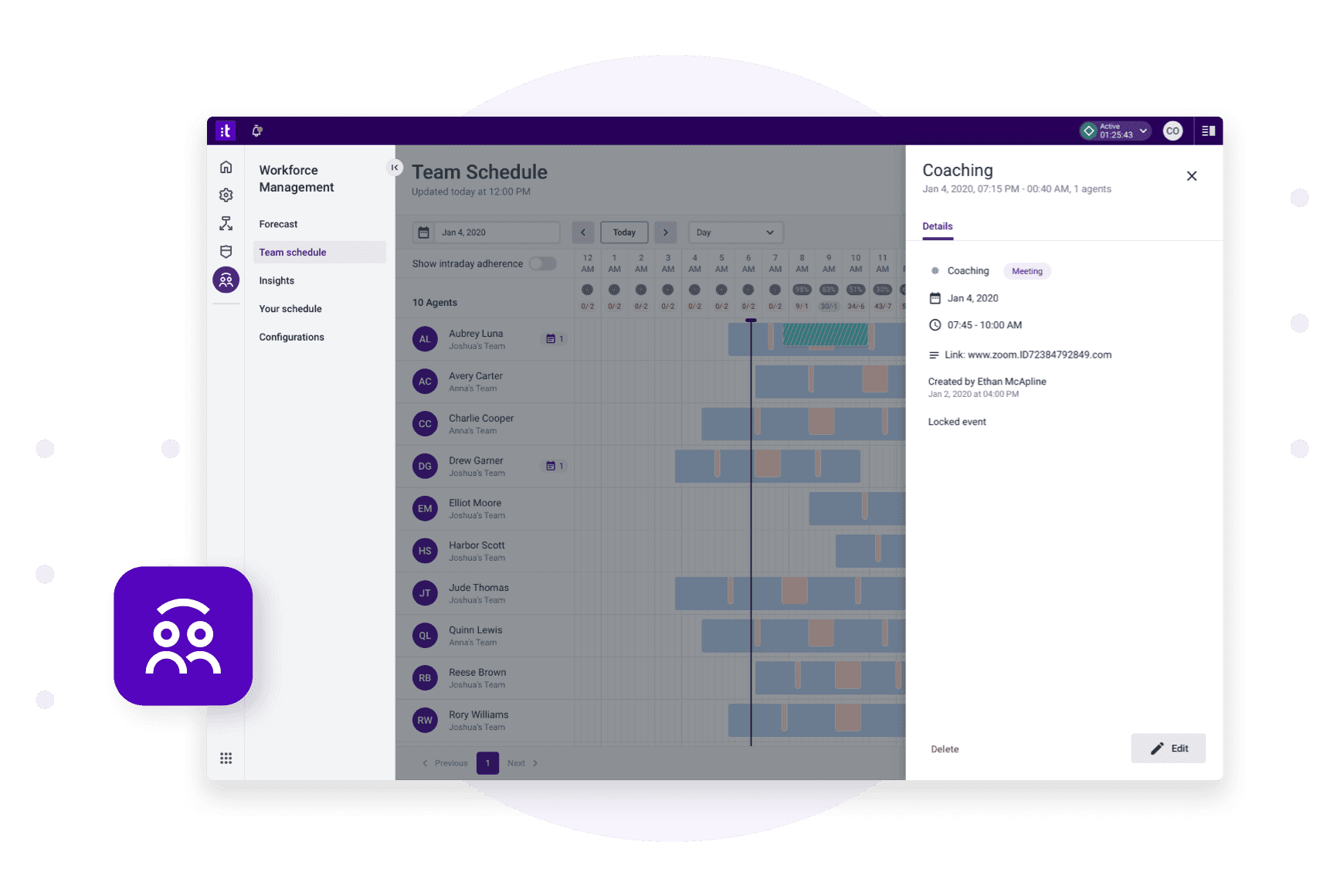 AI that actually optimizes your workforce.
Talkdesk Workforce Management™ combines powerful AI and automation with a remarkably intuitive user experience to help optimize staffing and scheduling decisions, reduce administrative effort, and deliver a better agent experience. It's part of Talkdesk Workforce Engagement Management™, an integrated suite of intelligent, intuitive solutions designed to help you manage, develop, and engage your agents throughout the employee lifecycle. A single cloud platform unifies your contact center and workforce engagement solutions, providing a seamless user experience for customer interactions, call recording, quality management, and scheduling.
AI that actually manages risk.
Take control of your remote and hybrid contact center workforce with an AI-driven cloud compliance solution to help mitigate the risk of a distributed workforce, including insider threats, negligence, and system performance issues with Talkdesk Guardian™. Ensure your remote workforce is not a drag on system performance and complies with business processes and regulations. Reroute calls to agents with the best connectivity and notify agents when they are engaging in abnormal or non-compliant behavior.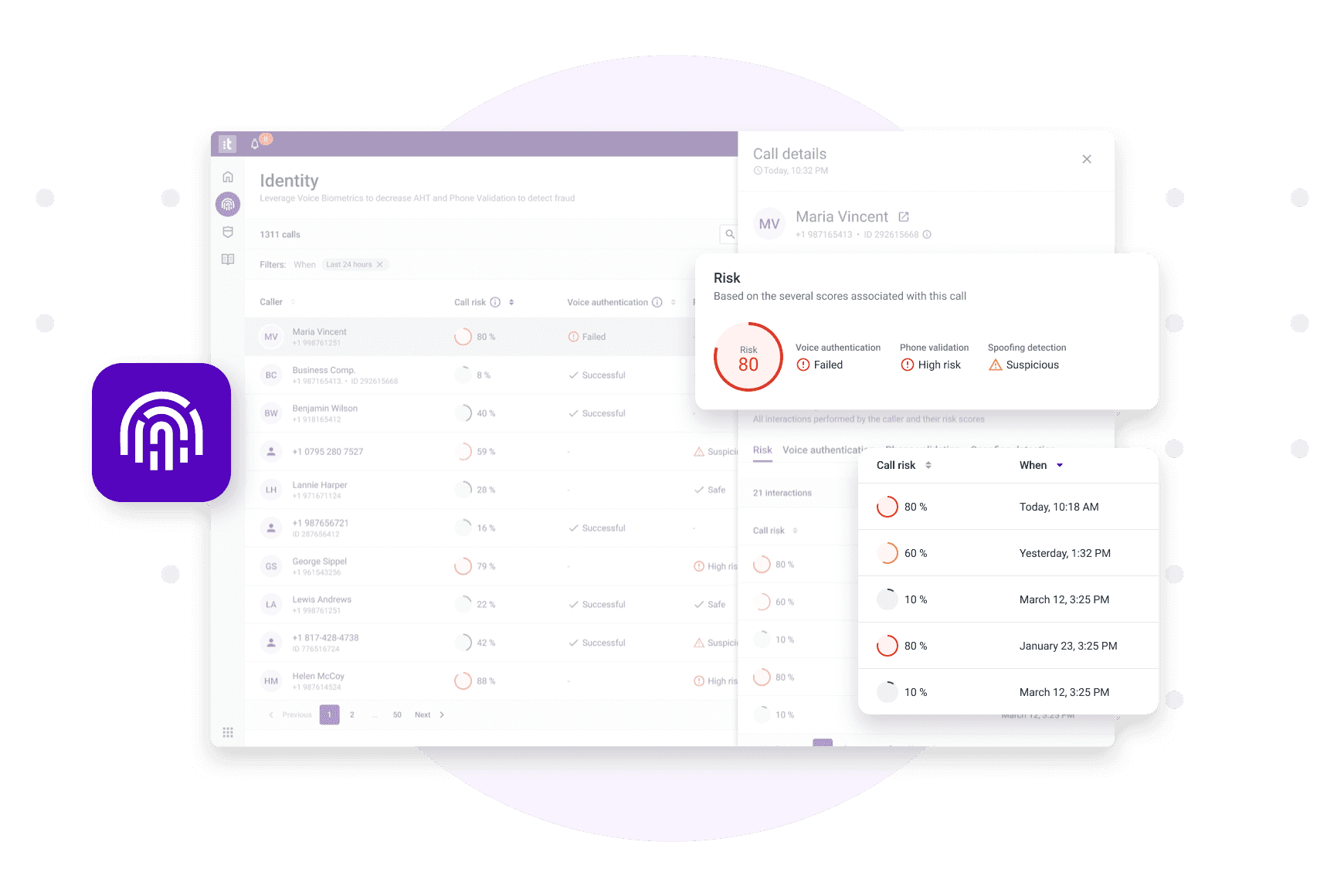 AI that actually combats fraud.
Make the authentication process faster and more convenient for customers with Talkdesk Identity™ self-service authentication, and reduce average handle time.
Automating every step of the customer journey giving customers better and faster answers.
What are some common applications of contact center AI?
Contact center AI has several different applications in contact centers. For example, AI-powered Agent Assistants provide agents with recommended next best steps for agents during customer interactions. AI can also be used for self-service authentication, which connects customers with agents faster. Additionally, contact centers use AI-powered sentiment analysis to capture, transcribe, and analyze agent-customer interactions to help managers understand areas for improvement.
How can AI contact center software streamline operations?
AI contact center software streamlines many common tasks and improves efficiency in contact centers. AI can analyze incoming customer interactions and route them to the most appropriate agent or department, reducing wait times and ensuring customers are connected to agents who can assist them efficiently. AI-powered chatbots can handle routine inquiries and provide instant responses 24/7. This allows human agents to focus on more complex issues and reduces the workload on the contact center, which ultimately reduces costs. Contact centers also use AI to streamline after call work and summarize customer interactions, including intent, outcome, disposition and next-best actions. Using generative AI, agents can automatically summarize every interaction, shaving 30-60 seconds off after-call work. These summaries are critical for the next agent who may have a follow-up conversation with the same customer.
What are the features of Talkdesk AI contact center software?
Talkdesk AI contact center software has several industry-leading features that empower CX leaders to reduce agent attrition, streamline operations, reduce costs, and generate more revenue:
Agent Assist leverages AI and machine learning for real-time call transcriptions, contextualized quick answers, next-best action recommendations, and automated pre-call, on-call, and post-call work.
Automatic Summary uses the same generative AI that powers ChatGPT to  automatically summarize every interaction, shaving 30-60 seconds off after-call work with just one click.
QM Assist uses AI to analyze agent interactions and identify the insights needed to coach more effectively, engage the workforce, and retain top talent.
Interaction Analytics transcribes and analyzes customer interactions and identifies key conversation topics and sentiment to uncover trends and provide actionable insights for contact centers.  
Virtual Agent is an AI-powered automated agent for customer self-service, available 24/7 to respond to customer inquiries through both voice and digital channels, reducing agent workload and resolving more customer questions and needs without requiring live agent support.
Talkdesk Identity™ quickly and securely verifies caller identity with voice biometrics, connecting customers with agents faster with real-time, self-service authentication. 
Talkdesk Workforce Management combines powerful artificial intelligence and automation with a remarkably intuitive user experience to help supervisors optimize staffing and scheduling decisions, reduce administrative effort, and deliver a better experience for agents.
Want to see these features in action? Request a demo today and see each of these features help contact centers deliver exceptional CX.
Please wait while we validate your privacy settings.