Take Talkdesk and GenAI for a spin!
Discover the possibilities of Talkdesk cloud contact center products with instant, self-guided demos.
What's it like to use Talkdesk?
At Talkdesk, we help enterprises improve customer service, increase efficiency, and grow revenue with an AI-powered cloud contact center platform that provides applications for omnichannel engagement, customer experience analytics, self-service, workforce engagement, and employee collaboration.
All of these applications are native on our open platform with a shared set of services including a common data model, reporting, dashboards, workflows, AI & automations for faster time-to-value and reduced TCO. An intuitive "single pane of glass," provides streamlined workflows and rich customer context that empowers agents to work more efficiently and effectively.
Talkdesk Industry Experience Clouds™ are purpose-built to meet specific vertical needs and bring business value from day one for healthcare providers, banking, insurance, and retail.
Access all of our self-guided demos now or jump to a specific section and choose the experience that's right for you.
0
contact center problems solved
Proven to help companies modernize customer service.
See how to drive engagement throughout the employee lifecycle with Agent, Supervisor, and Manager interactive demos.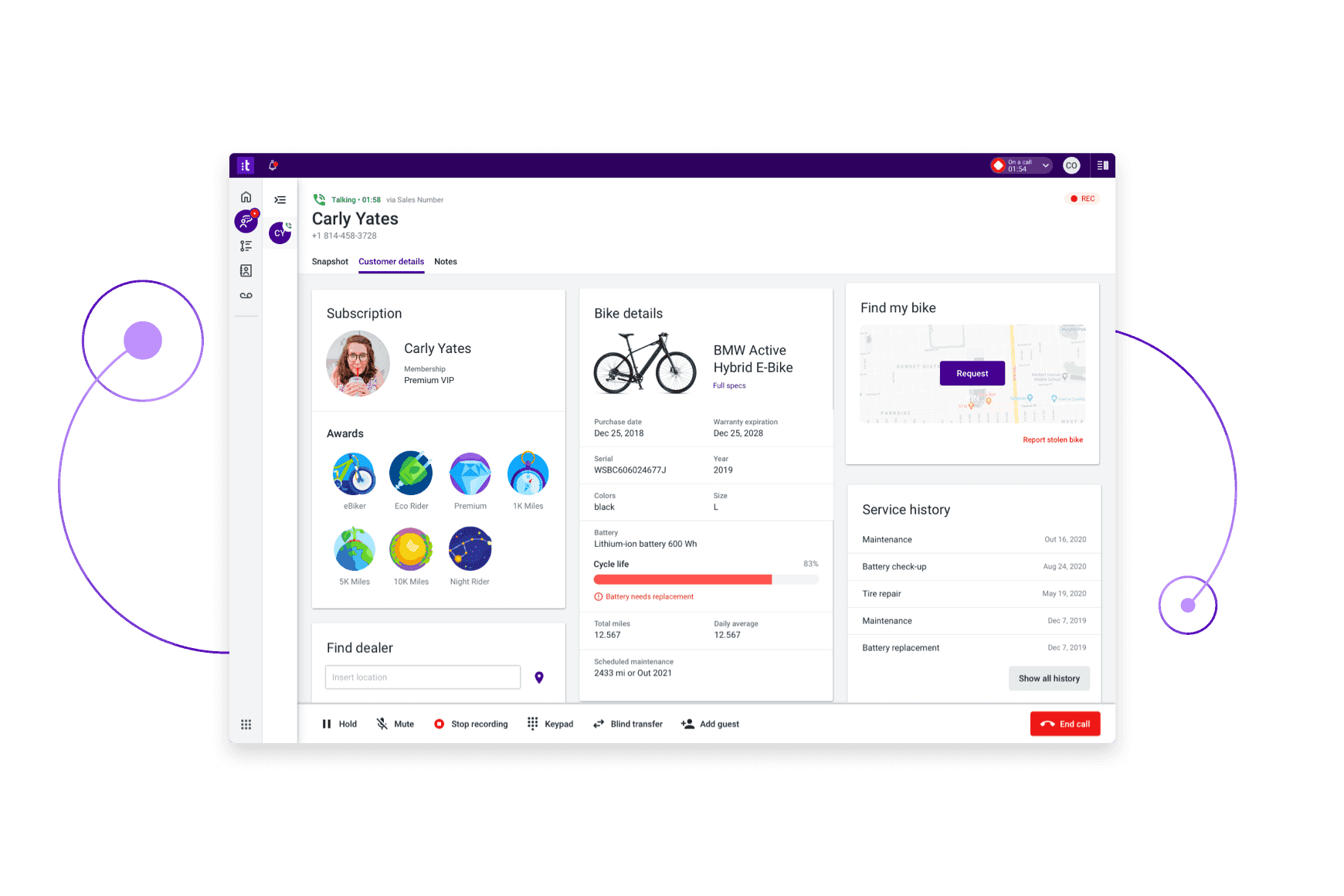 OMNICHANNEL AGENT EXPERIENCE
Empower agents to deliver exceptional customer service.
Are you a contact center leader who wants to empower their agents to deliver exceptional omnichannel customer service? Empower your agents with an intuitive "single pane of glass," to connect with customers on any channel and elevate and continue conversations between channels while maintaining context throughout, creating a better experience for both your customers and your agents.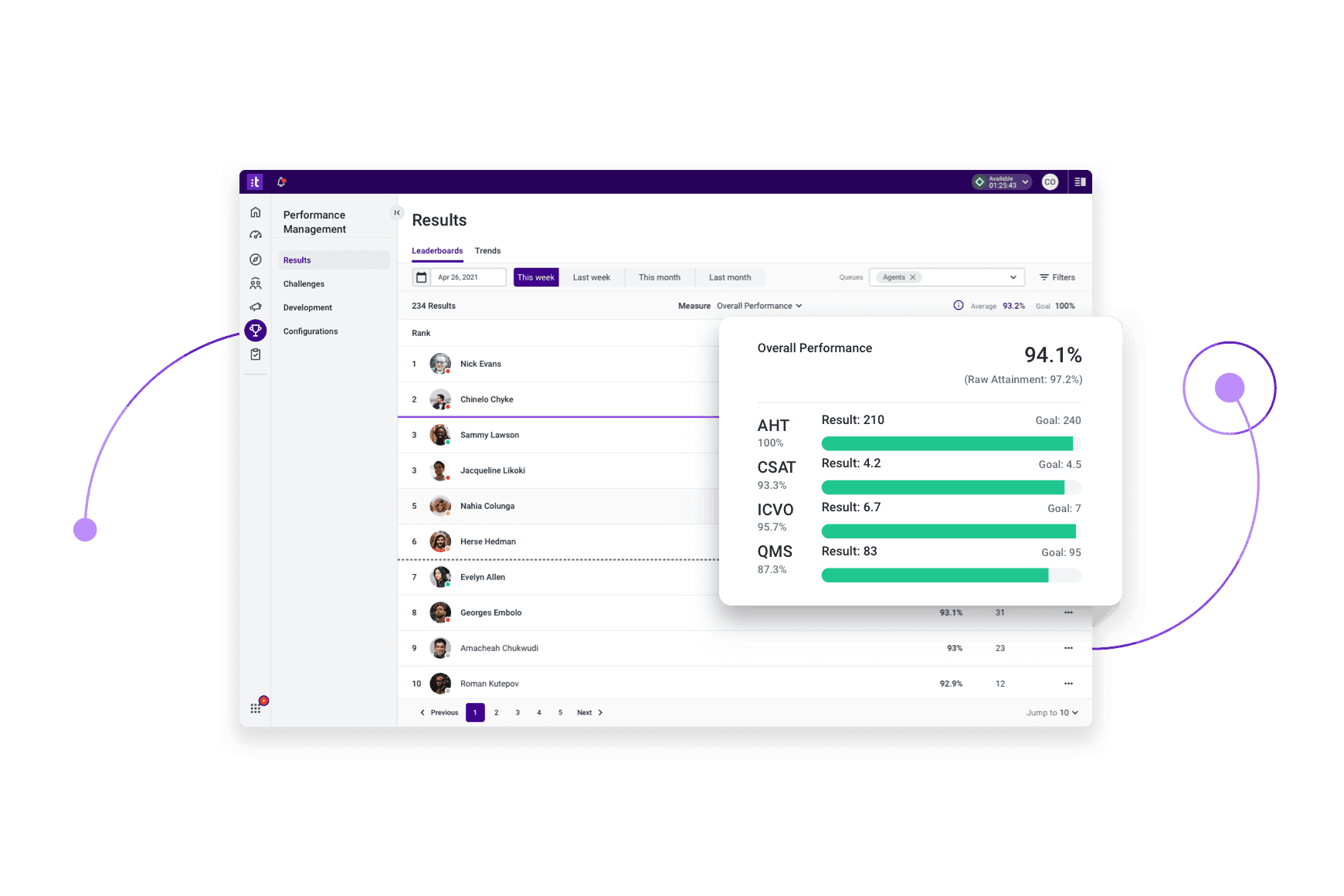 COACHING & PERFORMANCE DEVELOPMENT EXPERIENCE
Develop teams that deliver exceptional customer service.
Are you a contact center leader looking to better analyze agent performance, discover new opportunities for improvement, and provide personalized coaching to address skill and knowledge gaps? Talkdesk Quality Management and Talkdesk Performance Management provide powerful insights, actionable feedback, and engaging gamification so you can ensure that every agent is empowered and motivated to succeed — at scale.
PROACTIVE OUTBOUND ENGAGEMENT
Maximize productivity with predictive dialing.
Are you looking to improve agent connect rates and drive better customer connection? Talkdesk Proactive Outbound Engagement helps you intelligently pace outbound call volume and filter out unproductive calls, increasing the number of outbound calls by 200-300%.
Explore interactive demos on how our AI-powered platform helps contact centers reduce support costs, enhance service quality, and increase agent efficiency.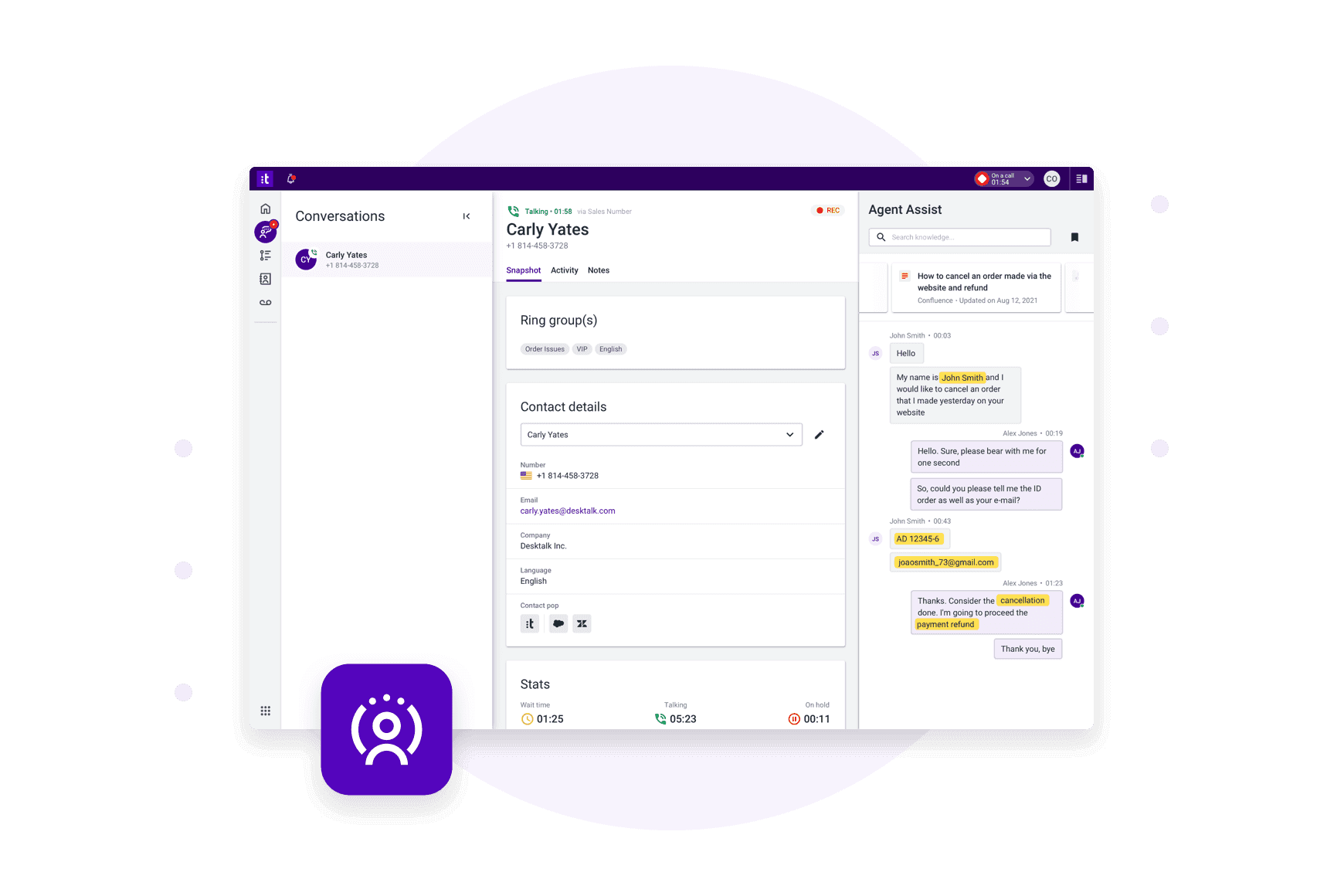 AI FOR AGENT ASSISTANCE
Help agents resolve issues quickly & correctly.
Are you a service and support leader who wants your agents to be able to resolve customer issues quickly and correctly? Talkdesk Agent Assist empowers your agents by providing them with automated assistance, contextual recommendations, and next best actions during live calls and digital chat interactions.
AI FOR AGENT ASSISTANCE
Speed up after-call-work with Agent Assist GPT-powered Automatic Summary.
Are you looking to increase agent efficiency by automatically summarizing customer interactions, including intent, outcome, disposition and next-best actions? Using the same generative AI that powers ChatGPT, Talkdesk Agent Assist Automatic Summary allows agents to automatically summarize every interaction, shaving 30-60 seconds off after-call work with just one click.
AI FOR CUSTOMER SELF-SERVICE
Increase customer self-service rate.
Are you looking for a cost-effective and scalable self-service solution — especially one that delivers human-like support 24/7? Talkdesk Virtual Agent is an AI-powered customer assistant that delivers the answers customers need, whenever they need them, through two-way natural dialogue on voice and digital chat channels.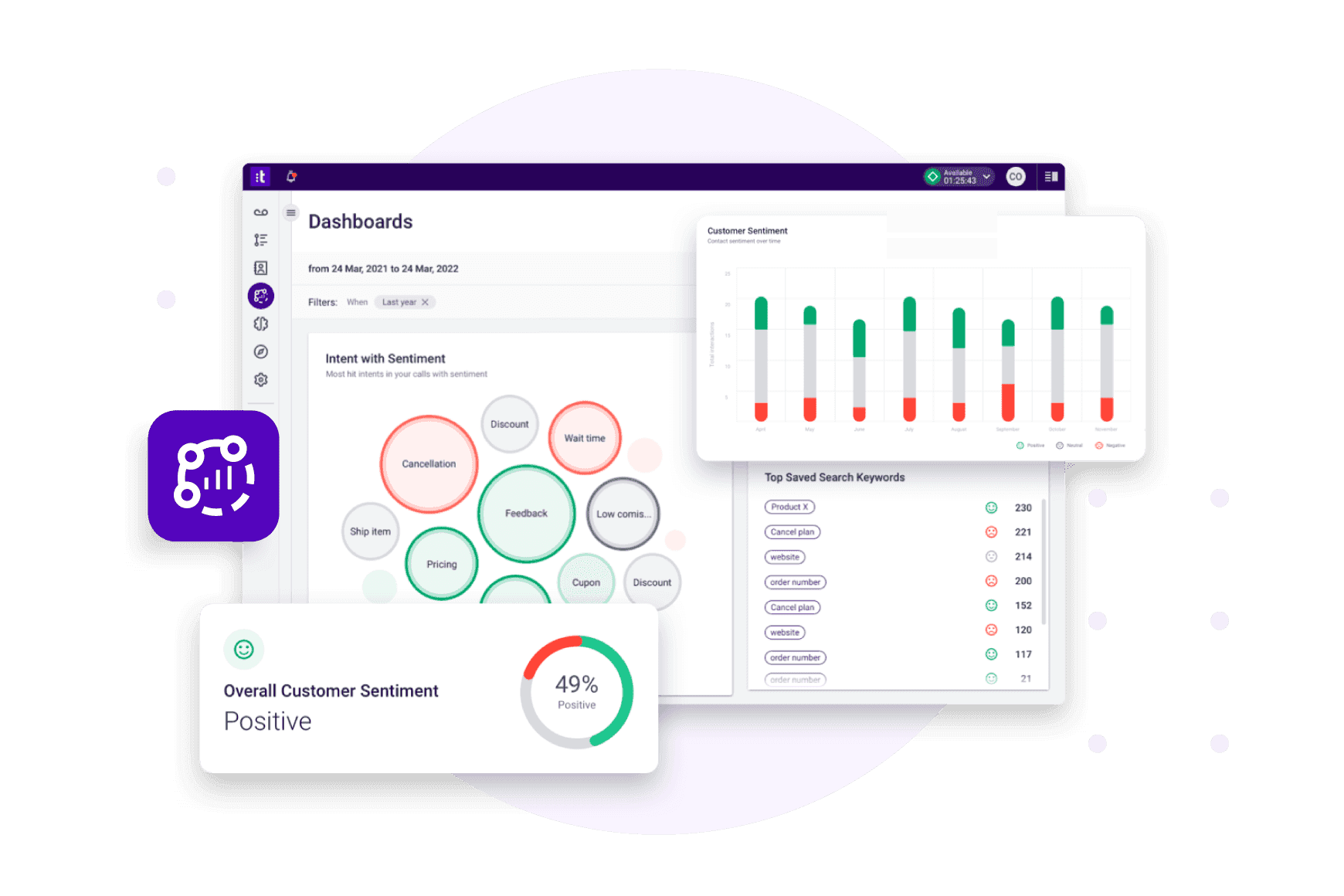 AI FOR CX ANALYTICS
Identify causes of customer issues.
Are you looking for a way to give actionable insights to your contact center team? Talkdesk Customer Experience Analytics helps you automatically identify and discover unknown customer pain points, analyze the root causes of both positive and negative sentiment, and address agent skill and knowledge gaps at scale.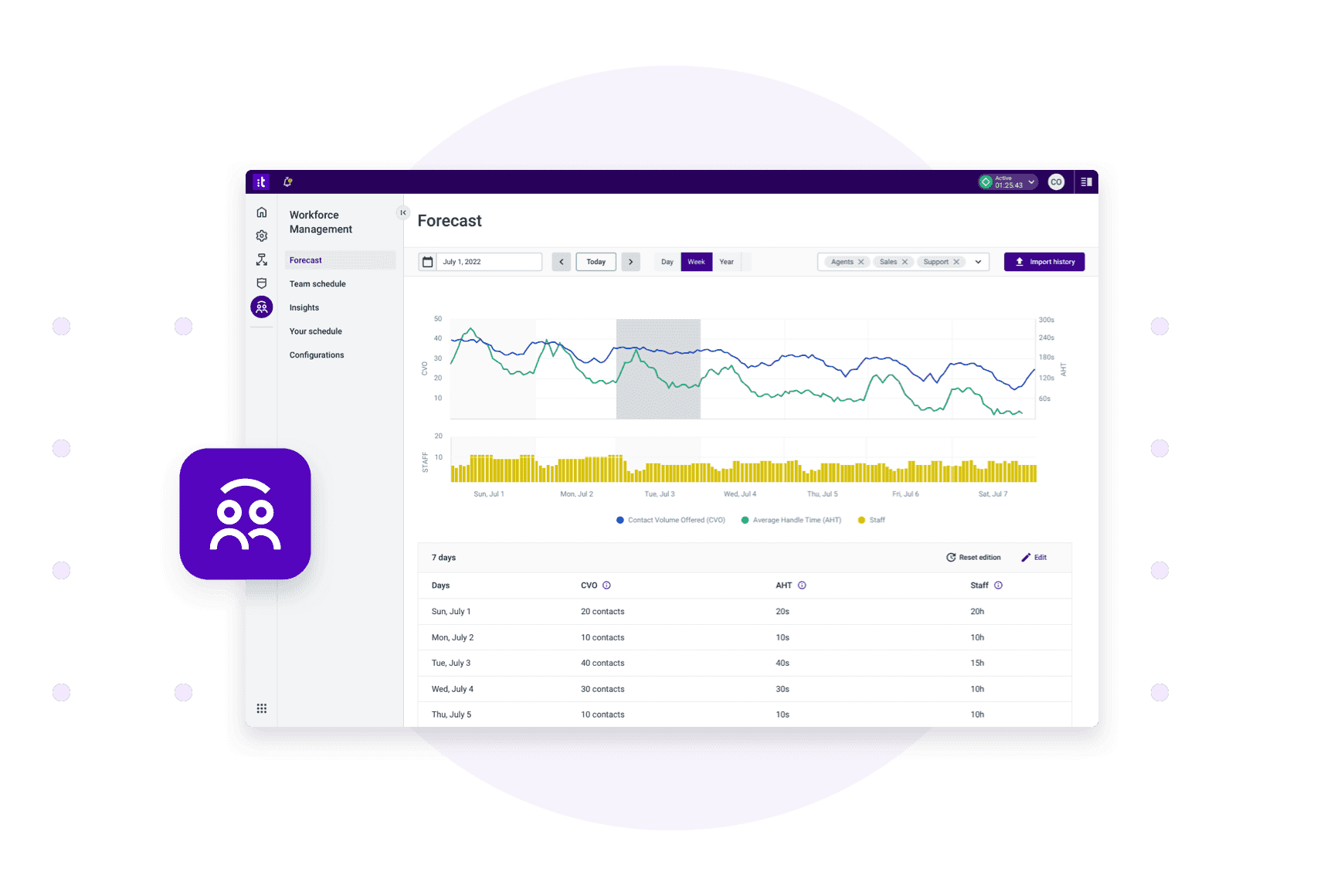 AI FOR WORKFORCE MANAGEMENT
Optimize resources against demand and improve agent performance.
Are you interested in optimizing staffing and scheduling? Talkdesk Workforce Management leverages intelligent automations to help you accurately forecast customer demand, generate skills-based schedules to meet KPI goals, and also provide agents a flexible, intuitive way to manage their schedules and change requests.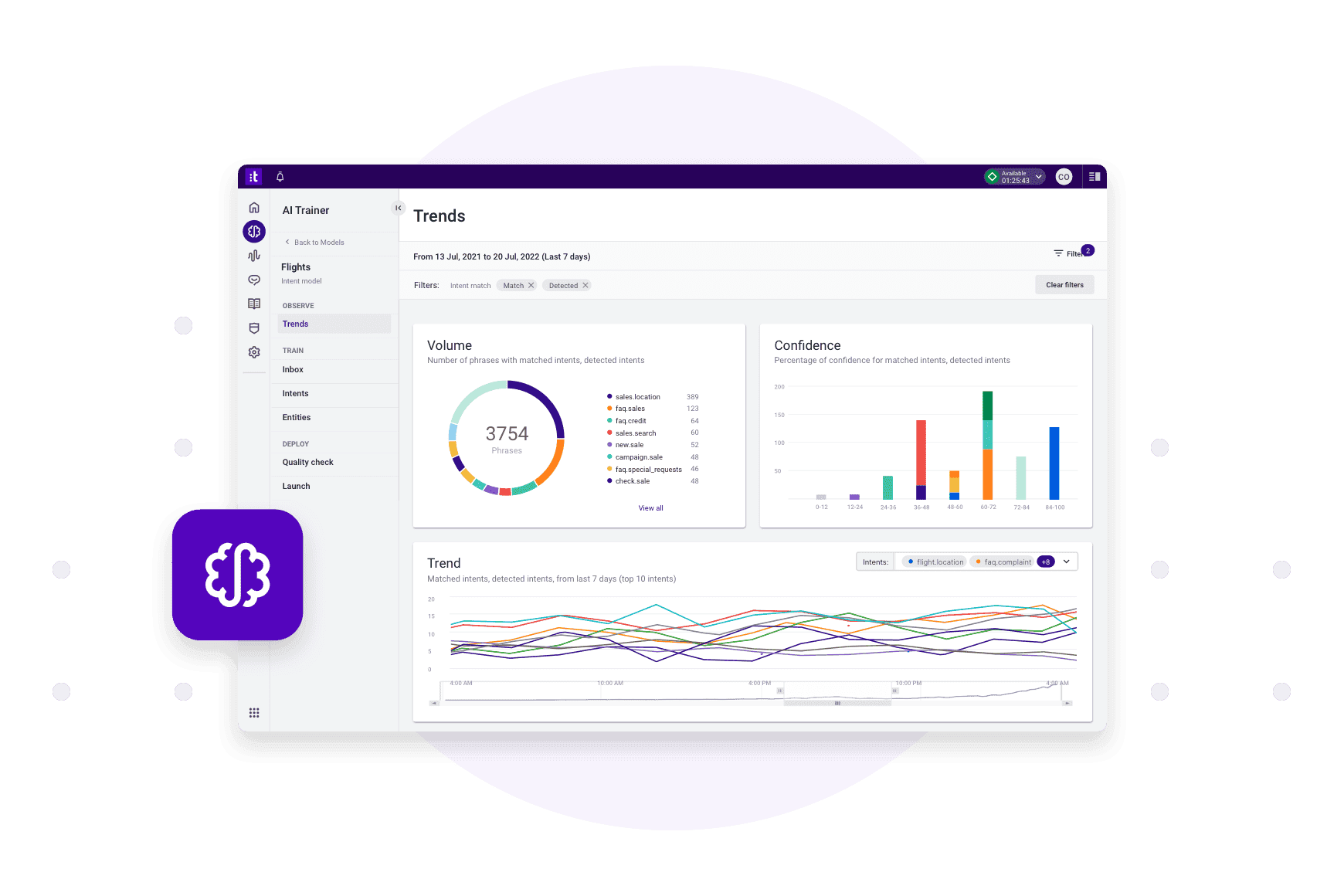 TALKDESK AI TRAINER
Automation made better with human-in-the-loop technology.
Are you a contact center leader looking to successfully resolve more cases through automation? With Talkdesk AI Trainer non-technical customer service staff can easily apply their practical expertise to continuously improve AI models powering automations in the contact center—increasing customer satisfaction and decreasing cost per case.
Explore interactive demos of Industry Experience Clouds and see how they bring business value from day one.
Award-winning CCaaS purpose-built for industry needs.
RETAIL EXPERIENCE CLOUD™
Drive brand loyalty and customer lifetime value.
Are you trying to get more visibility into the customer journey and give teams better tools to provide concierge-like service across voice and digital channels?  See how a unified view of customer interactions integrated with order data can make it easy to help speed up conversations around order tracking or returns.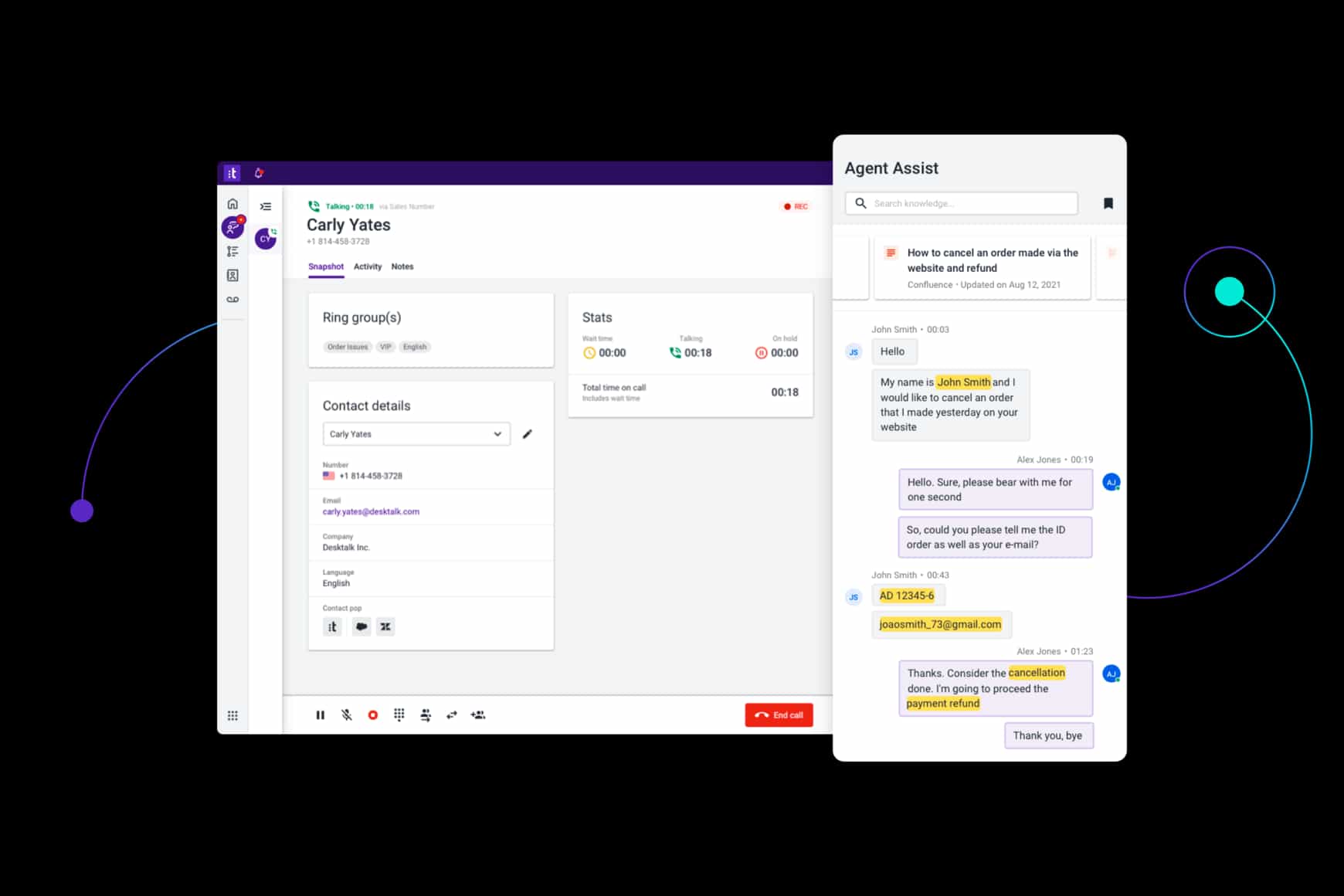 HEALTHCARE EXPERIENCE CLOUD™ FOR PROVIDERS
Deliver a differentiated patient journey.
Is your organization engaging patients across channels, departments, and topics —before, between, and after visits? Discover how contact center integration with the EHR, combined with provider workflows, can make patient interactions synchronized, personalized, and convenient.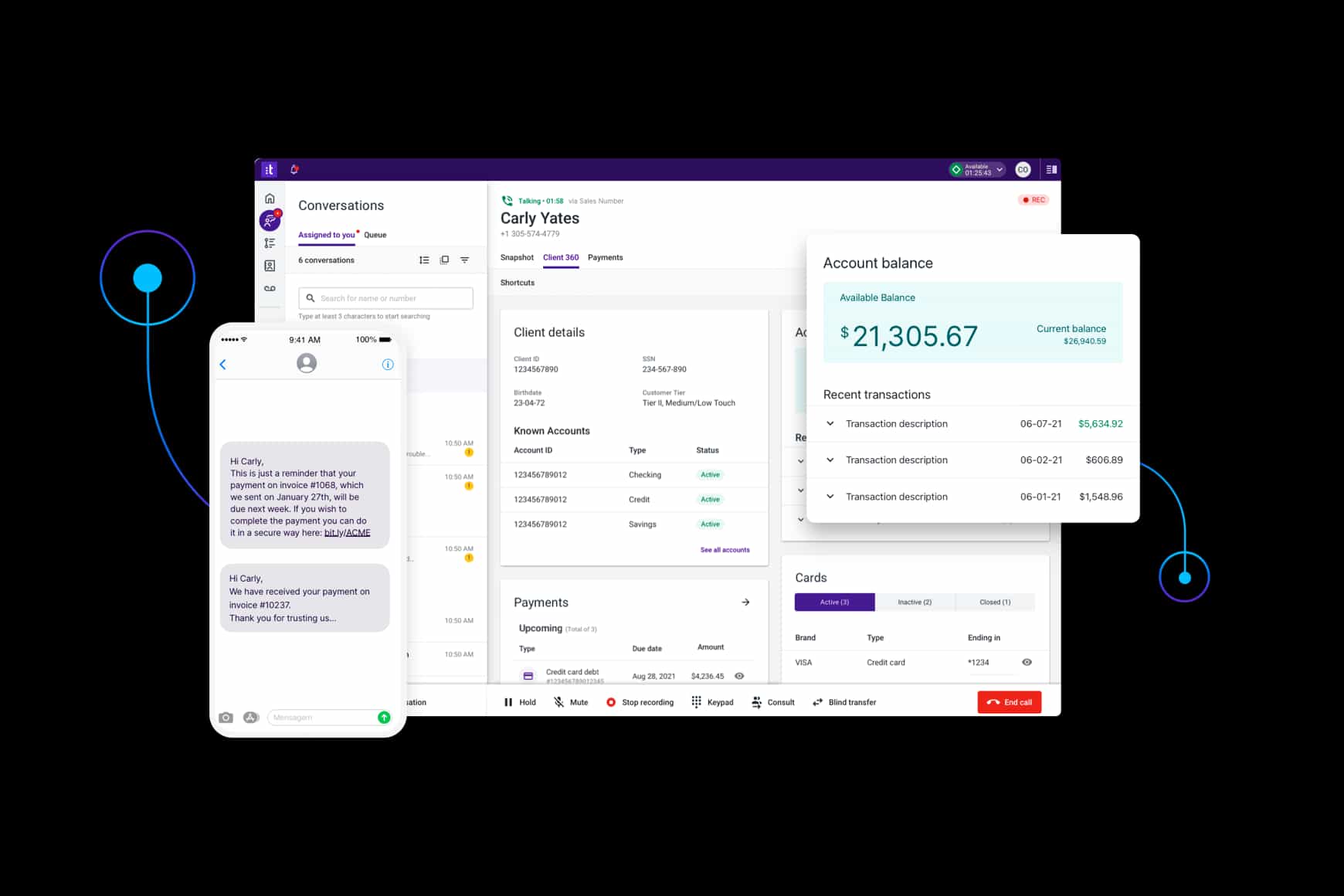 FINANCIAL SERVICES EXPERIENCE CLOUD™ FOR BANKING
Deliver client service that's seamless, personalized, and trusted.
Do you need a way to unify the client or member journey across digital touchpoints, physical branches, and different departments? See how out-of-the-box integrations, artificial intelligence, and voice biometrics can transform your clients' experience.
See how Talkdesk brings low-code and no-code to the contact center with Talkdesk Builder interactive demos.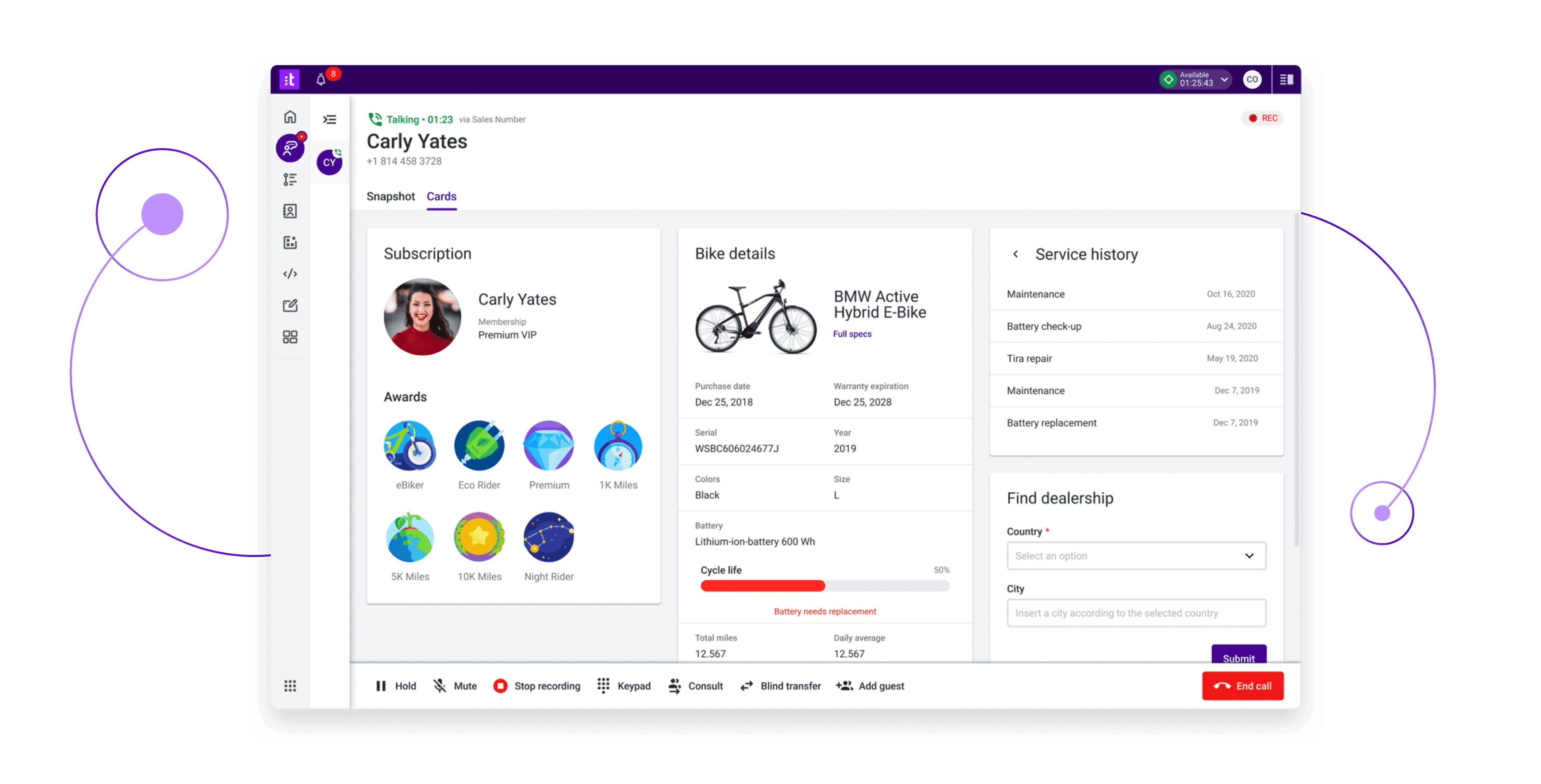 WORKSPACE DESIGNER
Create a custom user interface in minutes.
Are you wanting to customize the ideal interface for every role in your contact center—with minimal IT and engineering support? With Talkdesk Workspace Designer you can rapidly build, expand, and create custom user interfaces in minutes through a low-code and no-code development tool.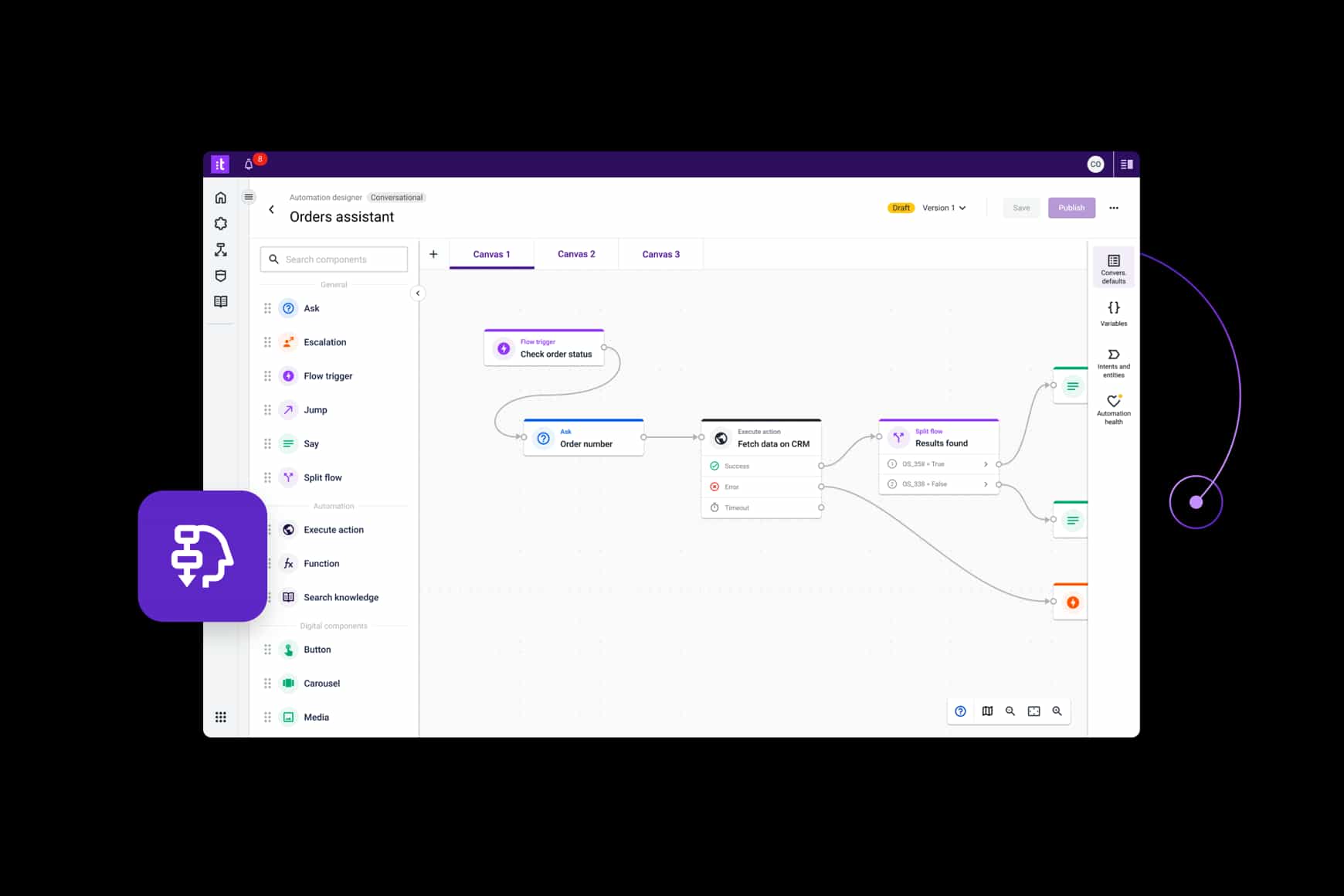 AUTOMATION DESIGNER
Design and build automations quickly.
Are you looking for a way to allow your frontline teams to create customer-centric automations? Talkdesk Automation Designer comes with a no-code visual interface, making it easier for any business user, including frontline staff, to design automations specific to their role in the contact center.
See interactive demos of how Talkdesk optimizes your existing technology investments with pre-built integrations.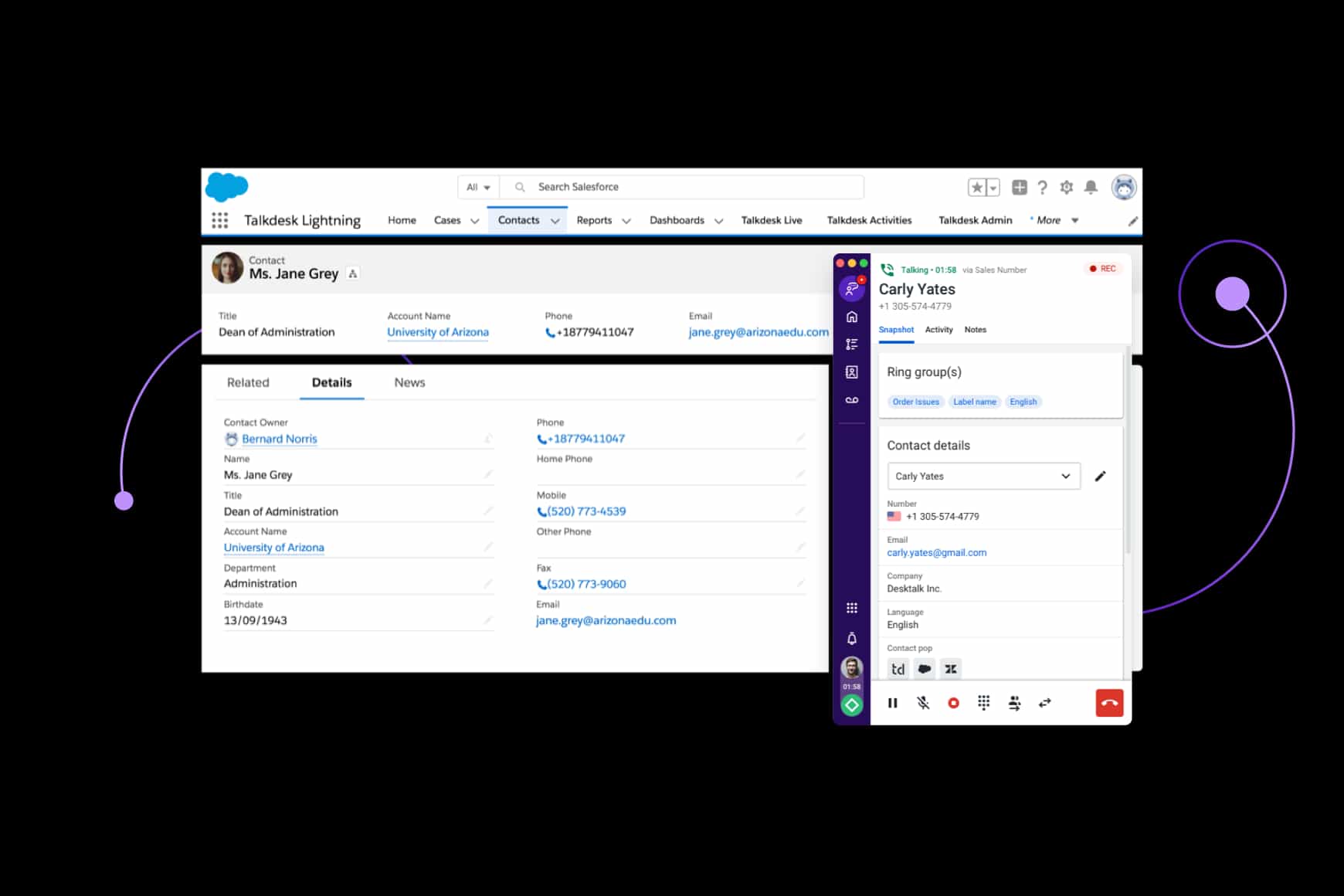 TALKDESK FOR SALESFORCE
Improve CRM with full contact center functionality inside Salesforce with Talkdesk for Salesforce.
Are you looking for full contact center functionality inside Salesforce? Connecting to your CRM is key for great customer experiences and agent efficiency. Talkdesk adds complete contact center functionality to the Salesforce experience. Leverage the deepest Salesforce integration in the industry to work smarter and communicate more effectively within Salesforce.
TALKDESK FOR SERVICE CLOUD VOICE
Deliver exceptional customer service with Talkdesk for Service Cloud Voice.
Do you need an all-in-one CRM and contact center solution that joins phone, digital channels, and CRM data seamlessly within the Service Cloud console? Take advantage of Talkdesk's out-of-the-box integration to Service Cloud Voice with global reach, fast time-to-market and robust functionality embedded within the Service Cloud UI and leverage a centralized source of truth to deliver exceptional customer experiences.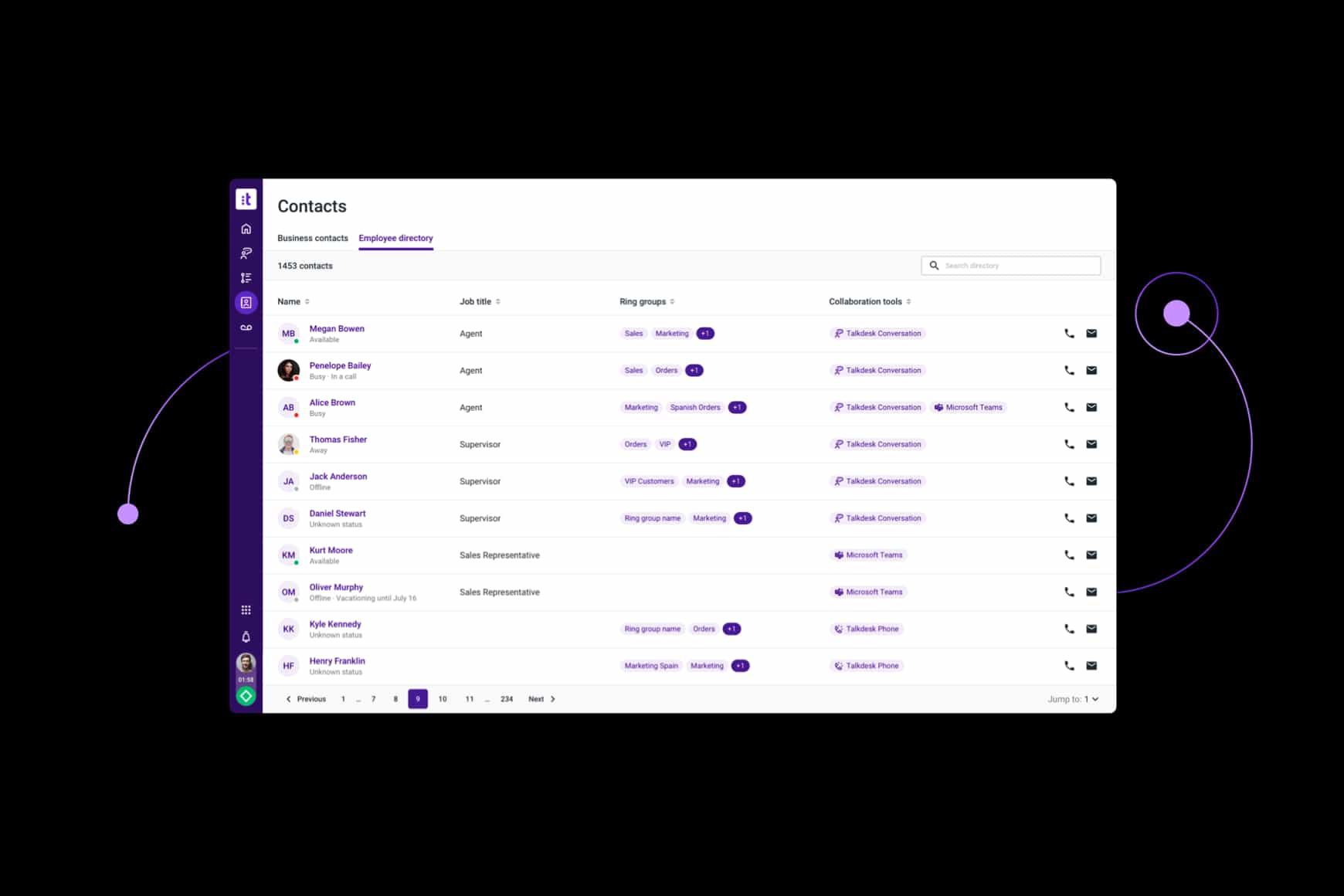 TALKDESK MICROSOFT TEAMS CONNECTOR
Connect your contact center with the rest of your enterprise with Talkdesk for Microsoft Teams.
Are you an IT leader looking to integrate Microsoft Teams with Talkdesk? The certified Talkdesk Microsoft Teams Connector enables collaboration between your contact center agents and allows subject matter experts across the entire organization to work together to provide the best customer experience.
Please wait while we validate your privacy settings.