Cloud Contact Center Software
Talkdesk AI-powered cloud contact center for enterprises of all sizes.
Deliver exceptional customer experiences with the cloud contact center platform built for your industry, now powered by generative AI.
End bad customer service, with Talkdesk AI.
Talkdesk helps enterprises deliver modern customer experiences their way. Our trusted, flexible, and innovative cloud contact center platform leverages generative AI and automation to drive exceptional outcomes for their customers and improve the bottom line.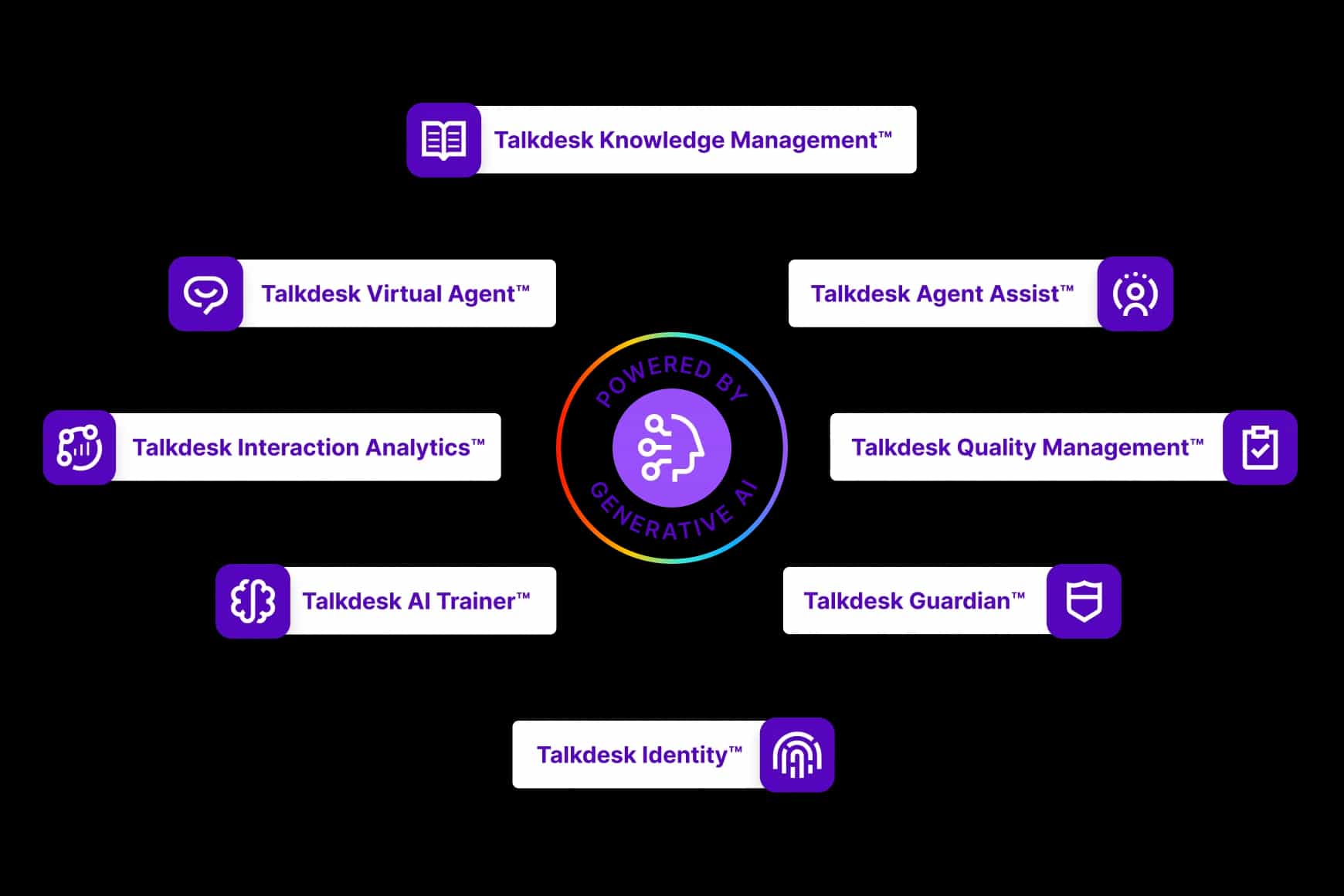 Automate every step of the customer journey.
We believe that better customer experiences start with AI. Our Talkdesk CX Cloud™ and Industry Experience Cloud™ platforms include generative-AI powered apps that automate customer self-service, empower agents, mitigate fraud, and operationalize AI. We're putting powerful technology into the everyday tools that make customer service the best it can be.
Hear how Talkdesk delivered for Home Trust.
Talkdesk cloud contact center helps enterprises deliver modern customer service their way.
Talkdesk CX Cloud helps enterprises deliver modern customer service their way with applications for customer self-service, omnichannel engagement, workforce engagement, employee collaboration, and customer experience analytics.
Talkdesk Experience Clouds are pre-built for your industry so you get value from day one.
We know that every industry is unique. That's why we offer industry-specific cloud contact center products that are pre-integrated with core industry systems, pre-designed with custom workflows and automation, and pre-trained with AI for industry expertise. Turnkey bots deflect calls and handle your most common customer service use cases. Business processes are pre-built to automate agent tasks and make complex workflows more efficient. No-code tools enable flexibility to configure and optimize the system as needed without requiring you to build the basics from scratch.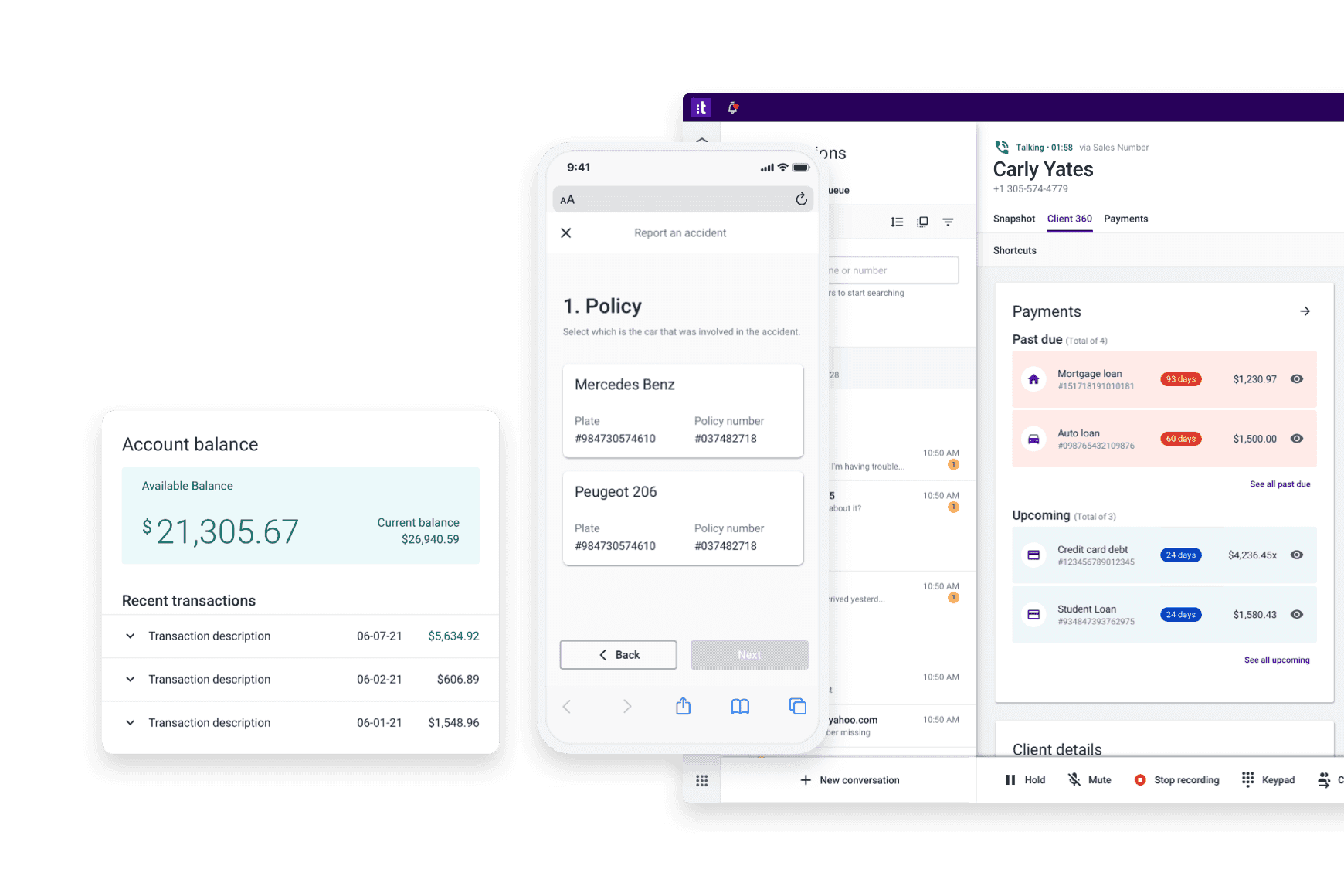 Financial Services Experience Cloud.
For banking
Designed to meet the unique CX needs of banks, including account servicing, lending, payments, and collections.
For insurance
Purpose-built to unify the customer journey across policy servicing, claims, and new business.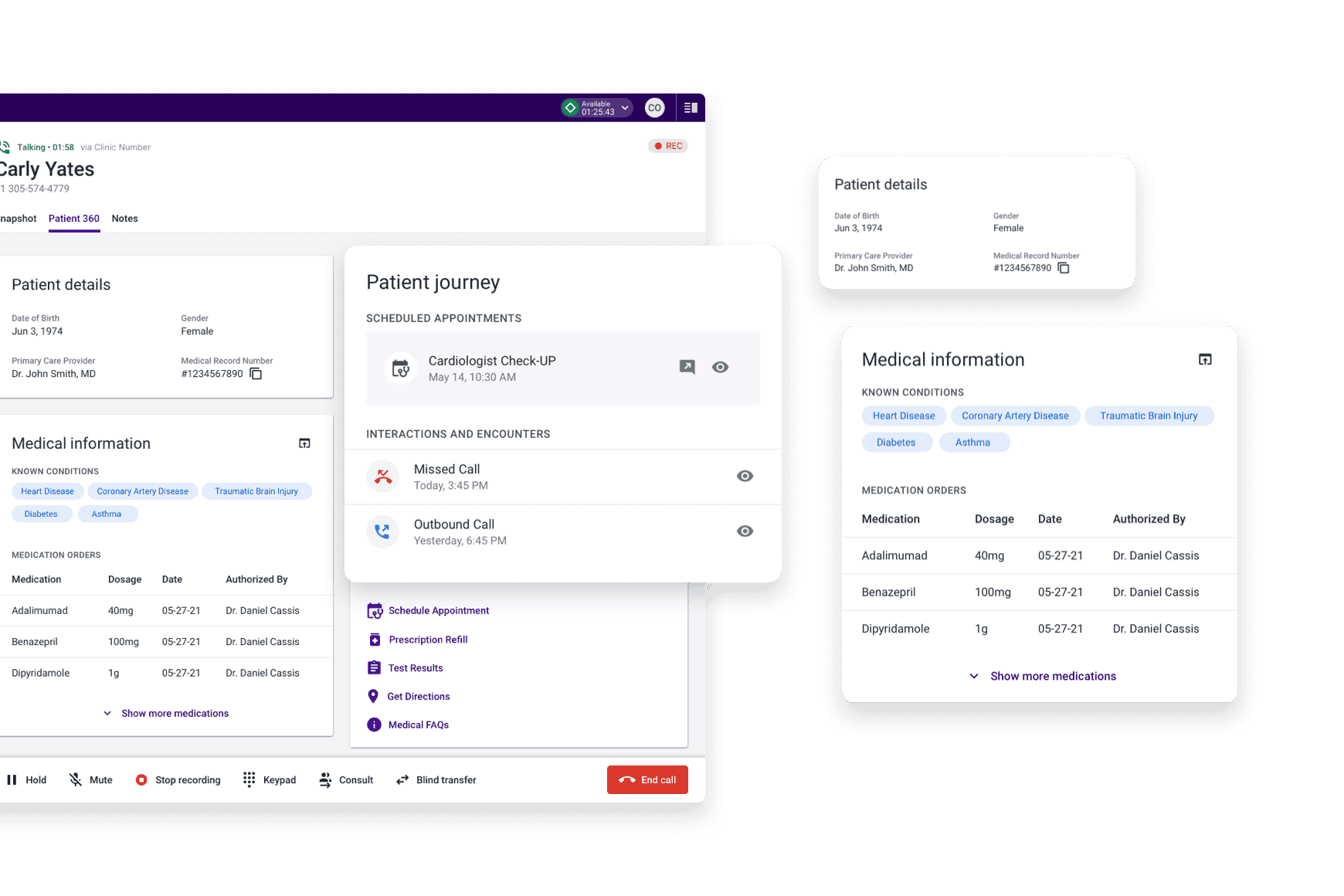 Healthcare Experience Cloud.
For providers
Designed to meet providers' top PX priorities across patient access, patient services, and revenue cycles.
Retail Experience Cloud.
For retailers
Purpose-built to unify the customer journey across digital and physical channels.
CX Cloud FedRAMP® Edition.
The Talkdesk CX Cloud platform is designated FedRAMP In Process indicating the ability to meet the highest security standards for information confidentiality, integrity, and availability.
Reduce costs and grow revenue with theTalkdesk cloud contact center platform.
0%
Decrease in authentication time.
0%
Increase in call deflection.
0%
Decrease in interaction costs.
0%
Decrease in agent effort.
0%
Increase in customer satisfaction.
A trusted, flexible and innovative enterprise cloud contact center platform.
Talkdesk has a proven track record in modernizing customer service with deep industry expertise and a platform that is reliable and scalable, serving enterprise customers in 100+ countries.
What is a cloud contact center?
Cloud contact center solutions offer the features, solutions, and integrations that contact centers need to provide an excellent customer experience without having to build out and maintain an on-premise footprint. This advantage also makes them ideal for teams switching to a remote or hybrid workforce.
Why consider a cloud contact center?
Cloud contact center solutions facilitate the best customer experiences with omnichannel engagement, optimized calls, and other tools for improving customer interactions. They also enable contact centers to perform call monitoring and manage a distributed workplace of agents, leading to a better customer experience. In addition, cloud call center software can help companies manage their security compliance, set up standards and evaluations for improved agent performance, and more.
What are the benefits of a cloud based contact center solution?
A cloud based contact center is tailored for today's fast-paced world. It takes the modern customer journey into consideration, with the realization that customers expect quicker and higher-quality support, now more than ever before.
By utilizing tooling like integrations, central dashboarding, security features, and automation, a cloud based contact center like Talkdesk provides the best possible service for customers, saving long-term costs and time along the way. And it's also worth mentioning that your agents will enjoy their jobs more with the usage of a cloud contact center, as it minimizes technological issues during their day-to-day jobs and enables them to work from anywhere in the world with an internet connection.
What is the time frame for implementing a cloud contact center solution?
A cloud contact center solution can be implemented in a matter of weeks. This is a stark contrast from the setup time required for on-premise contact center solutions, which can require months of physical installation, provisioning, configuration, and deployment. In addition, adding on new agents with a cloud contact center solution only takes a few minutes, while it often  takes a few days (or weeks) for in-person call centers.
Why is a cloud contact center right for my business?
You can boost customer satisfaction with a cloud contact center. Easily snap in features to directly improve customer satisfaction, such as an automatic call distributor, interactive voice response, integration with multiple channels, and other tools for streamlining customer interactions with your call center.
In addition, our cloud contact center solutions improve backend operations, which in turn leads to a better customer-facing experience. Virtual contact center software leads to more satisfied and productive contact center agents, provides real time analytics, and allows for business continuity.
What advantages does a cloud contact center solution have over traditional contact centers?
While many organizations continue to use traditional call centers, they are quickly falling behind in today's high-tech and fast-paced world. Cloud contact centers leverage the best in technology and innovation to deliver the high level of service that customers not only want, but come to expect.
For instance, a traditional contact center is limited by location. Management can only keep an eye on the agents that reside in an in-person office. Because many workplaces are moving towards a distributed, remote model rather than gathering in a physical office space, traditional contact centers are no longer able to support the day-to-day operations of a modern contact center.
A cloud contact center solution facilitates customer engagement across a distributed workplace without losing quality. Solutions like Talkdesk make it easier for managers to monitor their agents' performance from a single, virtual platform.
Why consider the Talkdesk cloud contact center platform?
The Talkdesk cloud contact center platform includes hundreds of features, solutions, and integrations empowering businesses to intelligently unlock the promise and potential of a great customer experience.
By improving agent productivity and performance with call monitoring and a central management platform, Talkdesk cloud contact center software creates enhanced customer relationship management. Customers who interact with a contact center are in search of an excellent response to their inquiries or concerns. Agents backed by our cloud contact center features are more likely to provide stellar customer service.
Please wait while we validate your privacy settings.