Reach out to your customers with Proactive Outbound Engagement.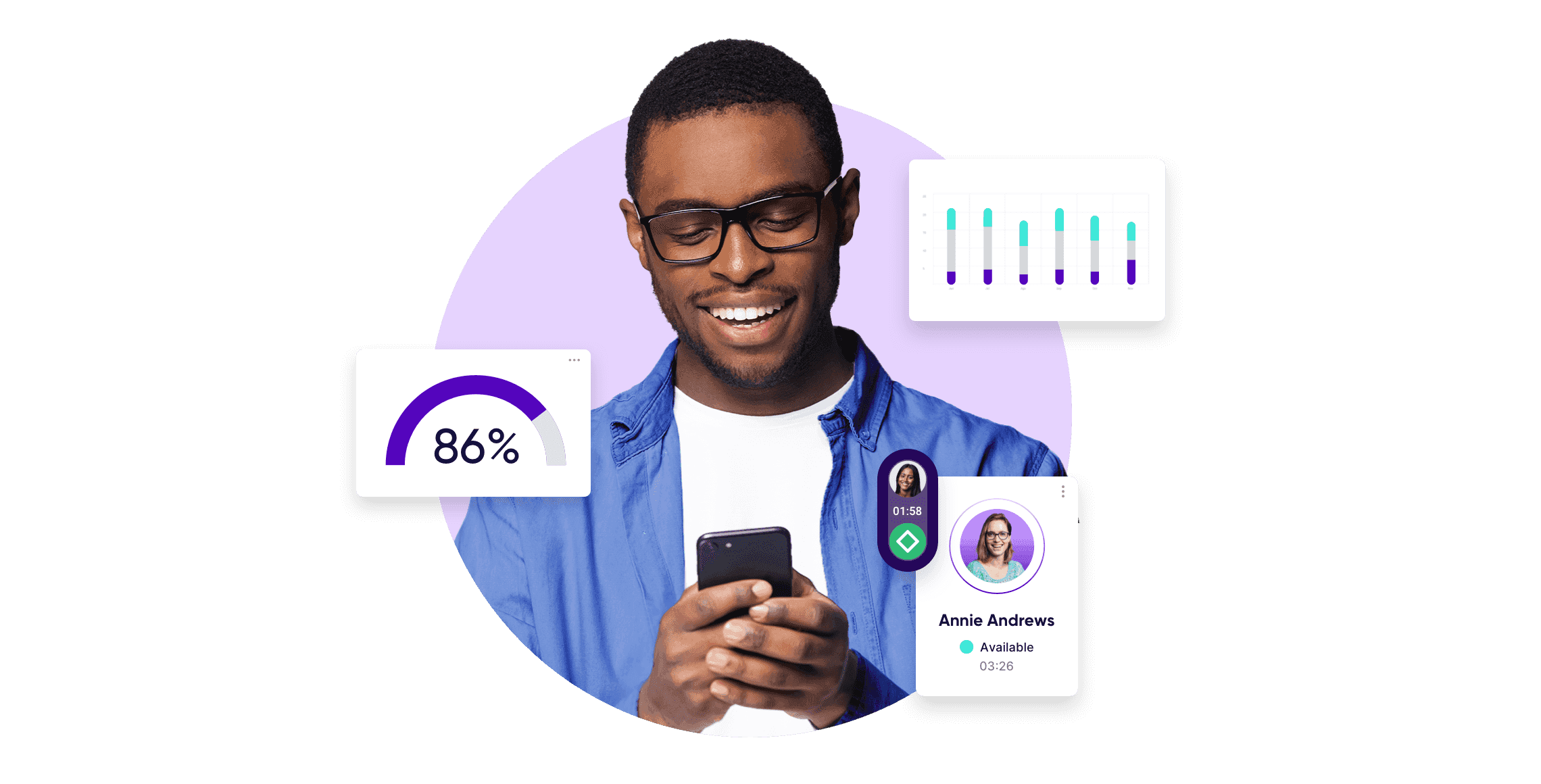 Make customer connections that count.
Auto dialers made significant improvements to call centers around the globe. Every technology eventually becomes dated; however, something better invariably comes along. That's exactly what's happened with predictive dialer software. You can now anticipate your customers' needs and reach out proactively for personalized engagement that drives loyalty and business growth.
What is a predictive dialer?
It's important to understand that a predictive dialer is not the same as any auto dialers you've used. While it is an automatic dialing technology, it offers far more productivity than its predecessors. It still calls from a list of numbers, but the dialing rate automatically adjusts based on agent availability.
Predictive dialers increase  agent performance by removing the need for manual dialing and ensuring they only get live calls. Predictive algorithms predict how long representatives will need before answering a new call. This is an ongoing process with any predictive dialer software, but with Talkdesk Dialer, you get so much more.
Maximize productivity with predictive dialing.
Predictive dialing can increase the number of outbound calls by 200-300% and drive revenue by bumping connect rates from 5 to 15 or more per hour.
Intelligently pace outbound call volume and filter out unproductive calls, such as voicemail, busy signals, and no answers for maximum productivity. Customer service  and sales teams will become more efficient with this technology.
Manage campaigns with ease.
Deploy campaigns in minutes and manage them with familiar Talkdesk usability—no special skills needed. A standalone predictive dialer can do a lot for your organization, but additional features offered by Talkdesk Dialer can take your business to the next level. Click below to request a demo and see just how valuable this technology can be.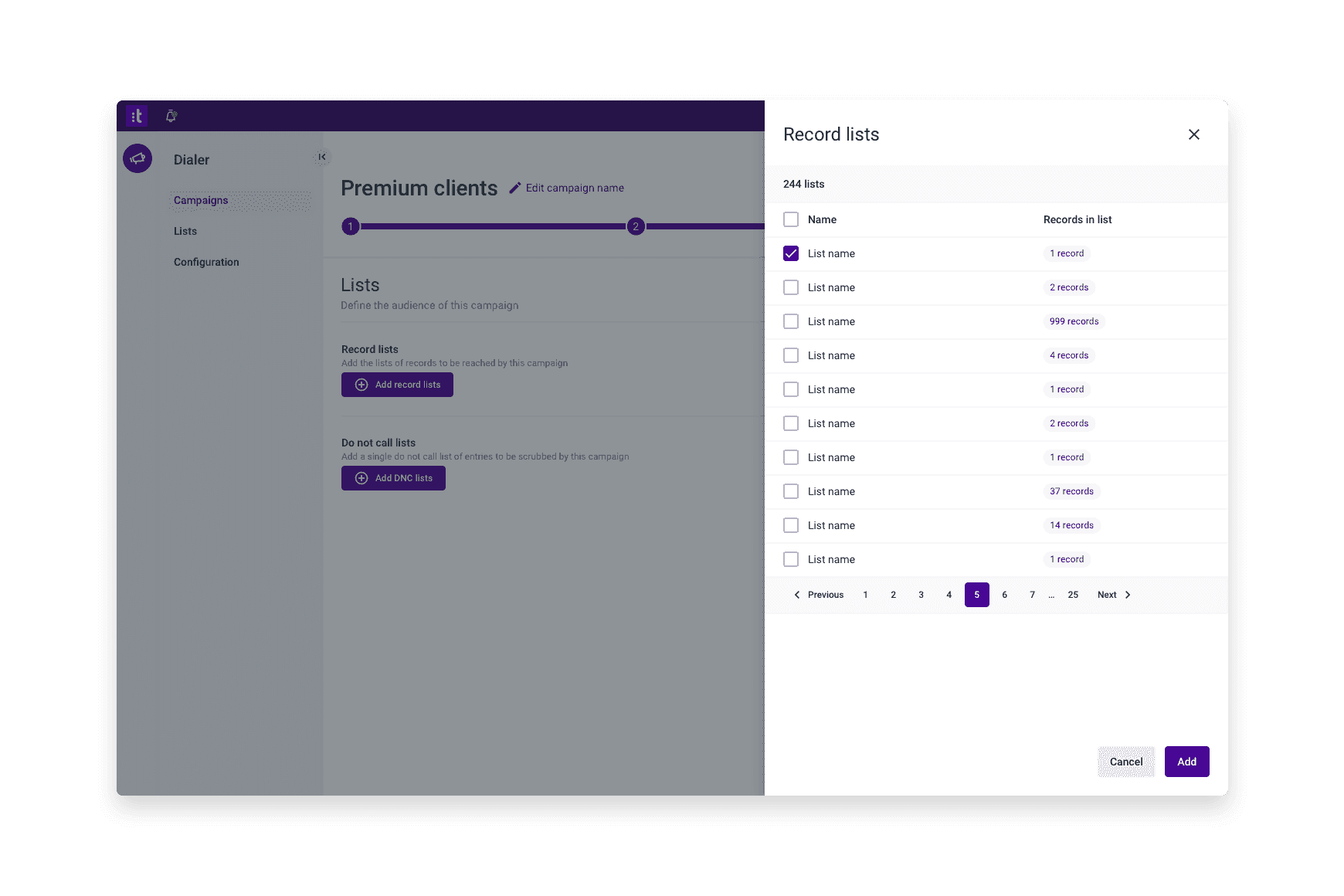 Upload and manage lists multiple ways.
Set up your calling list in a snap. You can upload a CSV file or push records from Salesforce, other CRM, or business systems via an API. A lack of integration can destroy an otherwise amazing resource, but that's never an issue with Talkdesk predictive dialer software.
Even web leads can be inserted into a running campaign and dialed immediately. Everything about our list management is set up so that you can win the race on every hot lead.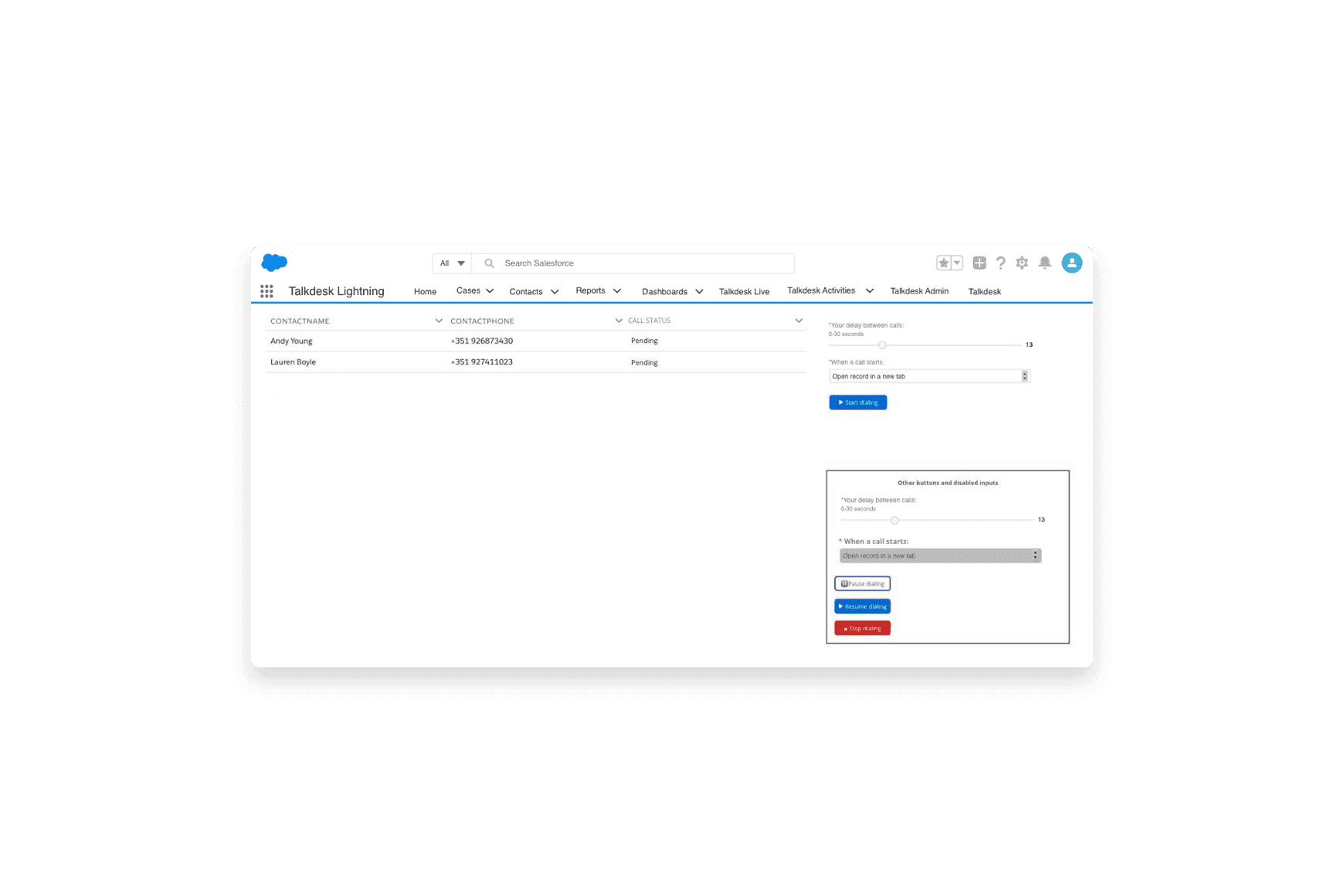 Make quality connections with Talkdesk Dialer for Salesforce™.
Talkdesk Dialer—fully embedded within the Salesforce UI—provides power and preview dialing balancing productivity with call quality and a personalized customer experience. Perfect for high value contacts and regulated markets.
Dial down a list with power and preview dialing options to keep an efficient cadence of outbound interactions and avoid the inefficiency of manual click-to-calling.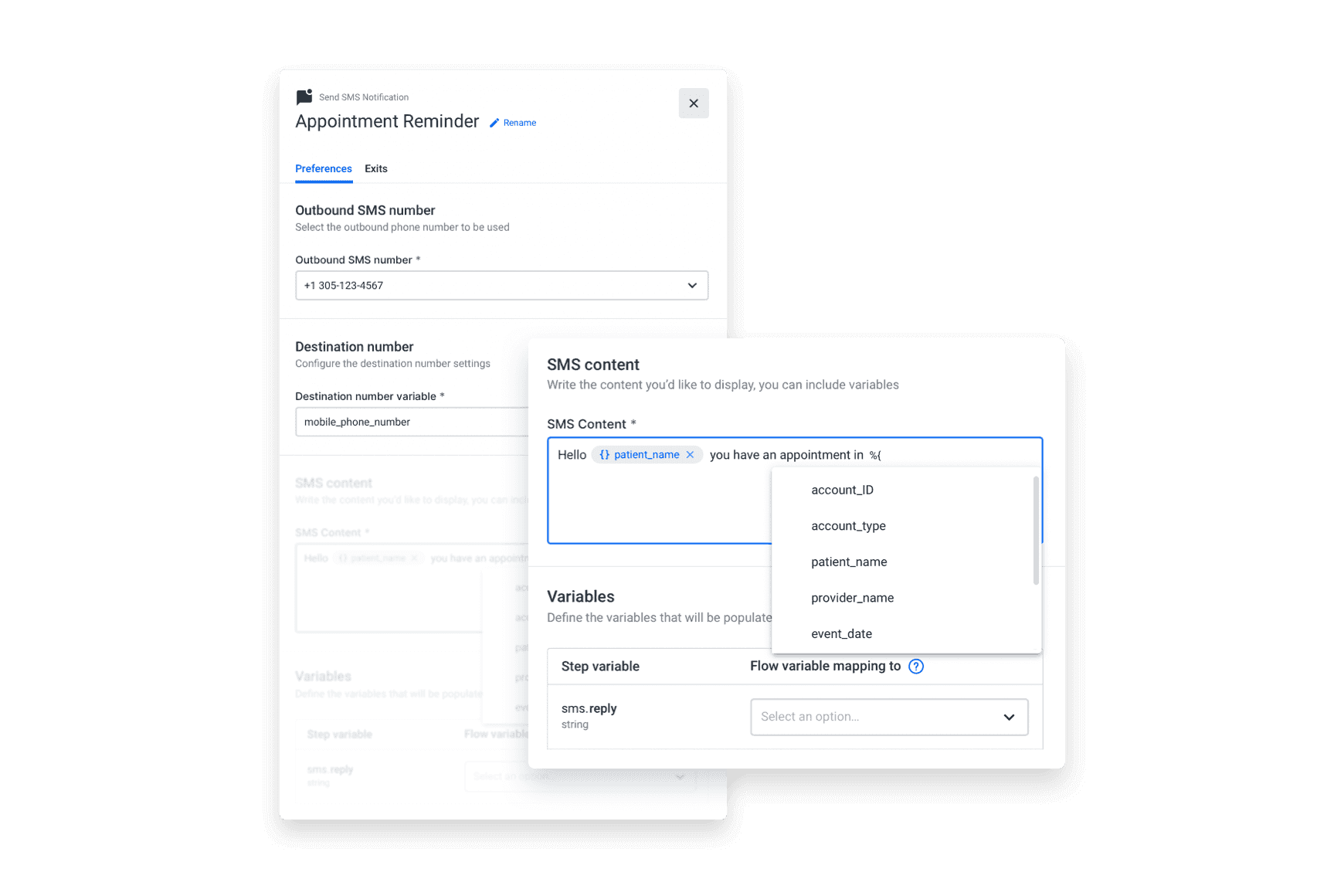 Deliver automated, proactive notifications.
Proactive outbound engagement goes beyond voice calls. With Talkdesk Proactive Notifications you can anticipate customer needs and engage proactively with automated event-triggered SMS notifications. Configure rules associated with each notification as well as its content to deliver highly personalized messages that improve efficiency and customer satisfaction. Common use cases include appointment reminders, order confirmations, shipping status, and bill pay.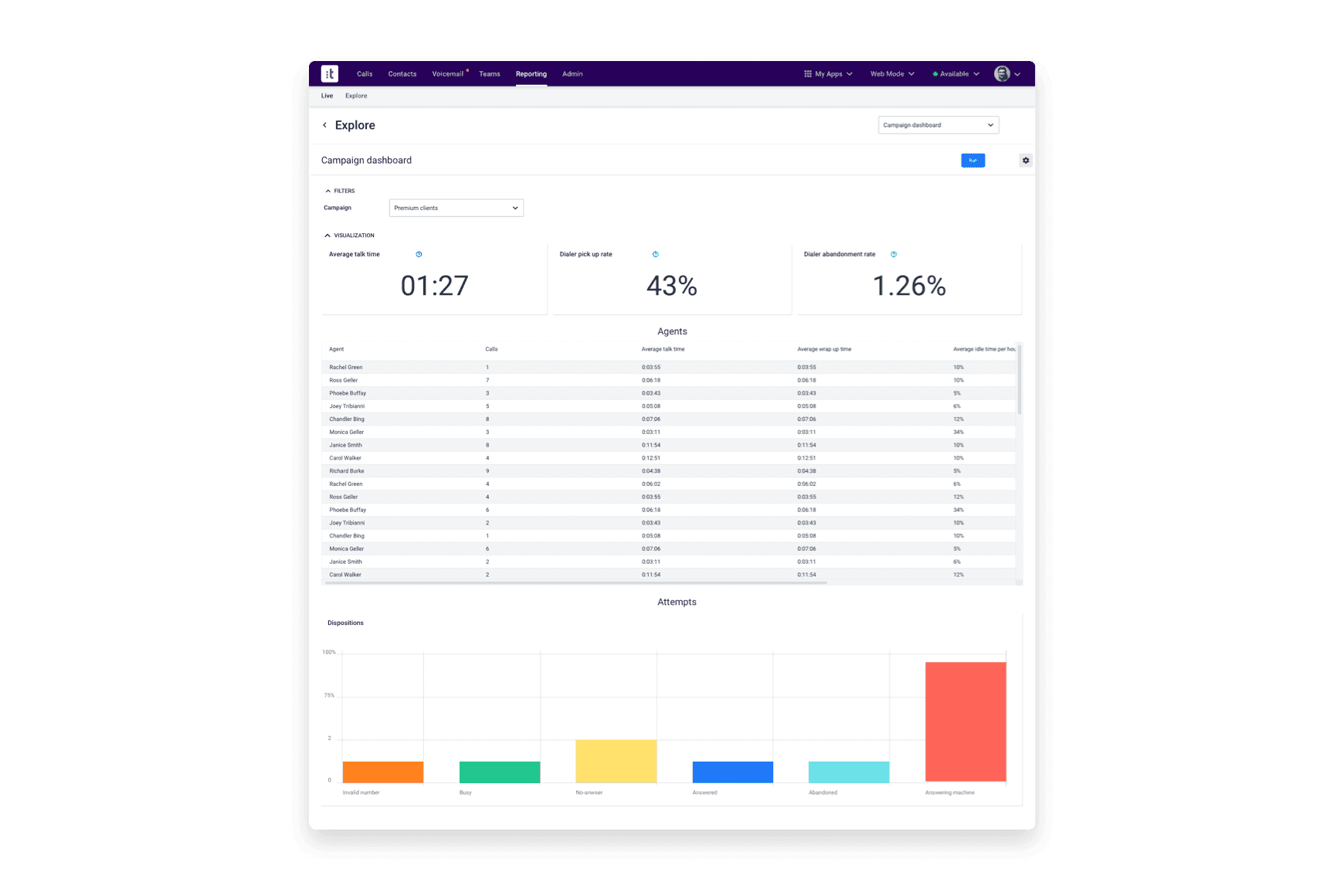 Fully integrated with Talkdesk capabilities.
Boost your outbound campaigns with Workspace integration, advanced call monitoring, CRM integration, unified reporting, and more.
Outbound Dialer features.
Start benefiting from predictive dialing software today!
Predictive dialer software has already proven itself superior many times over. It's simply not enough to have a system that places outbound calls for you. You need a tool that can increase agent productivity, improve customer satisfaction, and take call center performance to new heights.
That's what we offer at Talkdesk. Our predictive dialer software is more than just a way to get higher sales numbers—it's a way to improve the way your business operates. Schedule a demo today to learn how the Talkdesk cloud-based predictive dialer can help your call center excel.
Please wait while we validate your privacy settings.