Talkdesk Interaction Analytics for customer experience.
Powered by Generative AI, Talkdesk Interaction Analytics analyzes customer interactions to deliver powerful insights that improve CX and create new efficiencies.
Automated discovery of actionable insights to deliver a frictionless customer journey.
Talkdesk Interaction Analytics™ reviews customer conversations for topics and sentiment trends without setup. With generative AI, it detects emerging topics, uncovering valuable insights and opportunities—even the unexpected ones.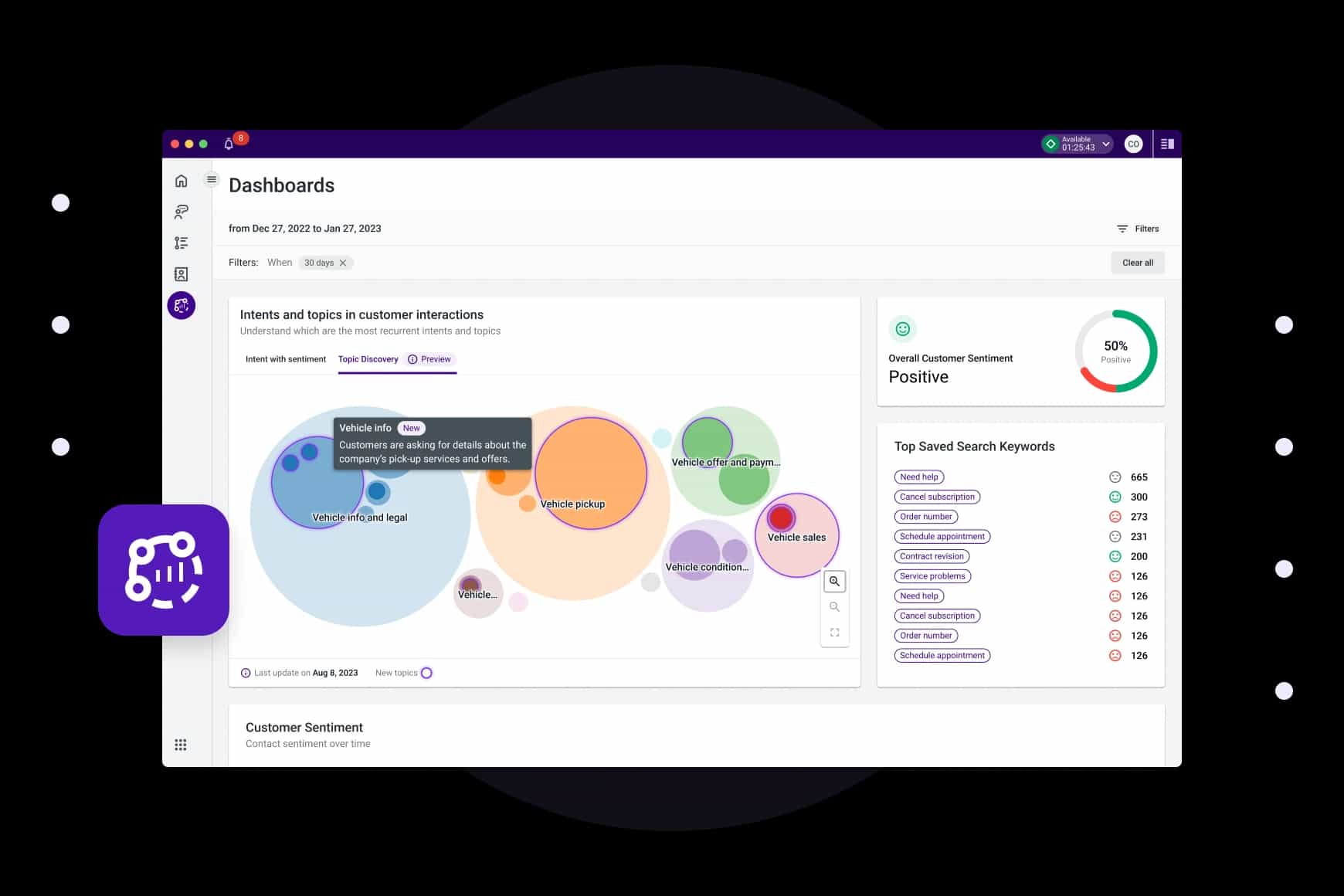 Discover the root causes of customer issues.
Uncover the details of what customers are communicating, and understand the issues causing contact peaks across different channels. Easily visualize the trending topics and variations on customer intents and sentiments, and discover better ways to create the best customer journey to improve CSAT and drive more revenue.
British Columbia Lottery Corporation elevates their CX with AI.
0.
Lowered average handle time to 210.7 seconds
0.
Decreased average hold time to 24.7 seconds
0%
Reduced abandonment rate to 12%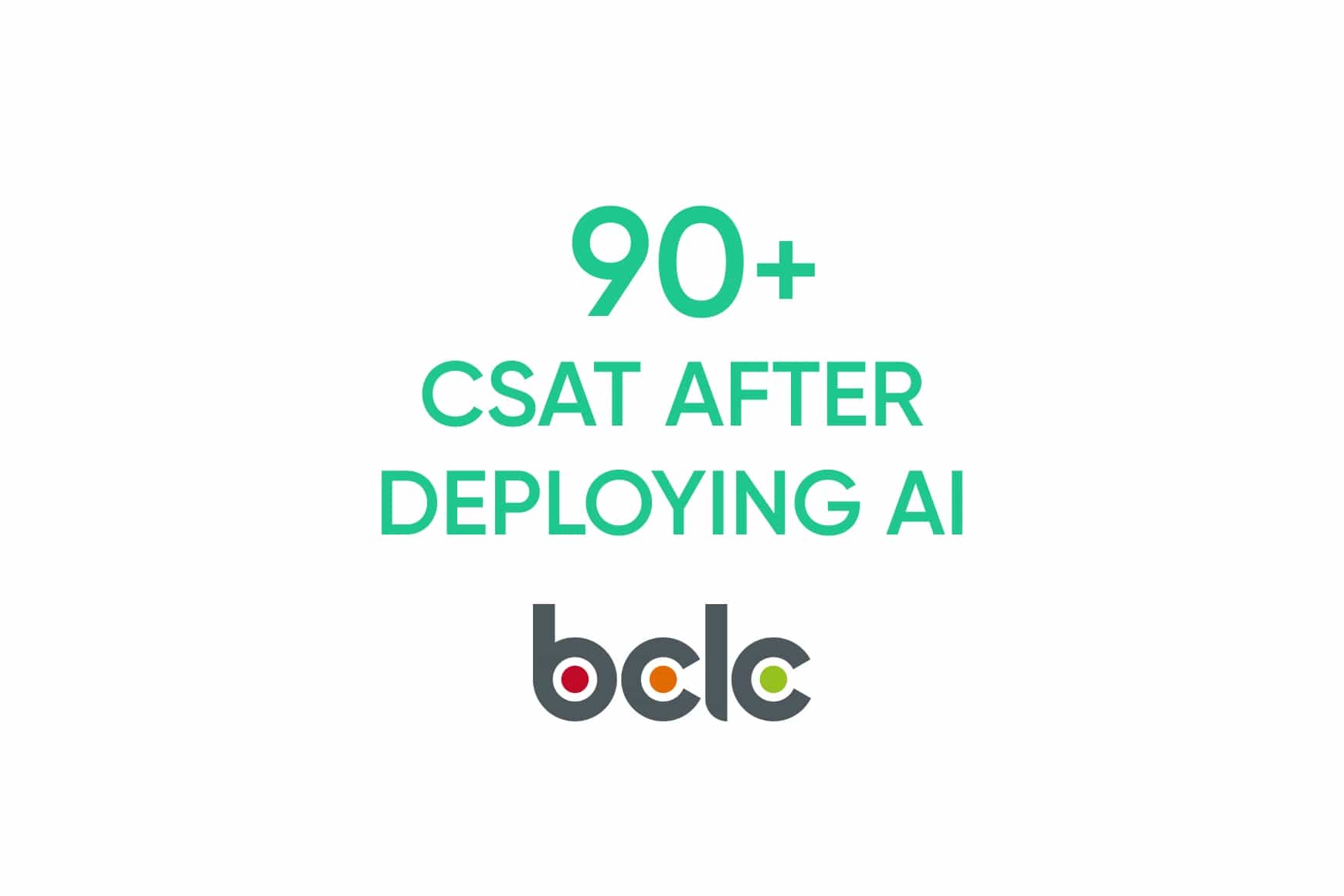 "When we first started enhancing our tech stack and getting more insight, our customer experience scoring was in the mid to low 80s. Implementing what we learned with Talkdesk speech analytics and sentiment analysis, we crept up to the 85–88 range, and with the infusion of AI we have surpassed the 90 mark."
Martin Lampman Director of Customer Care Operations at BCLC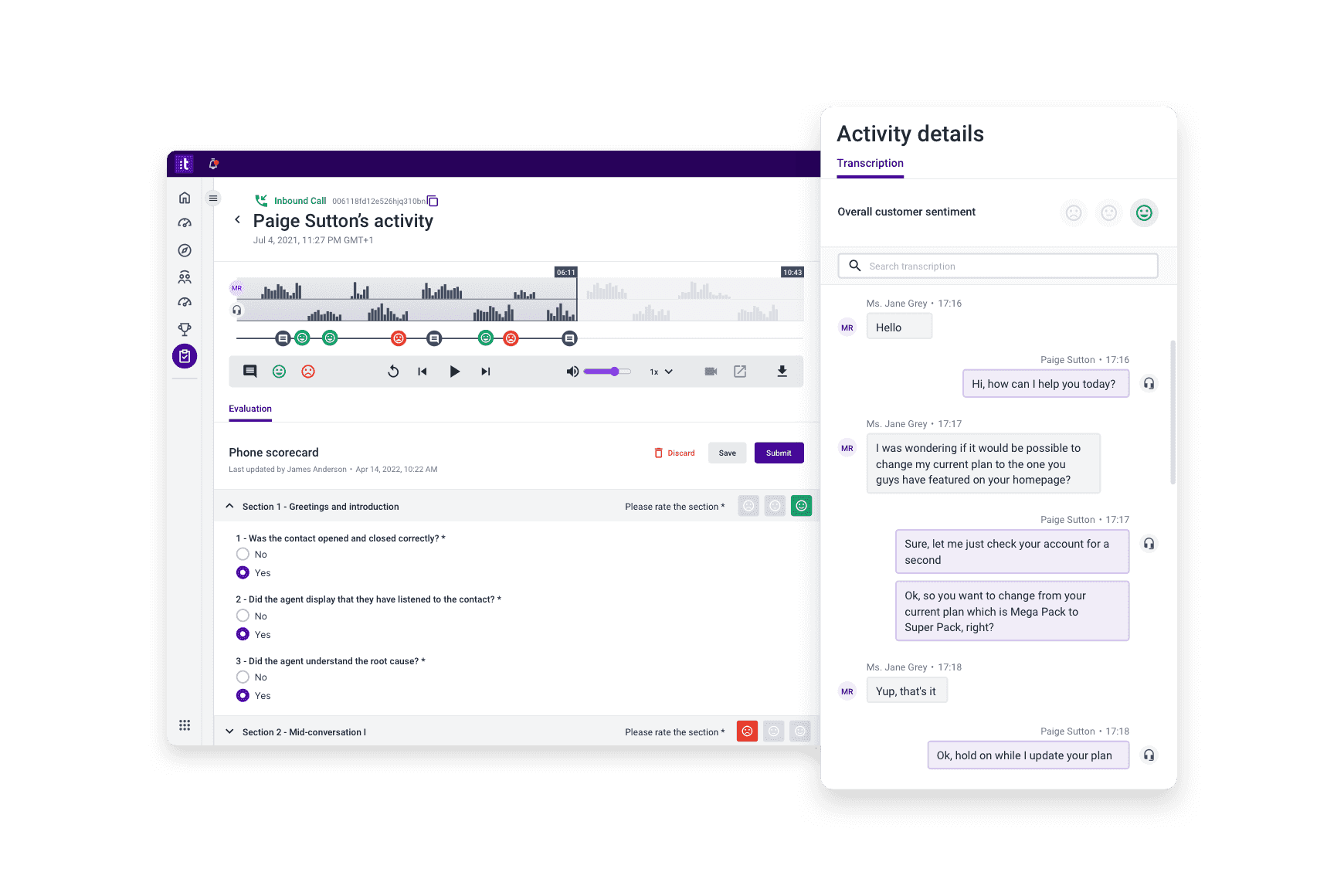 Augment agent coaching.
Empower supervisors to deliver high-quality agent coaching by leveraging AI-powered insights of voice and text interactions. Discover issues impacting agent performance faster with searchable transcripts, sentiment analysis, and automated interaction scoring, using Talkdesk QM Assist™.
Speed up response times to critical issues.
Use Talkdesk CX Sensors to t​rigger alerts when specific preset conditions occur to proactively address issues 24/7 and avoid escalations. Automate alerts on your preferred channel and take action on urgent issues in third-party systems.
CX Sensors is sold separately from Interaction Analytics.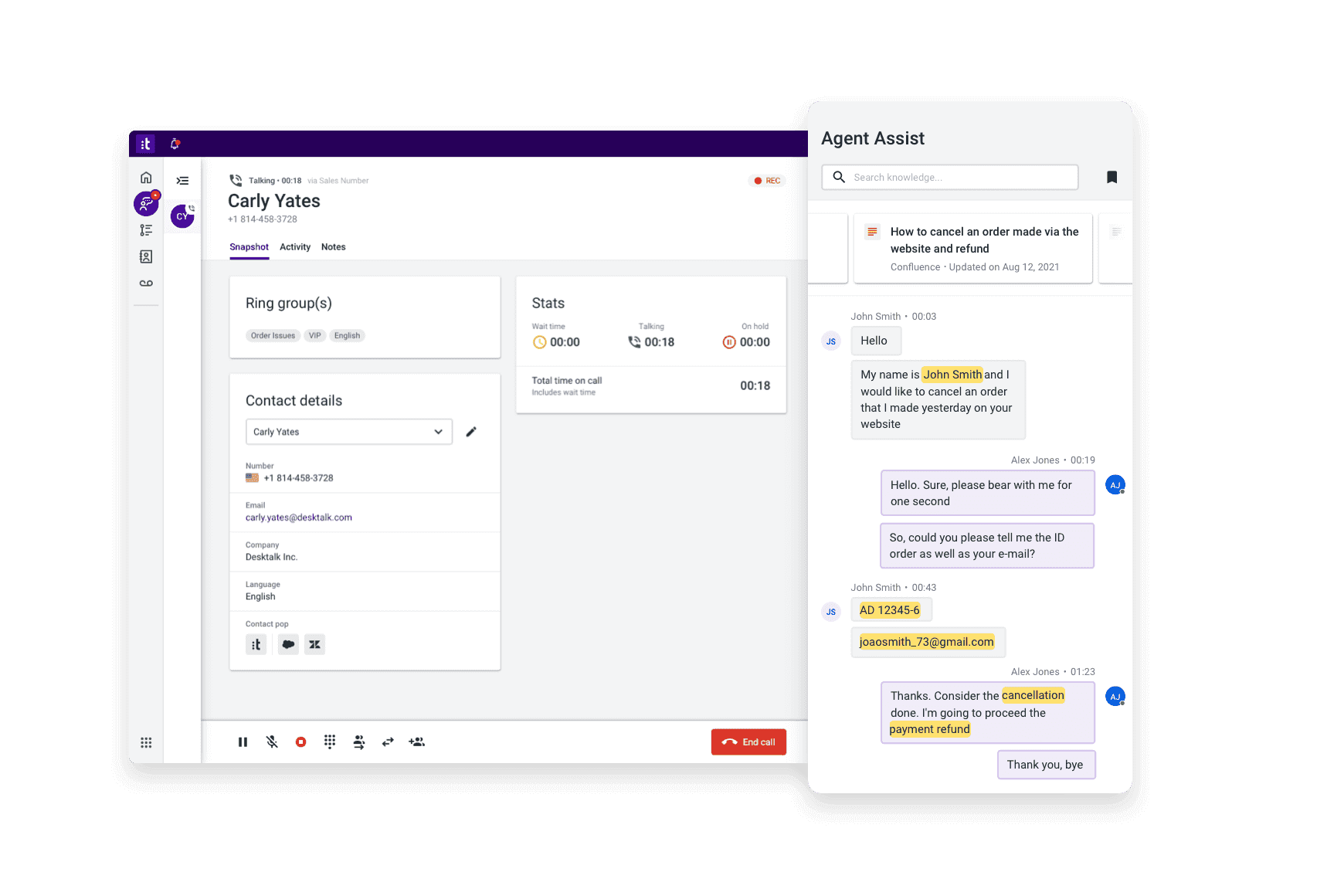 Make customer and agent journeys more efficient.
Apply interaction insights to all AI-powered tools and discover opportunities to lower the cost of service while maintaining a high-quality customer experience. Use live agent resources more efficiently by identifying the ideal use cases to implement self-service automation, agent assistance and knowledge management tools.
Talkdesk Interaction Analytics features.
What are customer interaction analytics?
Customer Interaction Analytics, also known as Interaction Analytics or Speech Analytics, is a technology used in contact centers to analyze and gain insights from customer interactions, whether they occur over the phone, through chat, email, or other communication channels. This analysis is typically done through AI-powered speech analytics software that can transcribe, categorize, and assess customer interactions.
How does AI power customer interaction analytics?
AI can automate the transcription and processing of large volumes of customer interactions, including phone calls, chat logs, and emails. AI can speed up the analysis process and make it feasible to analyze a vast amount of data in real time. Many interaction analytics tools use AI-powered sentiment analysis to detect customer emotions, such as satisfaction, frustration, or urgency, with high accuracy. This helps contact centers gauge customer sentiment and respond appropriately.
What are the benefits of speech analytics software?
Adopting speech analytics software provides several benefits for contact centers. Using AI, speech analytics software identifies the root causes of common customer issues, and enables contact centers to address underlying customer service problems proactively. Speech analytics can also extract insights from customer conversations to help supervisors gather valuable feedback about their customer experience without having to rely on feedback surveys. Using speech analytics can also greatly improve operational efficiency and reduce contact center costs.
Please wait while we validate your privacy settings.