The contact center solution purpose-built for banks and credit unions.
Talkdesk Financial Services Experience Cloud™ helps firms deliver a client and member experience that's seamless, personalized, and trusted.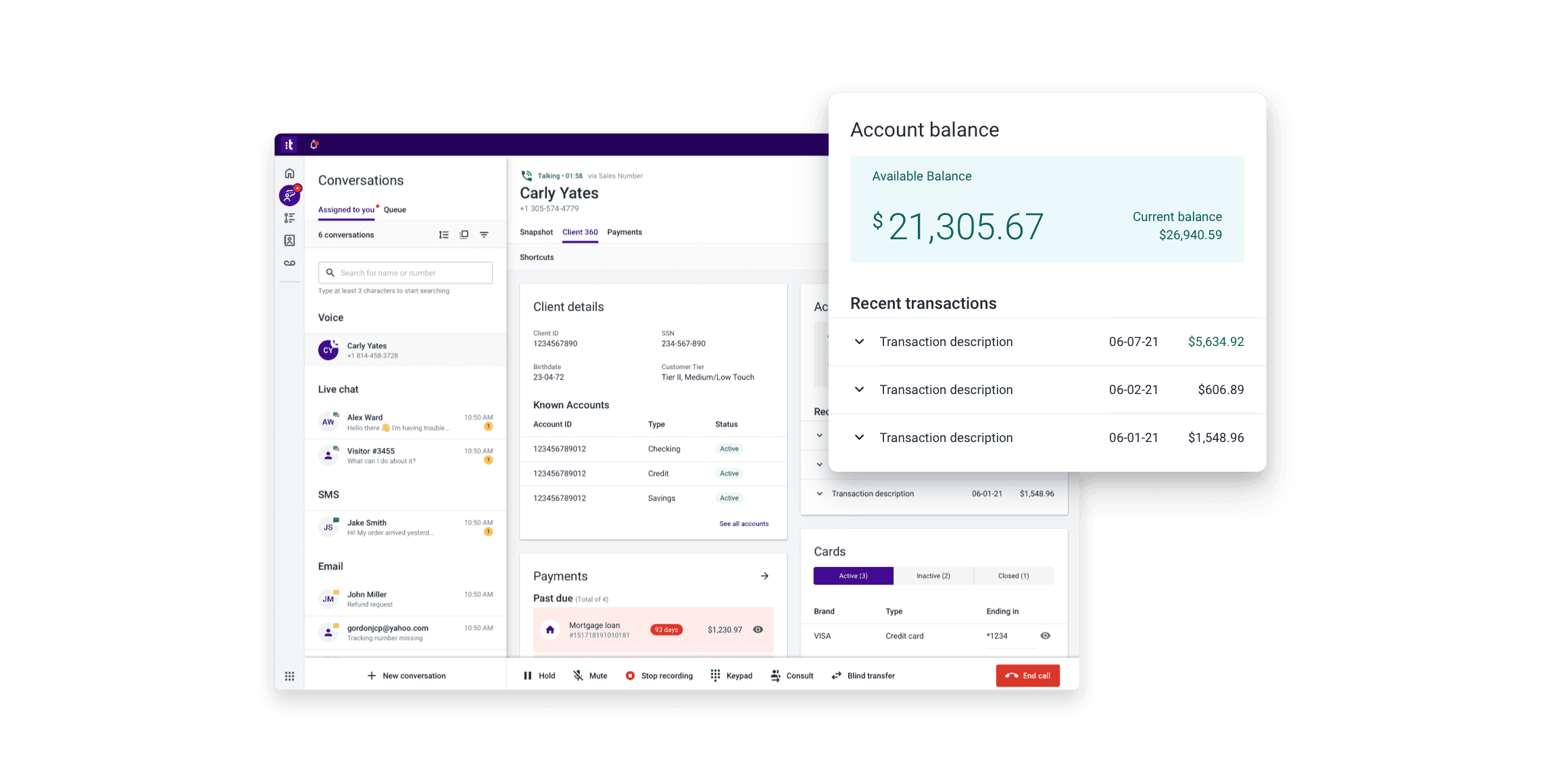 Reimagine the client journey.
Break free from legacy technology with an end-to-end solution that's connected, intelligent, and secure. Out-of-the-box integrations to core banking systems, artificial intelligence, automated workflows, and omnichannel capabilities work together to deliver a clear view of your client and their needs.
Achieve your digital transformation goals.
"With Financial Services Experience Cloud and Amazon Lex together, WaFd is primed to meet our clients' expectations today through intelligent, connected, and secure interactions while having a foundation in place for tomorrow's CX challenges."
Streamline digital lending.
Leverage artificial intelligence to simplify the loan origination and servicing processes, resolving claims faster—on any channel—with self-service and fraud prevention capabilities.
Deliver better account servicing.
Surface a unified view of the client with out-of-the-box integrations and ensure smoother case resolutions with face-to-face video calls and screen sharing capabilities.
Resolve collections disputes.
Deliver proactive notifications on any channel to collect outstanding client payments and reduce charge-offs while ensuring a secure client transaction.
Explore key capabilities.
Streamline account servicing, lending, and payments & collections.
Account servicing banking workflows enable self-service and automate employee actions for account transfers, adding authorized users, updating demographic fields, resetting passwords, and travel notifications.
Loan servicing banking workflows enable self-service and automate employee actions for loan inquiries and lead capture, loan/account follow-up, generating payoff quotes, and promise to pay notification.
Payments & collections banking workflows enable self-service and automate employee actions for processing payments, collections/payment deferment, payment reminders and follow-ups, and payment details.
Delivering digital account servicing with a human touch.
Talkdesk Virtual Agent™ for banking solves client issues autonomously by leveraging deep integrations and banking-trained AI, and seamlessly escalates  interactions to a live agent if  required.
Resolving collections disputes.
Omniaccess payment reminders proactively provides notifications about upcoming payments through multiple channels.
Omniaccess collections enables digital outstanding payments in real time.
Accelerating time-to-value.
Out-of-the-box integration with core systems of record and processors connects critical client data including account balance, transactions, and outstanding payments.
Connections™ allows teams to easily build custom integrations to third party systems to simplify the experience for agents.
CRM integration unifies and synchronizes client data.
Delivering smarter interactions.
Banking Workspace™ provides a unified view of the client with relevant client information including texts, voice calls, banking account data, and more.
Self-Service Portal™ reduces case volume by providing convenient, AI-powered FAQ options for clients.
Knowledge Management™ empowers supervisors and their teams to grow, refine, format, and orchestrate information to quickly address client inquiries.
Agent Assist™ transcribes calls in real time while providing guidance and recommended next best actions that help agents efficiently navigate and resolve conversations.
AI Trainer™ enables agents to train artificial intelligence models via a no-code interface for continuous improvement.
Conversations Mobile App empowers agents to tackle inbound and outbound calls from a mobile device.
Proactive Outbound Engagement drives more client engagement and improves agent connect rates by leveraging proactive voice and SMS notifications.
Automating compliance, enhancing security, and protecting your customers' data.
Identity™ quickly and seamlessly authenticates using voice biometrics to provide a safer way for clients to verify their identity and connect with an agent.
Guardian™ helps mitigate the risks of unpredictable remote and hybrid infrastructure, negligence, and insider threats and ensures agent activity is monitored for compliance and anomalies are flagged for audit.
Providing insights to evaluate performance and increase productivity.
Business Intelligence makes data actionable by leveraging powerful analytics capabilities to create insightful reports and even modified dashboards with custom reporting, including custom metrics, to improve both agent productivity and contact center performance.
Real-time Dashboards to identify trends for teams to monitor call performance in real time.
Feedback™ enables real-time client feedback on the quality of interaction.
Quality Management™ and QM Assist™ improves agent performance through consistent evaluations and actionable feedback by leveraging searchable transcripts, sentiment analysis, and automated interaction scoring.
Screen Recording provides synchronized playback of voice and screen recordings enabling supervisors to evaluate clients' interactions and hold agents' performance standards to the required standards.
Performance Management™ provides insights and tools to allow supervisors to coach and uplevel their agents.
Improving client engagement.
Digital Engagement™ enables clients to operate from their preferred channel, including email, chat, and SMS.
Orchestration & Routing with Studio™ lets you easily design, build, and deploy voice and digital client journeys for a better customer experience across channels.
Voice Engagement delivers better engagements with enhanced voice quality and reliability.
Financial Services Experience Cloud has a 100% Uptime SLA. Voice quality is backed by an industry-leading 4.22 MOS.
Please wait while we validate your privacy settings.