Meet the contact center solution purpose-built for insurance.
Talkdesk Financial Services Experience Cloud™ for Insurance unifies the customer journey across policy servicing, claims, and new business.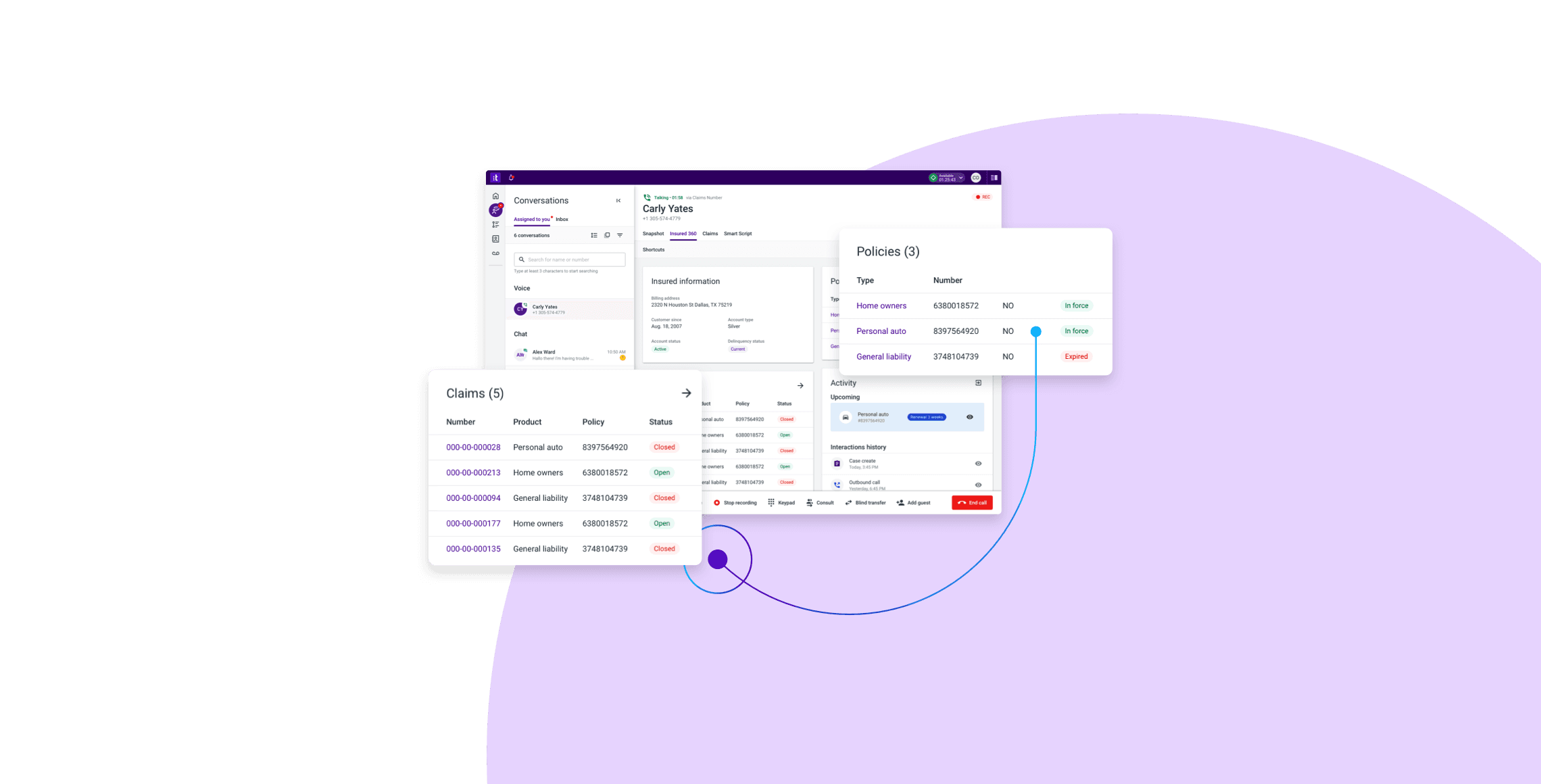 Surprise customers with a seamless experience.
The insurance industry is at an inflection point caused by rising customer expectations coupled with tremendous pressure on growth and profitability. Financial Services Experience Cloud is an end-to-end contact center solution built to unify the insurance customer journey and improve satisfaction, while empowering employees with automation and actionable insights.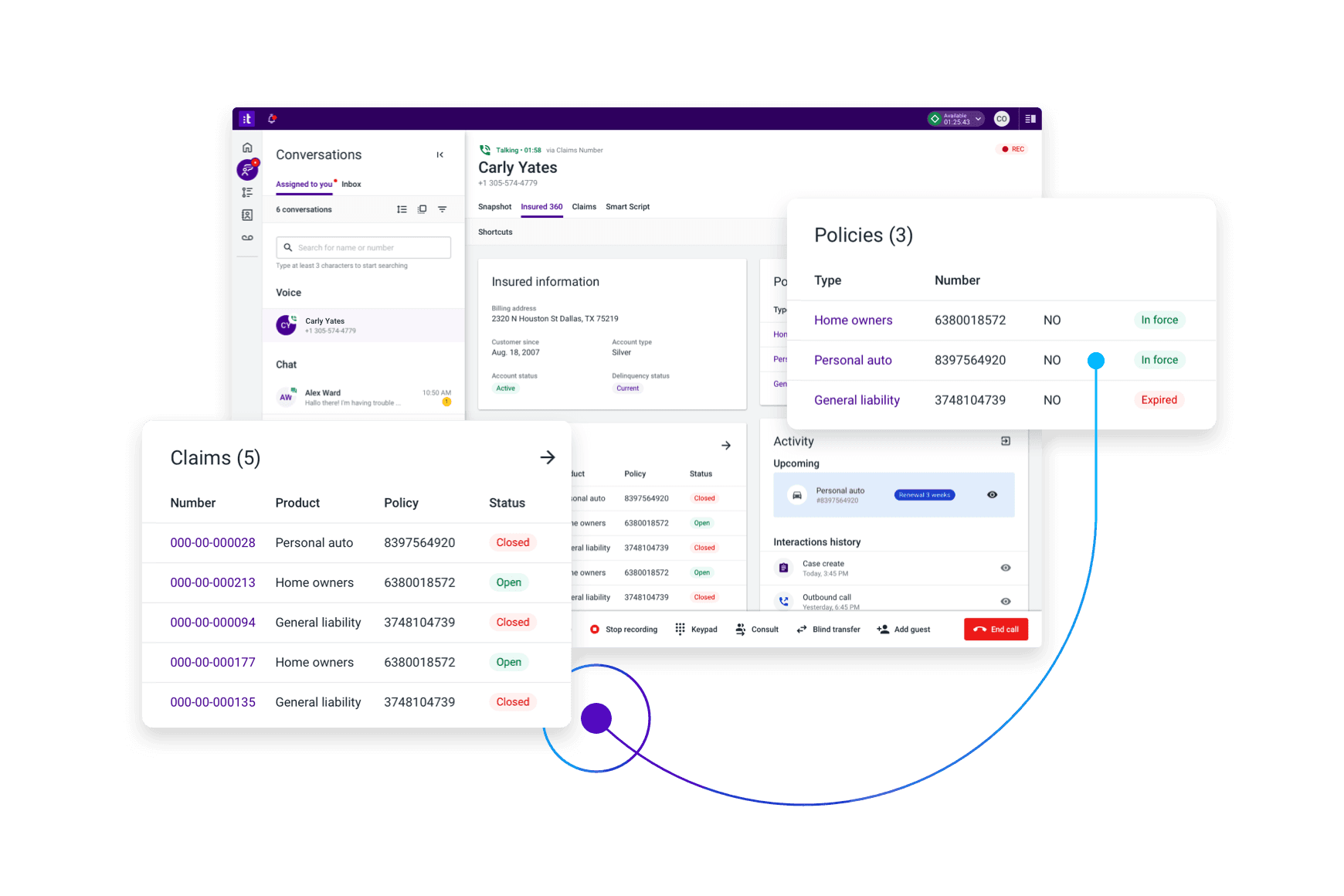 Increase agility with a complete view of your customer.
Use a holistic view of customer context to accelerate new business development and processing. Make claims and policy servicing more efficient through out-of-the-box integrations and automations with crucial insurance systems.
Drive customer loyalty.
Power better digital and self-service with a "human" touch leveraging AI intent libraries pre-trained to understand insurance and support empathetic interactions.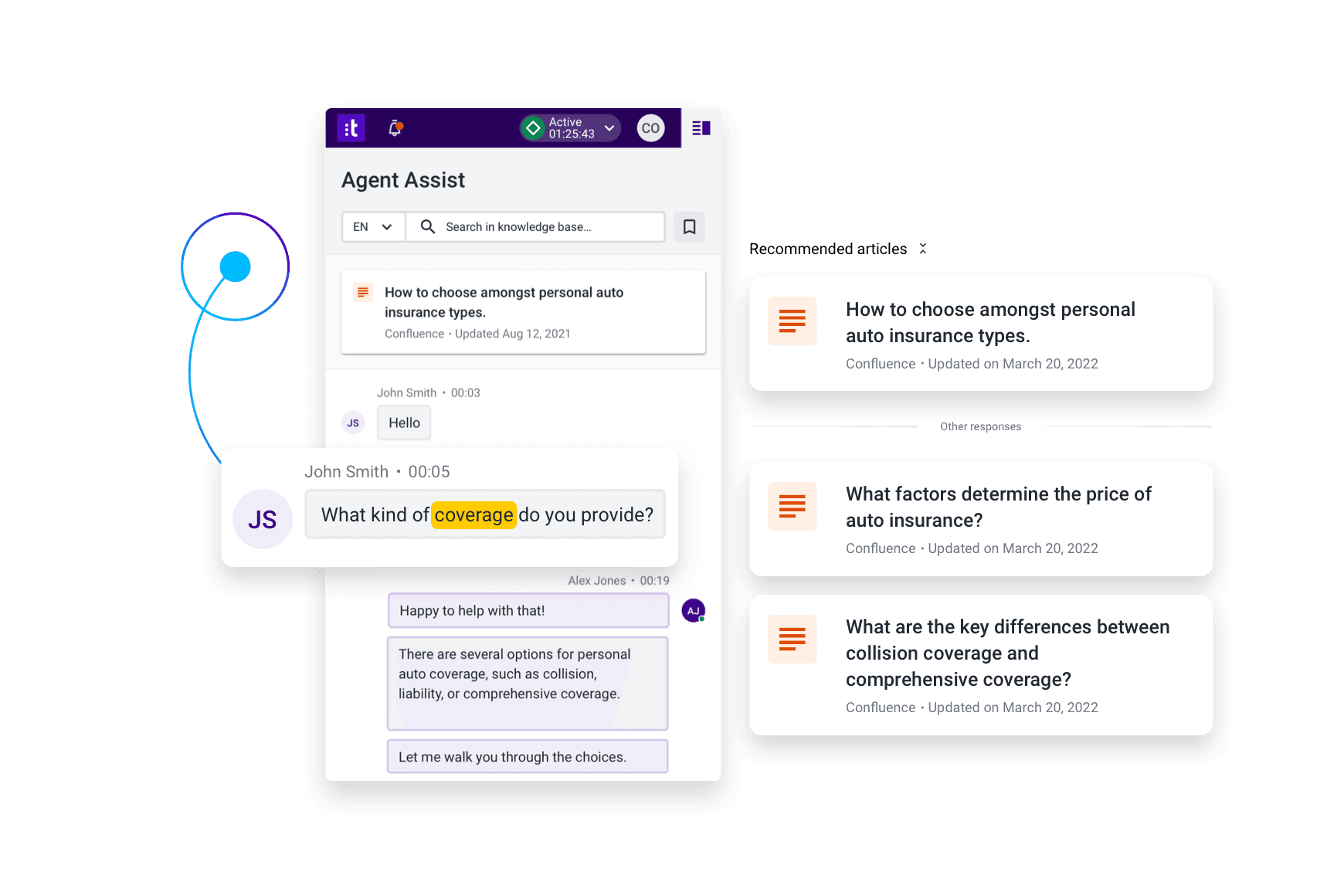 Empower employees and improve retention.
Arm agents with real-time guidance and next best actions based on customer insights for efficient and personalized conversations. Make work easier with a single workspace containing exactly the information needed for handling policies, claims, and upcoming activity.
Explore key capabilities.
Streamline policy servicing, claims, and new business.
Out-of-the-box integration with core systems connects vital client data including policy details, claims history, and new business.
Insurance workflows for policy servicing integrate with policy administration systems to enable self-service and automate employee actions for basic policy changes, new ID card requests, policy cancellations and reinstatement, and endorsement handling.
Insurance workflows for claims integrate with claims management systems to enable self-service and automate employee actions for FNOL, opening and closing a claim, and general liability.
Insurance workflows for new business integrate with insurance systems and CRM to enable self-service and automate employee actions for new policy sales, upsell, cross-sell, and policy replacements.
Orchestration & Routing with Studio™ lets insurers easily design and build intricate customer journeys and adapt flows to evolving industry, business, and customer needs.
Improve customer engagement and satisfaction.
Digital Engagement™ lets customers interact on their channel of choice, including SMS, email, and social.
Proactive Outbound Engagement helps inform and update customers at scale with personalization and outreach rules drawn from CMS, PAS, and CRM data.
Voice Engagement delivers exceptional call quality and intelligent routing to maximize caller satisfaction.
Financial Services Experience Cloud has a 100% Uptime SLA. Voice quality is backed by an industry-leading 4.22 MOS.
Personalize automated interactions.
Insurance Virtual Agent™ autonomously solves customer issues with a human-like experience powered by AI that's pre-trained to understand insurance scenarios and handle them with empathy.
Knowledge Management™ is a knowledge management tool that's fully customizable for insurance and powered by AI, providing customers the knowledge they need when they need it.
AI Trainer™ enables contact center agents to train artificial intelligence models via a no-code interface for continuous improvement.
Automated Notifications allow for highly personalized messages based on the customer journey and anticipated activity, leveraging data from CRM, CMS, and PAS.
Empower employees with actionable insights.
Insurance Agent Workspace™ surfaces customer policy information, claims history, and more in a single, unified view for increased efficiency and speed to resolution.
Agent Assist™ transcribes calls in real time while providing guidance and recommended next best actions that help agents efficiently navigate and resolve conversations.
Customer Experience Analytics automatically transcribes customer interactions to help  identify insights, turning conversations into actionable customer and business intelligence.
Conversations Mobile App™ is available on iPhone and Android devices, giving reps the flexibility to handle inbound and outbound calls any time, anywhere.
Leverage data to improve performance and operations.
Real-time Dashboards deliver a live view of contact center performance to track SLAs and quickly identify areas for improvement.
Business Intelligence provides customized reports and analytics for a complete view of contact center performance, enabling holistic improvements.
Feedback™ helps create and deploy surveys to act on customer feedback and make informed improvements.
Quality Management™ improves employee performance through consistent evaluations and actionable feedback.
Performance Management™ identifies development opportunities and engages frontline employees with personalized coaching.
Please wait while we validate your privacy settings.