The contact center solution built just for healthcare.
Talkdesk Healthcare Experience Cloud™ helps organizations create synchronized, personalized, and radically convenient experiences for healthcare patients, members, and caregivers.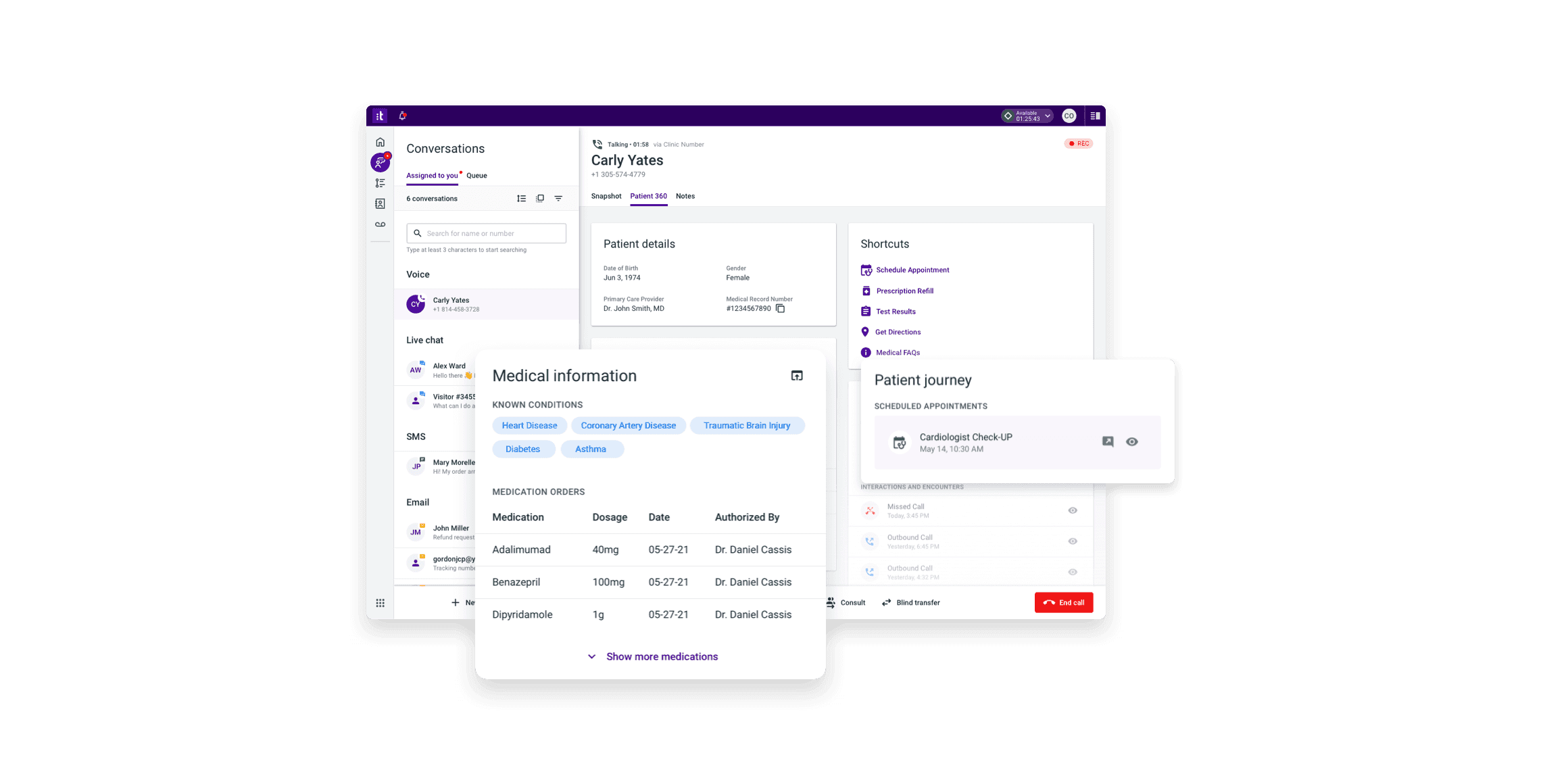 Deliver a differentiated patient journey.
Talkdesk Healthcare Experience Cloud for Providers is a connected, intelligent, and intuitive solution for reimagining the patient experience. With EHR integrations and workflows, and actionable insights — all powered by Talkdesk AI — providers can realize value faster while positively impacting patient interactions.
Trusted by leading innovators in patient experience.
Natively integrated with major EHRs.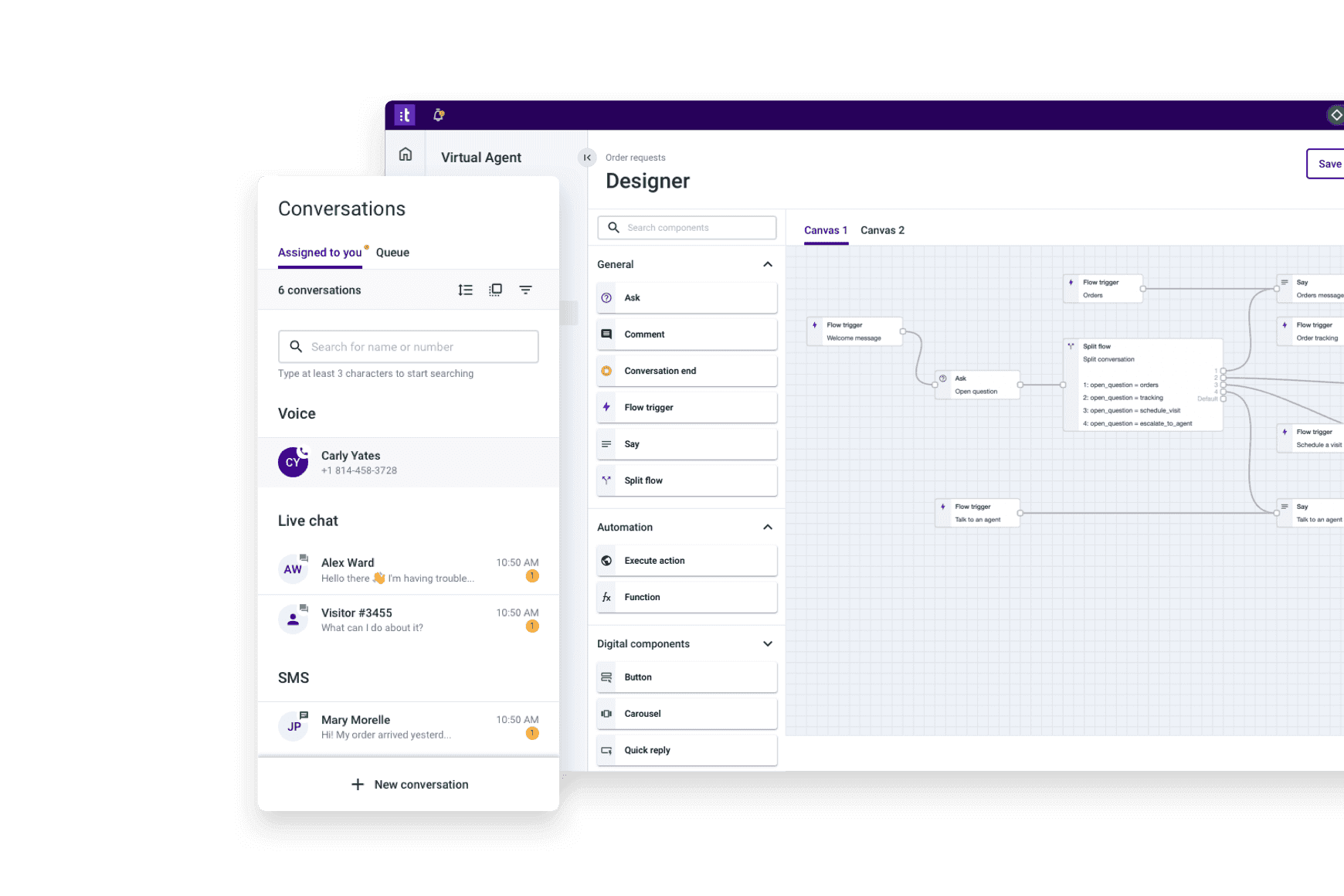 Engage across channels to meet and exceed patients' expectations.
Reach patients on their preferred channel, avoiding friction, and creating a synchronized experience.
Proactive outreach.
Start conversations across voice, SMS, email, chat, and mobile app.
Relevant and timely content.
Message personalization and notification triggers based on electronic health record (EHR) and CRM data.
Seamless support.
Smart routing of automated interactions to agents for greater efficiency and reduced friction.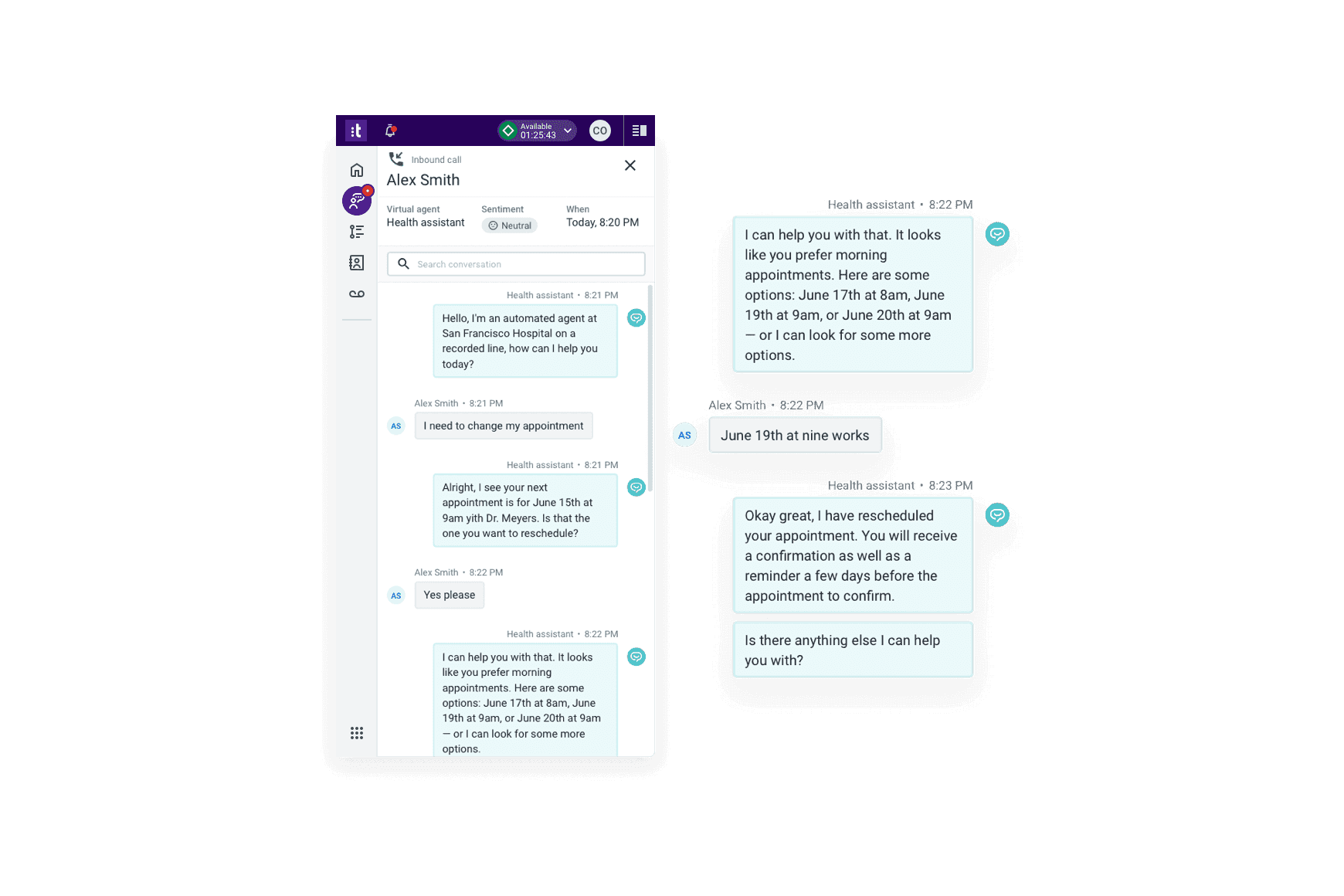 Deliver convenient self-service without sacrificing personalization.
Leverage AI and automation for smarter, easier touchpoints across voice and digital channels.
Next-generation chatbot capabilities.
Medical-grade speech-to-text and natural language processing (NLP) for seamless, conversational self-service.
Data-driven prediction and personalization.
AI-powered content recommendations leveraging powerful integrations.
Ready-to-launch workflows.
Automation that's designed to improve patient access and streamline key actions.
Empower staff with a complete view of patient context.
Give your teams the information they need in a single interface that's intuitive and efficient.
Purpose-built.
Bring healthcare-specific insights and functions to the agent workspace.
A complete view.
Unify vital patient data from EHR, CRM, and other systems within a single agent user interface.
Actionable insights. 
Cognitive intelligence, next-best actions, process automation, and analytics provide staff with real-time guidance for efficient and personalized patient conversations.
Explore key capabilities.
Seamlessly integrate with vital health IT systems.
EHR Integration influences all facets of Healthcare Experience Cloud through standards-based integration to surface key information and personalize interactions across the patient journey.
Integrations with key systems of record to leverage and quickly navigate through important patient and member data through open, cloud-based architecture and out-of-the-box connections.
Healthcare Workflows for appointment management via standards-based integrations enables self-service appointment changes, confirmations, and cancellations as well as configurable wayfinding assistance.
EHR Shortcuts in the agent workspace connect staff to key screens in the EHR to perform actions efficiently and accurately.
Healthcare Experience Cloud has a 100% Uptime SLA. Voice quality is backed by an industry-leading 4.22 MOS.
Differentiate and personalize automated interactions.
Healthcare Provider Virtual Agents are artificial intelligence-enabled conversational bots that autonomously solves patient issues with a human-like experience, leveraging EHR data and healthcare-trained natural language processing to personalize and streamline interactions on voice and digital channels.
Knowledge Management empowers internal teams to grow, refine, format, and orchestrate information that powers tools including Talkdesk Agent Assist, Talkdesk Virtual Agent, and Talkdesk Self-Service Portal to help agents and patients resolve issues faster.
AI Trainer™ enables agents to train artificial intelligence models via a no-code interface for continuous improvement.
Empower agents with actionable insights.
Healthcare Provider Agent Workspace gives staff a unified view of the patient they're serving, including vital EHR data, context from virtual and live agent interactions, and upcoming appointment information in a single interface.
Agent Assist™ enables AI-powered guidance for agents during patient and member interactions in real time, empowering them to provide faster and more relevant service.
Gather conversational insights.
Medical-grade speech-to-text recognizes patient and staff meaning, including medical and pharmaceutical terms, to ensure automated systems understand patients' responses and improve the accuracy of next-best-action recommendations.
QM Assist™ automatically transcribes & evaluates 100% of agent interactions and identifies recommendations needed to coach more effectively, engage the workforce, and retain top talent.
Interaction Analytics™ provides analysis and dashboards that turn conversations into actionable business insights.
Reach patients and members where they are.
Digital Engagement lets patients engage on their preferred channel, including email, chat, and SMS.
Proactive Notifications keep patients informed and updated at scale with personalization and outreach rules drawn from EHR and CRM data.
Studio™ and Routing lets you easily design, build, and deploy voice and digital flows for a better customer experience across channels.
Voice Engagement delivers interactions with enhanced voice quality and industry-leading reliability.
Automate compliance, enhance security, and protect your customers' data.
HIPAA Compliance through Talkdesk means leveraging our administrative, physical, technical, organizational, and documentation controls for securing electronic PHI and partnering to ensure ongoing compliance.
Guardian™ helps mitigate the risks of negligence and insider threats and ensures agent activity is monitored for compliance and anomalies are flagged for audit.
Business Intelligence makes data from your Talkdesk solution actionable by leveraging powerful analytics capabilities to create insightful dashboards and reports.
Real-time Dashboards empowers your teams with live performance monitoring via customized dashboards, alarms, and metrics to track KPIs.
Custom Reporting provides a bespoke view of your contact center data. Use custom calculations to mix and blend more than 900 values to define new measures and report on virtually any metric.
Feedback provides tools to create and deploy surveys on any channel to capture, analyze, and act on patient insights. Gain the data needed to discover trends, identify opportunities and pain points, and make informed decisions that lead to happier patients and better outcomes.
Performance Management gives supervisors interactive data visualizations to identify development opportunities and engage agents with personalized coaching.
CX Strategy consulting provides guidance on how to best deploy Healthcare Experience Cloud to impact your highest priority KPIs and a roadmap for process improvements to maximize value and outcomes.
Streamline workforce engagement in any team structure.
Quality Management improves agent performance through consistent evaluations and actionable feedback.
Screen Recording enables supervisors to understand patient and member concerns and hold service teams accountable for every interaction.
Mobile Agent App for Customer Engagement gives staff a full-featured contact center on their mobile device so they can provide excellent service wherever they go.
Please wait while we validate your privacy settings.