The out-of-the-box customer service platform built just for retail.
Talkdesk Retail Experience Cloud™ unifies the customer journey across digital and physical channels.
A better way to connect with, care for, and know your customers—wherever, whenever.
Talkdesk Retail Experience Cloud is an AI-powered, end-to-end customer service platform specifically made for retailers to drive brand loyalty and customer lifetime value across digital and physical channels.
A unified view of all customer interactions enables brands to meet customers where they are. Pre-configured retail workflows and scripts ensure that value is added to every conversation. And intelligent bots that are fluent in retail accelerate speed to resolution.
Talkdesk Retail Experience Cloud earns Frost & Sullivan's NA Customer Value Leadership Award in the retail CCaaS market. Read the report
A retail-specific solution that drives business value from day one.
Increase customer satisfaction and loyalty.
Accelerate speed to resolution.
Make it easy for your customers to reach you wherever, whenever, or to help themselves through bots pre-trained to solve retail use cases.
Improve NPS and CLV across all channels. 
Intelligently route your customers to the best online or in-store associate suited to help.
Reduce customer effort and frustration.
Know why your customers are reaching out, and anticipate their needs through proactive, automated communications.
Improve agent experience and retention.
Improve productivity and collaboration.
Equip online and in-store associates with customer interaction and transaction history in a single pane of glass.
Reduce training and turnover.
Empower your team—no matter how new—to do their best work with AI-assistance, retail workflows, scripts, and access into digital shopping carts.
Optimize and empower your workforce.
Personalize employee improvement opportunities based on customer feedback, transcripts, and KPIs.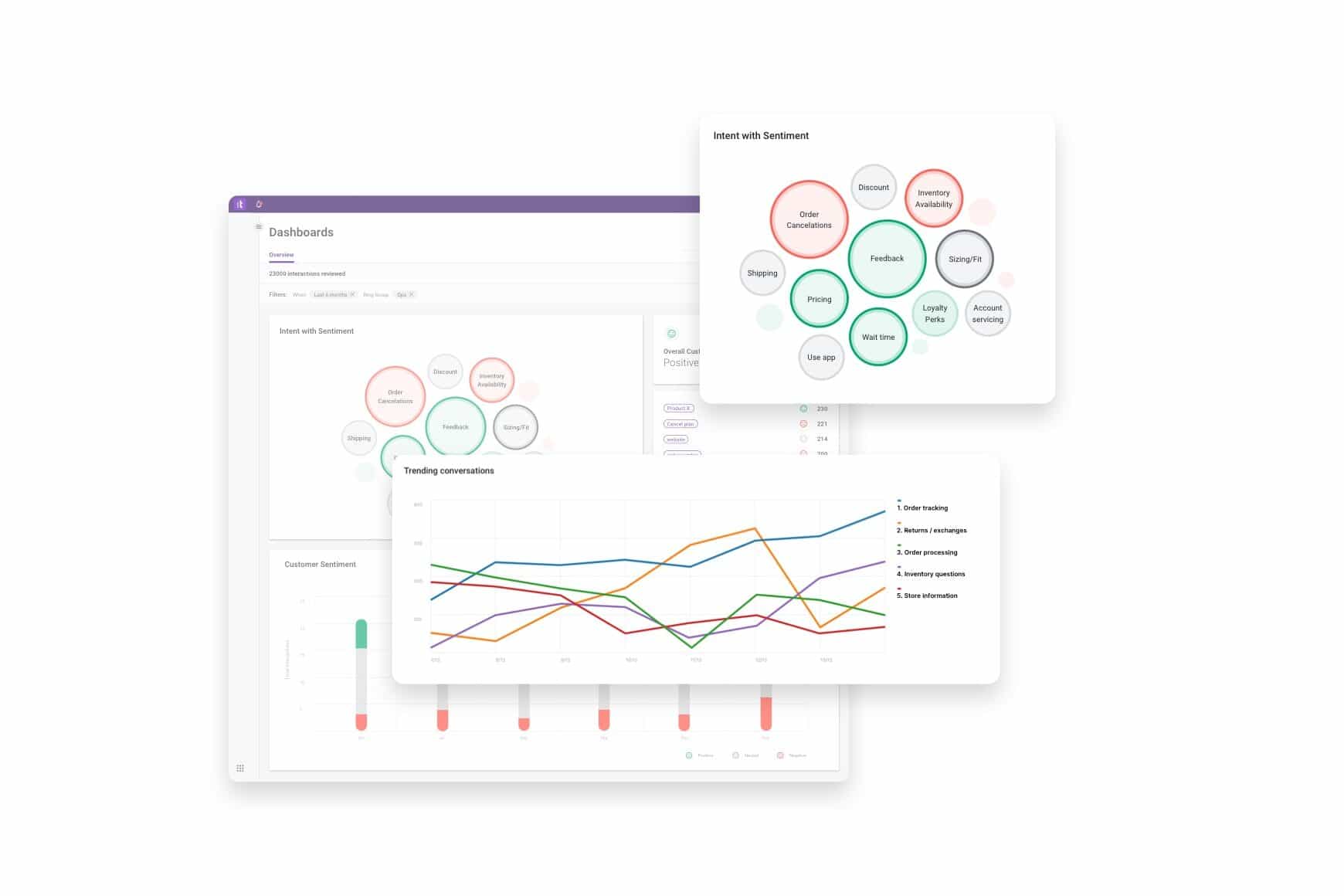 Boost visibility and profitability.
Drive customer lifetime value and loyalty.
Equip your team with tools to foster customer relationships and make product recommendations in every conversation.
Maximize your tech stack and reduce costs.
Improve time-to-value with an intuitive platform, out-of-the-box integrations, and easy-to-build connections.
Improve real-time reporting and visibility. 
Proactively share insights gathered from your contact center to all functions of your organization.
The outcomes speak for themselves.
0+%
Increase in average order value and CSAT scores.
0+%
Increase in occupancy rate.
0%
Reduction in manual work.
0%
Reduction in interaction costs.
0%
Decrease in agent effort.
0%
Reduction in authentication time.
0%
Reduction in ramp time and attrition.
Explore key use cases and capabilities.
Streamline and automate common retail inquiries.
Out-of-the-box retail workflows.
Where is my order? Integrate with e-commerce platforms such as Shopify to proactively inform your customers about the status of their order.
Returns and exchanges. Connect to back-end systems to make it easy for a customer to get a return label, check on the status of their return, or get personalized exchange recommendations.
Order changes and processing. Integrate with OMS and CRM systems to enable self-service and automated workflows to securely process, change, or cancel orders.
Pre-built integrations with core systems. 
60+ out-of-the-box integrations. Instantly integrate with commerce, CRM, helpdesk, and collaboration systems, including Shopify, Salesforce, ServiceNow, Zendesk, Microsoft Teams, Slack, and more.
80+ AppConnect marketplace solutions. Curated partner applications and services for extended functionality.
Is one of your systems not part of Talkdesk's out-of-the-box integrations library? Talkdesk Connections™ enables you to quickly build custom integrations and actions between Talkdesk and other third-party systems via a no-code interface.
Provide self-service with a human touch.
Virtual Agent™
Solve customer issues with conversational voice and chatbots powered by pre-trained retail AI.
Knowledge Management™
Help your customers help themselves with an AI-powered knowledge base that is fluent in retail.
AI Trainer™
Enable contact center agents to train artificial intelligence models via a no-code interface for continuous improvement.
Connect with your customers across all channels.
Voice and Digital Engagement
Interact with customers on their channels of choice, including video chat, social media, voice, live chat (with co-browsing), SMS, and email.
Orchestration & Routing
Deliver exceptional call quality and intelligent routing to connect customers with the best service representative or store associate to help.
Automated Notifications
Send automated notifications (SMS or bulk communications) to inform customers of their orders, deliveries, or special offers.
Retail Experience Cloud has a 100% Uptime SLA. Voice quality is backed by an industry-leading 4.22 MOS.
Empower employees with tools and insights to succeed.
Agent Workspace™ for retail
Improve resolution times with a unified view of all customer information, order history, and previous interactions.
Builder™
Fully customize Talkdesk to your unique needs through a full range of development tools, including APIs, and low-code and no-code interfaces across Workspaces, routing, reporting, and integrations.
Agent Assist™
Provide next-best-action recommendations by transcribing calls in real-time to help agents add value to every conversation.
Quality Management™
Evaluate customer interactions, and provide agents actionable feedback to deliver an exceptional customer experience.
Mobile App
Empower your employees to handle customer conversations, collaborate with their peers, and manage their schedules when they are on the move or simply away from the desktop.
Screen Recording 
Capture agent desktop activity during calls. Synchronized playback of voice and screen recordings provides a complete picture of every customer interaction.
Security (Guardian™)
Take control and protect your contact center. Ensure your remote and hybrid workforce is not a drag on system performance, and that agents comply with business processes and regulations.
Leverage data to optimize performance and operations.
Interaction Analytics™
Capture, transcribe and analyze every customer interaction using artificial intelligence to identify key conversation moments, topics and sentiment that help you understand customer intent, uncover trends and provide actionable insights to the business.
QM Assist™
Augment your evaluation capabilities by adding an AI and speech analytics layer to your standard Quality Management tools.
Custom Reporting with Live™ & Explore™
Create custom reports and dashboards and get a bespoke view of your contact center data. Use custom calculations to mix & blend more than 900 values to define new measures and report on virtually any metric.
CX Sensors™
Get instant notifications of issues that require a time-sensitive response by automating call transcription analysis in real-time and triggering alerts based on rules set on keywords or sentiments.
Feedback™
Easily create and deploy surveys on any channel to capture, analyze, and act on customer feedback.
Performance Management™
Provide your managers with interactive data visualizations that help them identify development opportunities and engage agents through personalized coaching.
Partnerships for you to scale with optimal support.
Our partnerships with retail-specific vendors and BPOs, including Alorica, enable brands to scale with upskilled resources.
"As a global leader in next-generation CX, we pride ourselves in supporting retailers worldwide with the best CX talent, digital tools, and consultative services. The Talkdesk Retail Experience Cloud™ will be instrumental for us in continuing to serve our customers with the best technology available."
SVP of Client Solutions at Alorica, global leader in next-generation CX solutions.
Trusted, reliable, and scalable.
Please wait while we validate your privacy settings.