SOLUTIONS BY BUSINESS TYPE
Enterprise contact center solutions.
Talkdesk provides a secure and reliable AI-powered contact center solution for enterprises looking to build an iconic brand through exceptional customer experience.
The cloud contact center for the modern enterprise.
Modern customers demand more from the companies they do business with. To stay relevant, enterprise contact centers must meet their needs today and anticipate their expectations tomorrow.
Talkdesk was built to give businesses the best of both worlds: a quickly deployed, intuitive solution that leverages AI and rapid innovation.
Experience the future. Today.
Enterprise-class performance.
AVAILABLE
0
Security and data team
SECURE
0+
Security certifications
SCALABLE
0
Seconds to provision a new agent
Break down technology siloes.
Your technology stack is constantly growing. Your contact center needs to leverage the data in all those systems for a contextual and highly personalized customer experience.
Talkdesk integrates with popular business tools using clicks, not code, and has open APIs for custom integration.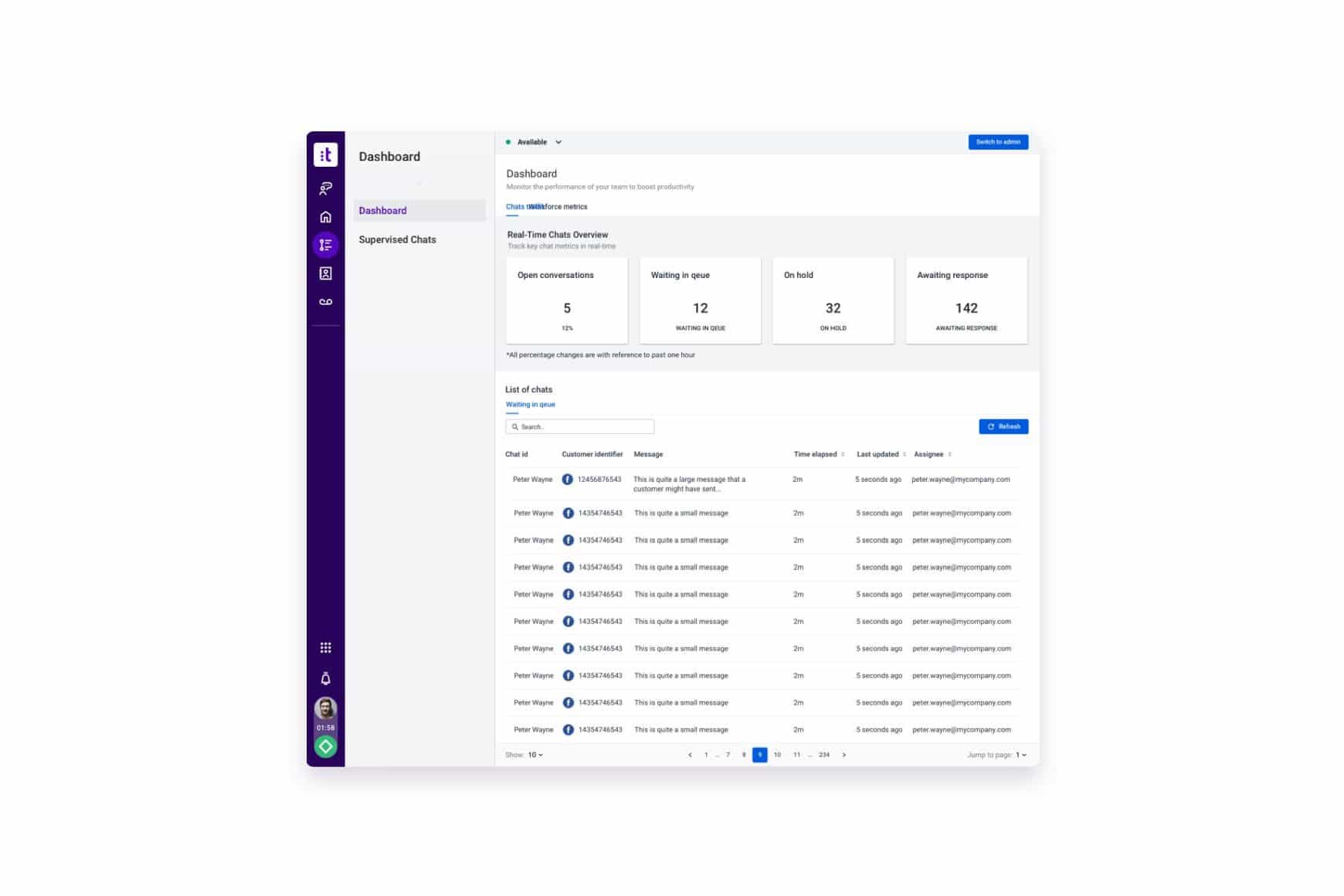 Accelerate your digital journey.
Being a modern enterprise means engaging with customers where they prefer.
Talkdesk Digital Engagement™ enables agents to handle customer inquiries across a variety of channels, without losing context if the conversation moves from one channel to the next.
Turn advanced reporting insights into action.
Stay ahead of the curve with a full suite of AI-powered reporting and analytics tools.
Talkdesk provides deep insights into real-time metrics and historical contact center trends so you know exactly where to take action.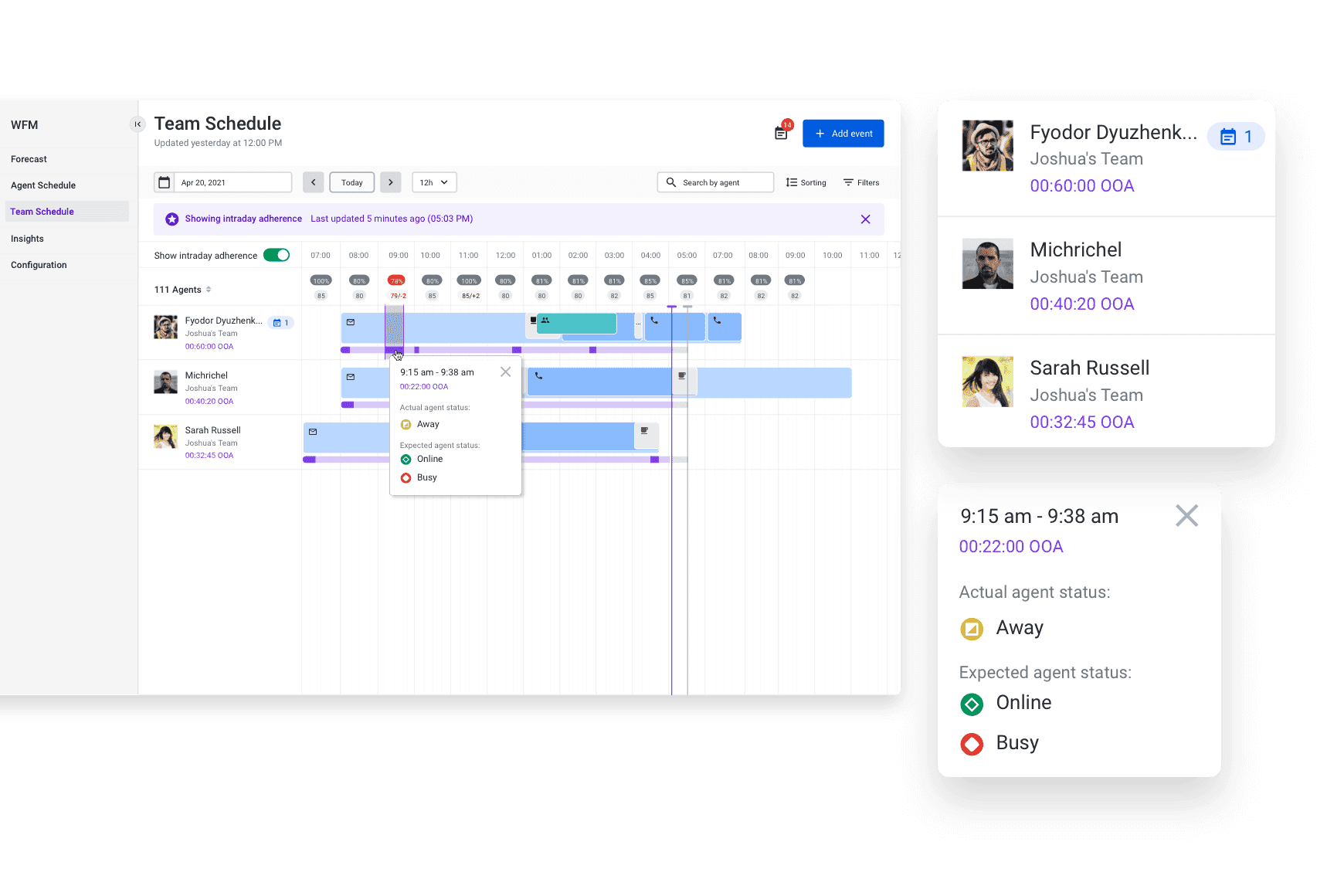 Forecast and plan your workforce effectively.
It is impossible to properly staff your contact center and respond to changing scenarios with outdated tools and processes. Talkdesk Workforce Management™ uses AI to help you plan and manage your contact center's changing conditions.
Powering the world's top companies.
Purpose-fit for all your enterprise needs.
What is the difference between a call center and a contact center?
A call center focuses on responding to callers and answering their inquiries over the phone. Contact centers not only field phone calls, but also facilitate other communication channels such as live chat, email, SMS, social messaging and self-service. A contact center's primary goal is to make the customer experience better and make agents more efficient.
What is an enterprise contact center?
An enterprise contact center is a large-scale center, dedicated to creating more agent efficiency and facilitating excellent customer experiences. Their main goal is to provide exemplary service, in order to increase customer loyalty. Because it is such a large operation, an enterprise contact center is often very complex. So, it is especially essential for these types of contact centers to utilize some kind of centralized database along with automation and shortcuts, to keep their agents organized and increase their efficiency. These type of features can be found in an enterprise contact center solution, such as a Contact Center as a Service (CCaaS)
What are the benefits of using an enterprise contact center?
Enterprise contact center software is built to handle the complex demands of a large company, enabling them to deliver superior customer experiences at scale. They include features such as real-time shortcuts to help agents during live calls, AI-powered agent assistance, organizational tools like centralized databases, and customer-facing features like self-service knowledge bases and other omnichannel options. When an enterprise decides to implement this type of software into their contact center, their agents become more efficient, and the quality of their customer service increases.
Please wait while we validate your privacy settings.