Talkdesk Agent Assist, empowering agents to support customers.
Agent Assist is an AI-powered assistant that listens, guides, and assists agents during customer interactions, empowering agents to resolve customer inquiries faster and reduce average handle time.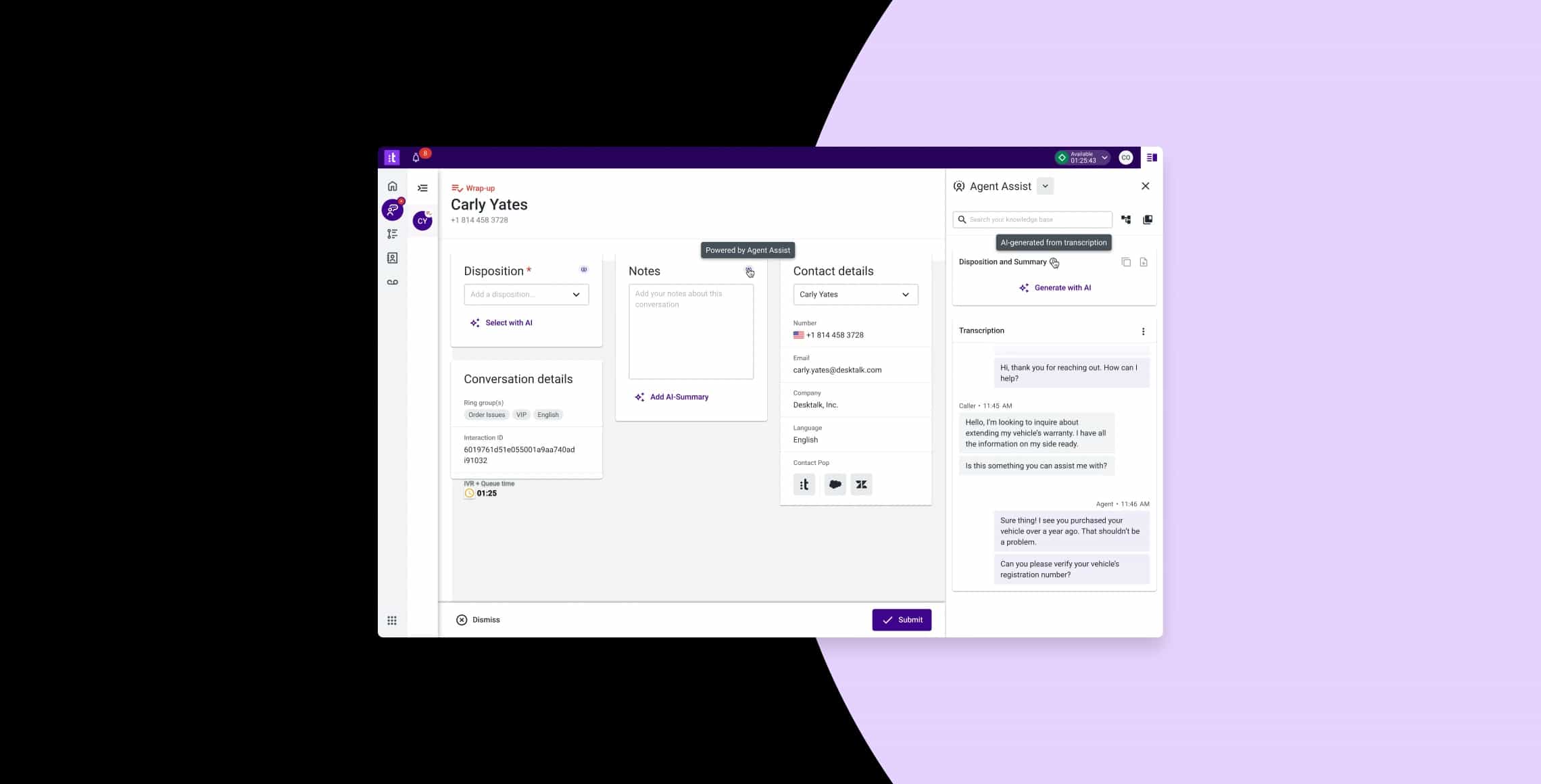 Help agents resolve customer issues correctly and quickly with Agent Assist™.
Deliver great customer experiences by empowering your agents with automated assistance, contextual recommendations, and next best actions during live interactions. With generative AI, Agent Assist helps agents answer customer inquiries quickly and accurately, reducing contact center costs and improving operational efficiency.
AI that actually turns agents into experts.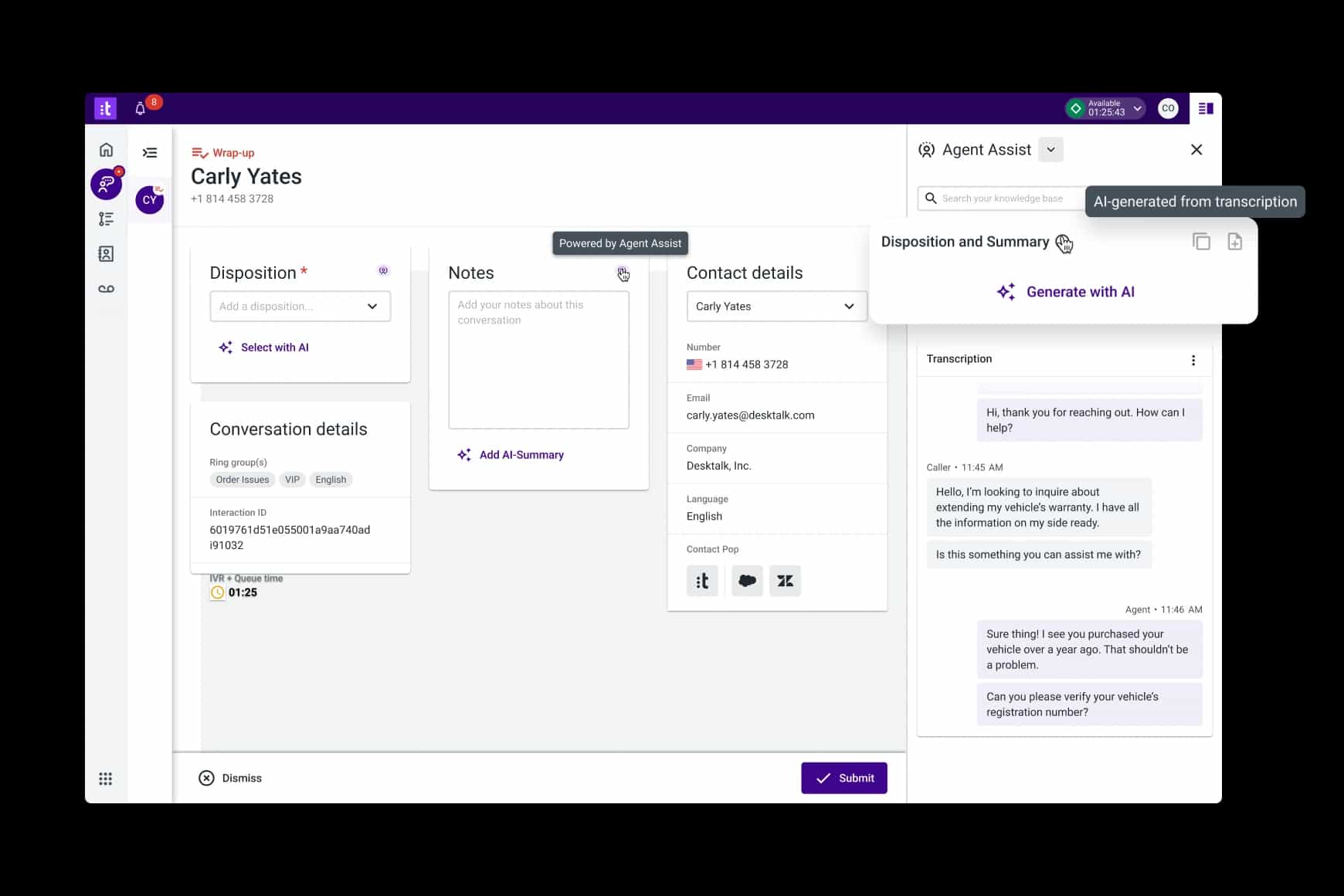 Automate interaction summaries and reduce AHT by 15%.
Agent Assist, now with generative AI, automatically summarizes customer conversations and selects dispositions, improving accuracy, reducing handle time, and helping agents get results faster.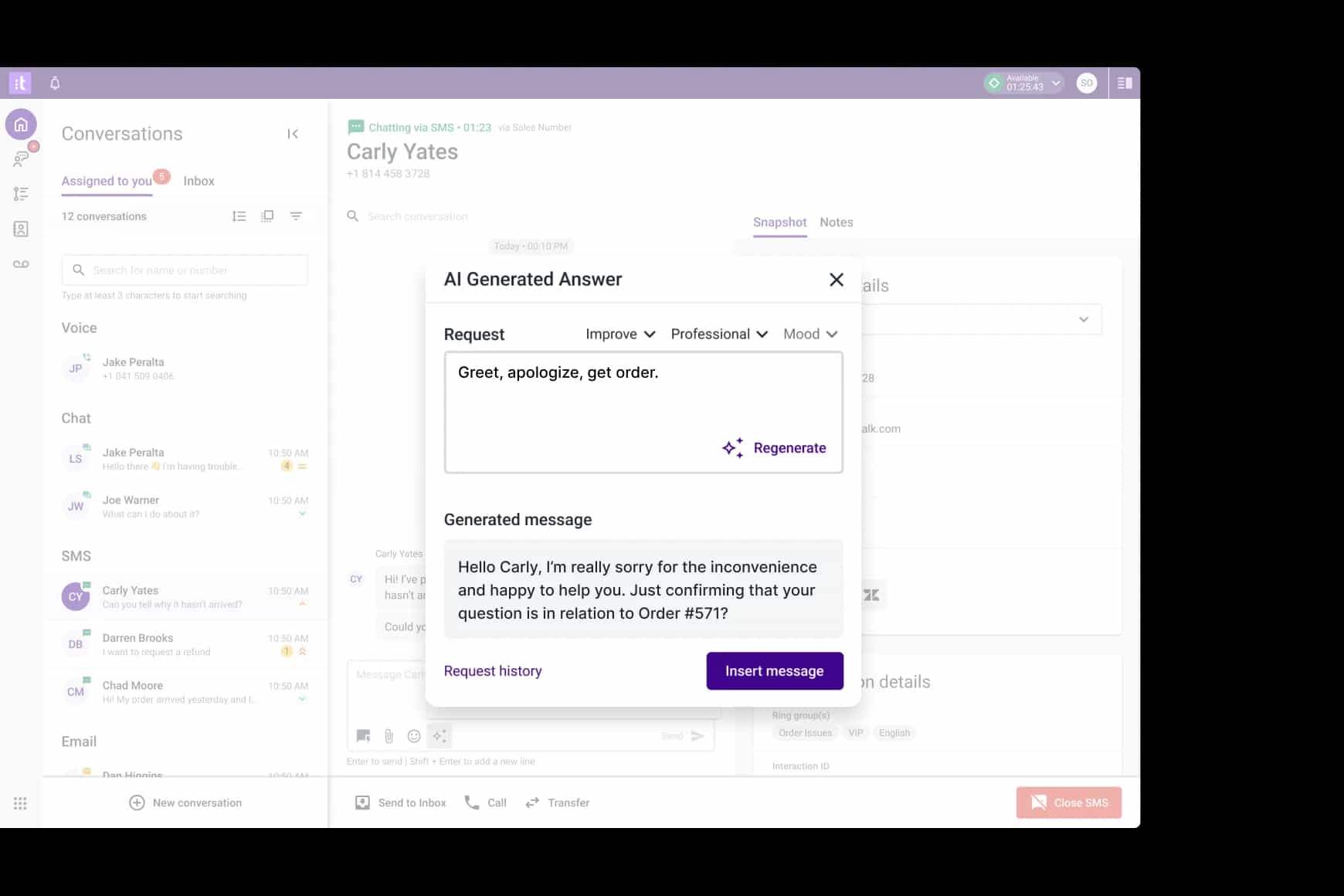 Help agents write responses to customers.
Generative AI makes agents more efficient by automatically suggesting thoughtful, on-tone responses in chats and emails, based on their input.
"When we say 'effortless,' it means for the caller, but also the agent. Talkdesk improves the user experience as well as the customer experience."
Rita Michaud Director, CX Enterprise Project Management, Serta Simmons Bedding at LLC
Give agents real-time, laser-precise answers.
Agents provide better service assisted with context-aware suggestions during live conversations. Use generative AI to give agents exact answers, not long articles, by tapping into trusted information from your knowledge base.
Improve agent proficiency and accuracy.
Get real-time transcriptions and guide agents with Smart Scripts during live conversations. This cuts costs, shortens new agent onboarding, and boosts CSAT.
Reduce the need for supervisor assistance.
Enable agents to be more self-sufficient in solving customer issues, giving supervisors more time to focus on priority tasks.
Talkdesk Agent Assist features.
What is Talkdesk Agent Assist?
Talkdesk Agent Assist is a personalized AI-powered assistant that listens, guides and assists agents in every customer conversation. It helps agents deliver exceptional customer experiences by providing contextual answers and next steps for agents during live calls.
How can Agent Assist help contact centers meet KPIs?
AI-powered Agent Assist from Talkdesk empowers contact centers to speed up resolution times, efficiently manage agent resources, and reduce the dependency on supervisors to help agents during live interactions. These actions help contact centers meet and improve important KPIs such as first contact resolution, average handle time, average wait time, and customer satisfaction scores.
Please wait while we validate your privacy settings.