Average Abandonment Rate
An abandoned call is a call that disconnects (or is terminated by the caller) before the caller was routed to an agent. Inbound callers typically abandon in the IVR or waiting queue. In today's environment of rising customer expectations around real-time, personalized service, it's imperative that you are successfully connecting with as many inbound customers as possible.
Short abandons however, or calls that are disconnected before a predetermined number of seconds, should be filtered out so as not to skew your call center's abandonment rate and impair your ability to make sound management decisions.
To measure the average abandonment rate in Talkdesk, first configure an abandoned short calls threshold to filter out this data. It's best practice to exclude calls that were abandoned in the first 5 seconds. We used that threshold when we collected data for this report. Then visit the Reporting dashboard, set the appropriate date range, divide the Abandoned Calls by Total Calls and multiply that number by 100.
For all Talkdesk users in 2017 we saw an Average Abandonment Rate of 9.07%. Here's what the numbers look like by industry: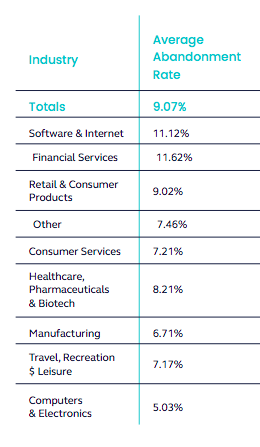 Not surprisingly, the industries with the lowest rate of abandoned calls are Travel, Recreation and Leisure and Computers and Electronics. Travel companies are good about connecting with customers when they call. Their service teams are probably dealing with high-emotion situations like reservation cancellations or booking updates and need to invest in connecting with customers in these situations. Computers and Electronics industries have also have high urgency because when customers call they often have an emergency, such as a crashed computer that needs to be fixed immediately.
At the high of the abandonment rate spectrum are Financial Services companies who may be dealing with lower-urgency issues, where customers are satisfied leaving a message and waiting for a callback. Software and Internet providers have a high abandonment rate because they're likely funneling their customer conversations to non-voice channels.
Measuring Abandonment Rate is only half the battle. You need to understand what this means to your business and how to respond, especially if this KPI is outside of your predefined target range.
High Abandonment Rates could indicate:
IVR is too long and/or complicated
IVR prompts are unclear to customers
Routing is improperly set up, driving up wait time for certain segments of callers
Staffing is inadequate, causing callers to wait an unacceptable amount of time in the queue
Low Abandonment Rates could indicate:
IVR is effective
Agents answer calls quickly
Routing is optimized
Team is properly staffed or even overstaffed
If you suspect your IVR is the issue, consider running a focus group and observe users navigating through your IVR. It may sound like overkill, but think of your customer service as a product you are offering. Your product team likely runs usability sessions with customers to better understand how to design the offering – why shouldn't you do the same with your customer service offering?
To learn more about Abandonment Rate and the other metrics in Talkdesk's 2018 Contact Center KPI Benchmarking Report, click the button below.