Interactive voice response (IVR) is a telephony menu system that streamlines customer calls by utilizing the dial pad for identification, segmentation, and routing. With IVR, callers can easily navigate through a menu to connect with the most suitable agent within your team, ensuring efficient and personalized assistance for their specific needs.
A call center IVR doesn't replace the need for a live agent, but it is a way to improve customer satisfaction while leaving agents available to handle inbound calls with more complicated issues.
Interactive voice response systems work by presenting callers with pre-recorded messages that allow them to find answers and handle a variety of simple tasks (making payments, resetting signals, etc.) on their own.
IVR technology comes in handy during times of high call volume. Even the most well-staffed contact center can occasionally become overburdened and, when this happens, having an IVR system can ease call congestion while still maintaining customer satisfaction. Of course, not every issue can be handled by recordings or even interactive virtual agents. That's why IVR technology also has the capability to identify a caller's needs and connect them to the best contact center agent to handle their issues.
This call routing capability benefits both customers and call center agents.
How does an IVR work?
Even the most simple interactive voice response systems have the same basic functions. When customers or prospects reach call centers, they're first greeted with a prerecorded welcome message. This is when the first steps of the IVR menu are presented to the caller.
Callers are given a variety of options to choose from, and their decision will dictate the next step in their call journey. For instance, the IVR system may start by asking whether a person has a billing issue or a tech problem. Their choice directs them to the proper menu, where they will receive additional options or be forwarded to a representative.
Incoming calls typically encounter IVR menu options in two ways. The most basic uses dual-tone multi-frequency (DTMF) signaling. This allows customer calls to be directed based on which numbers callers press on their dial pads. The computer recognizes the button being pressed and handles call routing appropriately.
On the other hand, directed dialogue systems use speech recognition to direct callers to further proper menu options. More advanced systems—including some IVR software options from Talkdesk—utilize natural language speech recognition and artificial intelligence technology to understand full sentences from callers rather than a few preset identifiers.
What is an IVR menu?
In call center IVRs, the menu that greets callers is the most essential aspect of this technology. It will dictate the entire customer experience throughout the call. Callers will be presented with IVR menu options that allow them to inform the system of their issue. The initial menu options are often incredibly simple.
For instance, callers may be given an option like "Press 1 if you're a current customer, or press 2 if you need to sign up". The phone menu—often referred to as a "phone tree"—allows customers calling in to move through the system with ease.
An interactive voice response system allows you to customize the customer experience. Not all businesses are the same, so being able to record your own IVR system options is important. Of course, this isn't always necessary. That's why Talkdesk also offers pre-recorded messages you can use with your IVR menu.
Regardless of which route you go, the main goal is to ensure customer calls get directed properly. Whether this means allowing clients to enter their own payment details or forwarding them to the escalation team, the right IVR system can get the job done.
How do you set up your IVR?
Setting up an IVR system doesn't have to be a complicated task. Unfortunately, it's also not something that can be boiled down to a single paragraph. That's because there are many  interactive voice response systems out there, and they all have different configurations.
To give you an example of how simple this process can be, take a look at our article on setting up IVR menu options.
After creating a few messages for your IVR system with this process, you'll have a basic phone tree that can improve the customer experience by directing calls efficiently.
Why should you use an IVR?
There are a multitude of reasons an IVR phone system should be used by companies. Many of these are discussed in the benefits section below, but even the most basic functions of a call center IVR make it clear why every business should consider the technology.
One of the most obvious reasons is easing contact center congestion. An influx of incoming calls can leave customers on hold and call center agents rushing to assist everyone who needs help.
An IVR system offers self-service options for clients, and even outside of business hours, they can get help for common issues and find the answers to frequently asked questions.
Contact centers also benefit from interactive voice response systems by removing repetitive tasks from the plates of your agents. Research shows that two-thirds of global office workers feel overburdened with repetitive tasks that could be automated. Dealing with such menial tasks, in addition to complex issues, can make it difficult to maintain worker morale. In the end, this negatively affects productivity and efficiency. By utilizing even a basic interactive voice response system, you can alleviate this issue.
Benefits of an IVR.
The benefits of an interactive voice response system are many. After all, this technology wouldn't be nearly as popular if it didn't offer advantages to every contact center that used it. It's certainly beneficial to give callers immediate answers and keep them from sitting on hold, but this is far from the only helpful aspect of IVR systems. The following benefits are some of the most vital in customer call centers.
Increase first contact resolution.
IVR significantly increases first contact resolution because callers are always directed to the agent or department that is most capable of meeting their needs. The agent who receives the call will be more qualified to answer the caller's question and will be less likely to transfer the call to another agent.
Increase customer service efficiency.
Agents who work in a company that uses an IVR are more proficient at solving specific problems and meeting the unique needs of the customers that they are assigned. The result is an increase in customer service efficiency.
Reduce operational costs.
IVR systems can replace a receptionist or a customer service agent who answers calls and directs callers to agents. They are also very affordable, can increase efficiency, and will reduce operational costs, so the ROI is huge.
Increase professionalism.
You can use an IVR system to greet your customers in a very professional manner and to make it appear that you have more departments and employees than you actually have.
Increase customer satisfaction.
When your IVR is easy to use and reliable, customers will never be routed to the wrong department or to an agent who cannot solve their problems.
Call center IVR best practices.
Routing calls with IVR technology is a powerful business tool. It's important to note that these systems aren't one-size-fits-all. Even more importantly, they can't handle everything on their own. By utilizing the following call center IVR best practices, you'll ensure your business gets the most out of this invaluable technology.
Configure a personalized IVR message and prompts.
IVRs allow you to record customized greetings, messages, and prompts so that when your customers call your company, they will have a more personalized experience. "Press 1 for sales" taken to a whole new level.
Use pre-recorded IVR messages.
If you prefer to not use your own voice on the IVR, you can use pre-recorded IVR messages. These are less personalized, but they still get the job done. They're also very appropriate in highly professional settings. Professionalism made easy.
Collect information about your callers.
IVRs can collect information about your customer's needs and will transfer calls to the most appropriate agent or department depending on their IVR input. When calls are directed to agents using a contact center solution with an IVR system, the probability that the caller will be transferred to the wrong agent or department will be significantly reduced.
Automate customer support.
IVR systems allow your customers to solve their own problems and obtain the information they are searching for without speaking with an agent. Automated customer service made simple.
Prioritize calls based on value.
IVRs allow you to prioritize calls based on the caller's value. When a high-value customer calls, the IVR will route them to the agent who is most qualified to meet their needs. If all of your agents are busy, they will be directed to the front of the waiting queue. Your team will never lose a high-value customer due to poor customer service or a slow answer time.
Route the caller to the right agent or department.
IVRs will route your callers to the most appropriate department or the agent that is most qualified to meet their needs.
Thrive with high call volumes.
IVR systems allow companies to easily handle high call volumes. Callers will automatically be directed to the agent or department that is most capable of meeting their needs or will wait in a queue when all agents are busy. Some IVR systems allow the caller the option of having an agent return their call rather than wait in a queue.
Improve your company's image.
Startups and smaller companies can use IVRs to make it appear that their company is larger than it actually is. If you only have a few people in your company, you can configure IVR prompts that allow callers to talk to sales, support, marketing or technical support, etc. Regardless of what department the caller choses, they will be routed to the person on your team assigned to answer all of the calls. With an IVR your customers will be impressed with your company's professionalism.
Learn more in our IVR webinar.
In our webinar for Talkdesk Studio™, we share how you can use IVR to:
Enrich, extract, and filter data to instantly identify and route callers to both the channel and agent with the highest likelihood to achieve first-call resolution.
Improve your routing strategies with the automated application of data insights.
Enable users to create call flows simply and without any coding expertise.
Listen to our webinar today and get started on improving your contact center efficiency.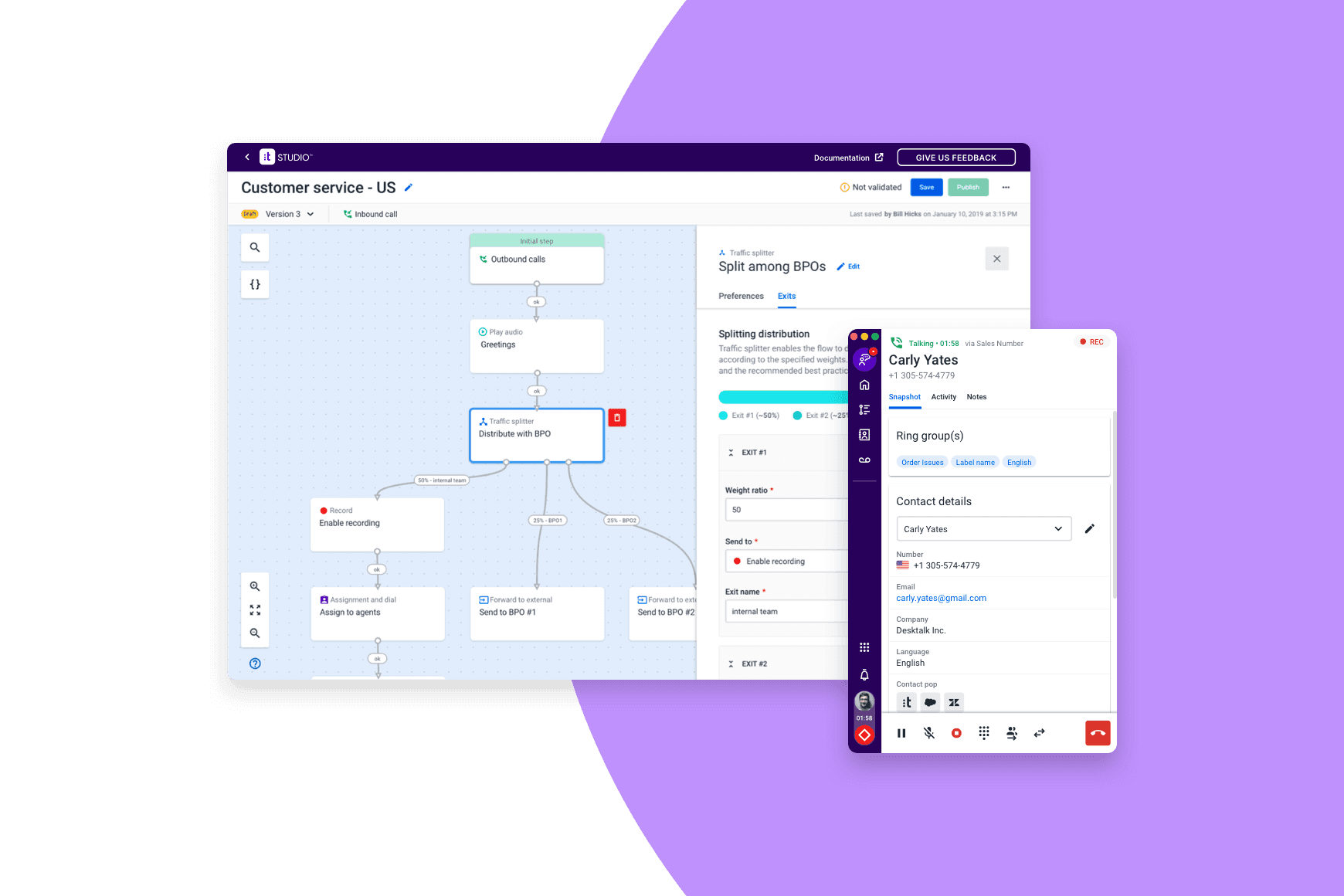 WEBINAR
Product Demo: Talkdesk Studio
FAQs.
What does IVR stand for in a call center?
Interactive voice response (IVR), is an automated telephony menu system that efficiently handles customer calls using touch-tone dialing or voice commands. By guiding callers through a series of options, IVR identifies their needs and directs them to the appropriate agent, ensuring personalized and efficient assistance
What is an IVR example?
While IVR technology may sound complex—and in some ways, it certainly is—you've no doubt encountered such a system during your day-to-day life. In fact, you may already be using a basic form of this technology to route calls or offer self-service options for customers. One IVR example is what you hear when you call your internet provider. You're very unlikely to immediately get directed to a live agent, but the recording you hear when you call still works to identify your specific needs.
Do IVR systems integrate with other technology?
You probably already utilize a variety of enterprise software tools in your call center operations. This makes integration an imperative aspect of any interactive voice response system. After all, IVR self-service options can only be so helpful if your systems aren't working together. Talkdesk IVR tools were created with integration in mind. Whether you still use a legacy system or have an advanced cloud contact center, Talkdesk can take your operations to the next level.
Please wait while we validate your privacy settings.