Full contact center functionality inside Salesforce.
A tight CRM and call center integration is the hallmark of successful sales and support teams.
Seamlessly bring these systems together to drive agent productivity, improve team efficiency, and personalize every interaction, turning happy customers into brand ambassadors.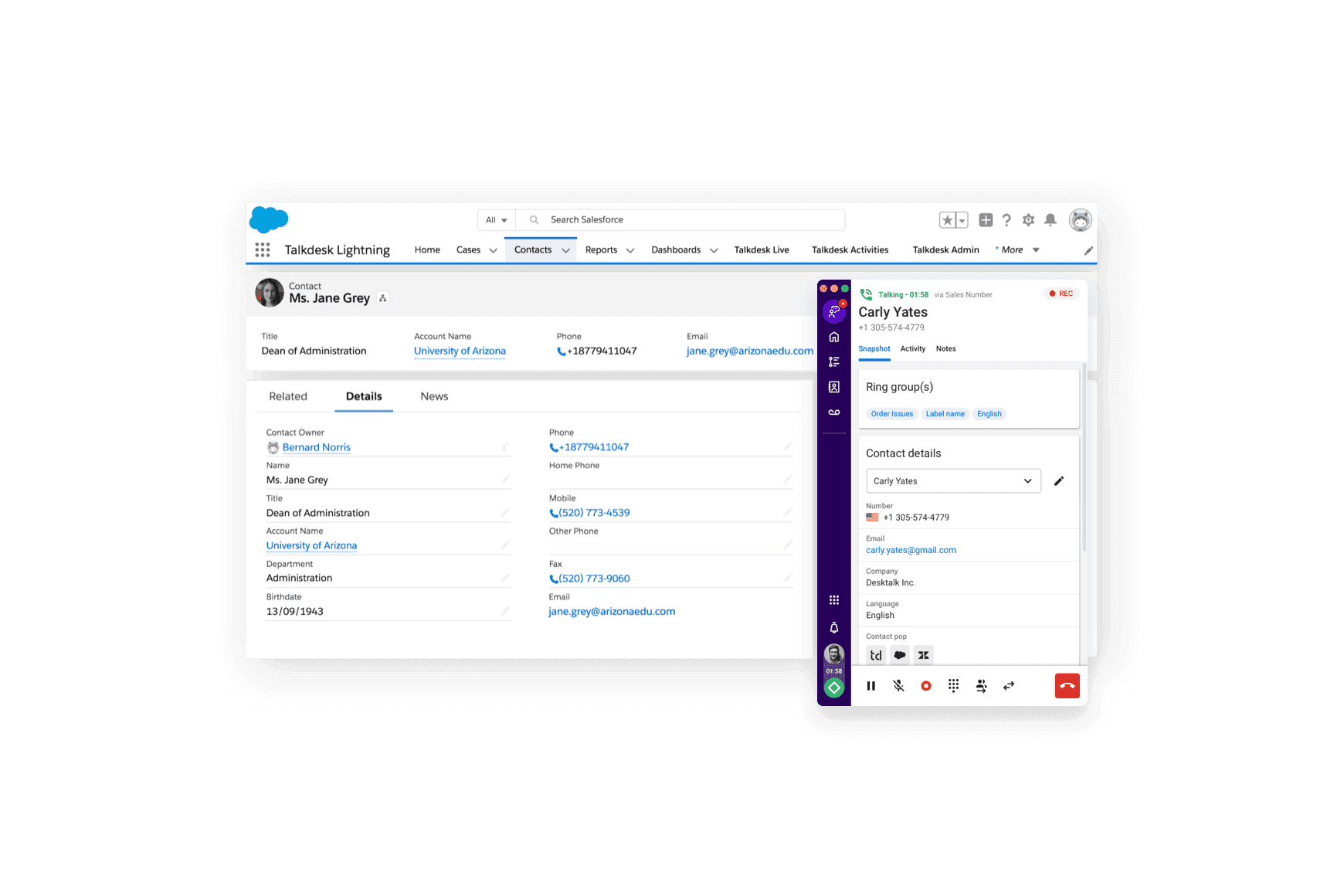 Quick setup in Salesforce.
Deploy Talkdesk for Salesforce, add Talkdesk licenses, and assign user permissions—all without ever leaving Salesforce and in complete sync with Talkdesk.
Our streamlined configuration gives you complete control over your call center settings, so you can decide how calls are routed and logged according to your specific needs.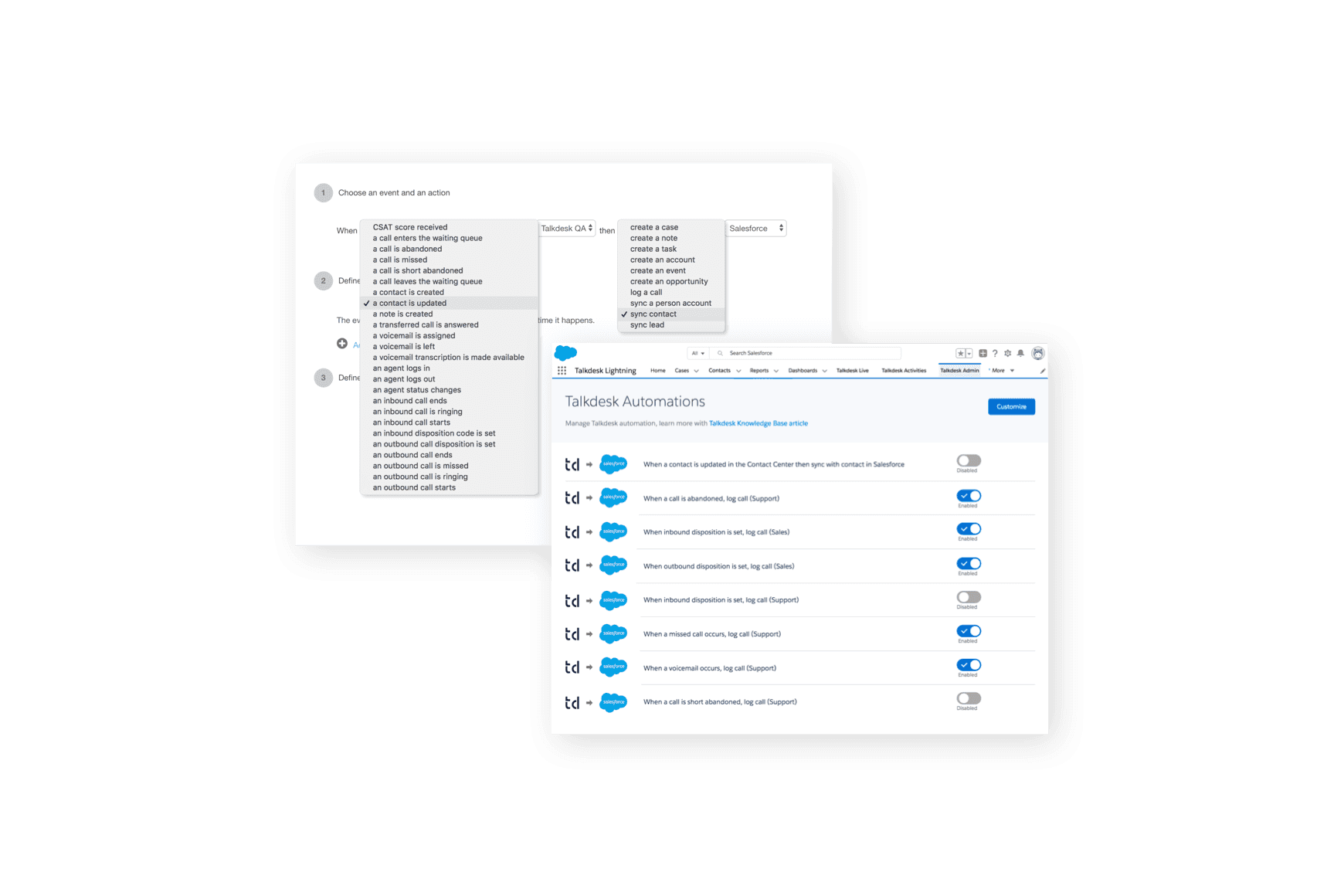 Endless automation possibilities.
Automate manual, redundant tasks to free up agent time and boost productivity.
Pre-built and custom automation, such as automatically creating a case in Salesforce when a VIP customer leaves a voicemail in Talkdesk, allow your agents to spend more time delivering great experiences.
Talkdesk for Salesforce integrates with Salesforce Lightning Flow, so you can trigger automation based on events in your call center. The possibilities are endless.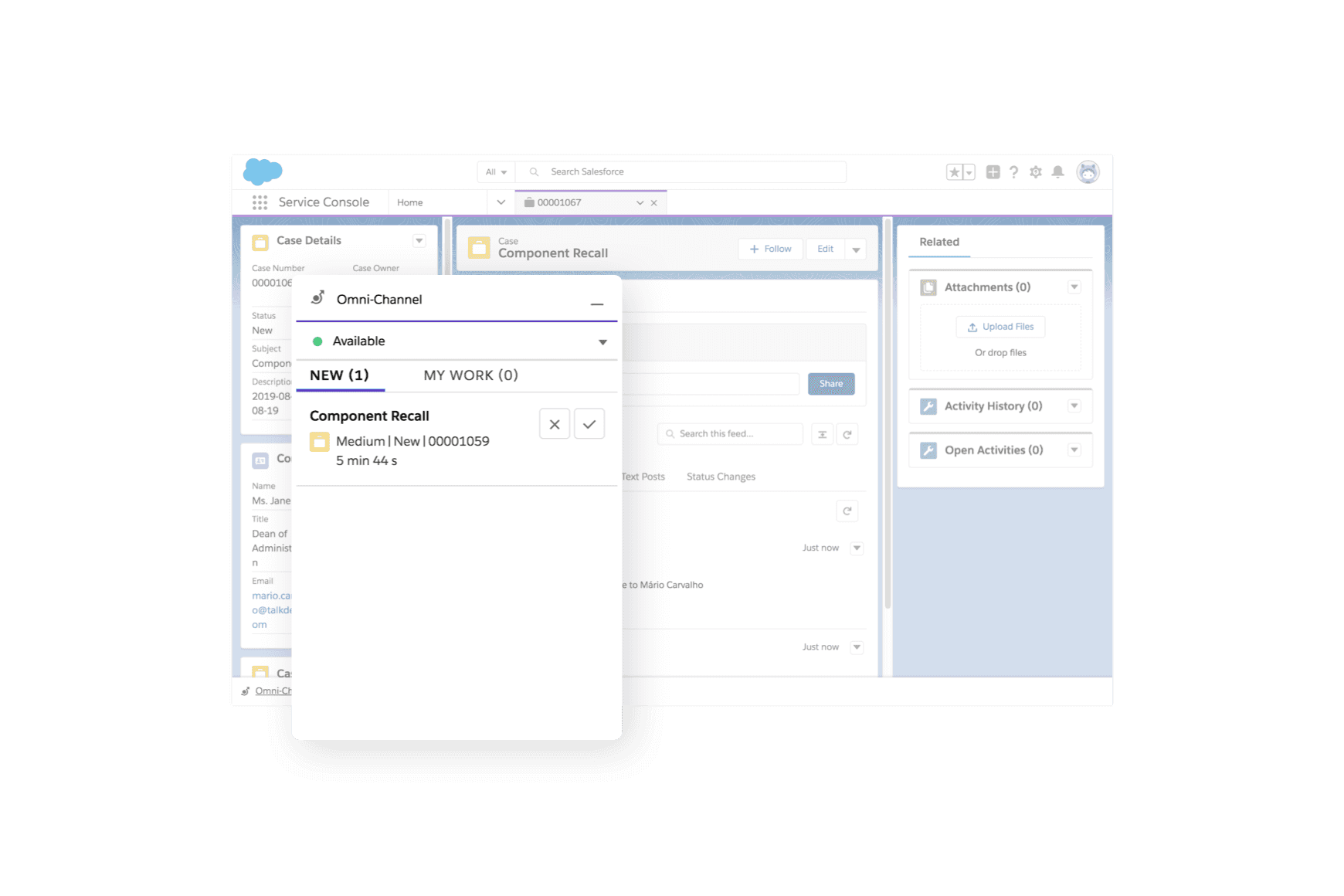 Powerful Omnichannel solution.
Let customers reach you using the channel they prefer. With Talkdesk, you can provide both phone and SMS support directly within Salesforce.
Easily manage work items across multiple channels by leveraging an extensive integration with Salesforce Omni-Channel.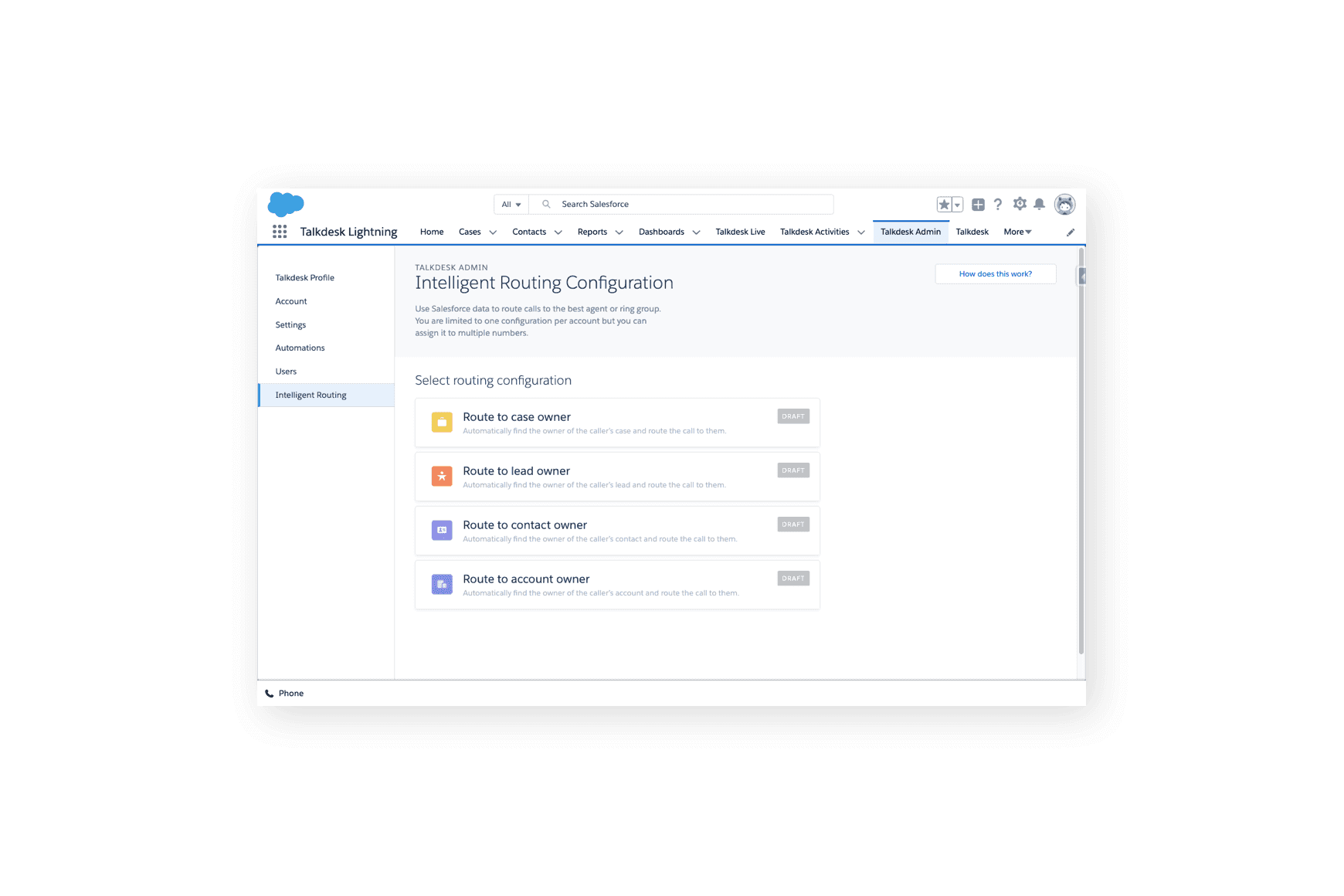 Intelligent routing configuration.
Leverage your Salesforce customer data to route your customers to the best agents or reps based on cases, leads, accounts, or contact records. Empower your Teams to have more informed, personalized conversations that deliver results.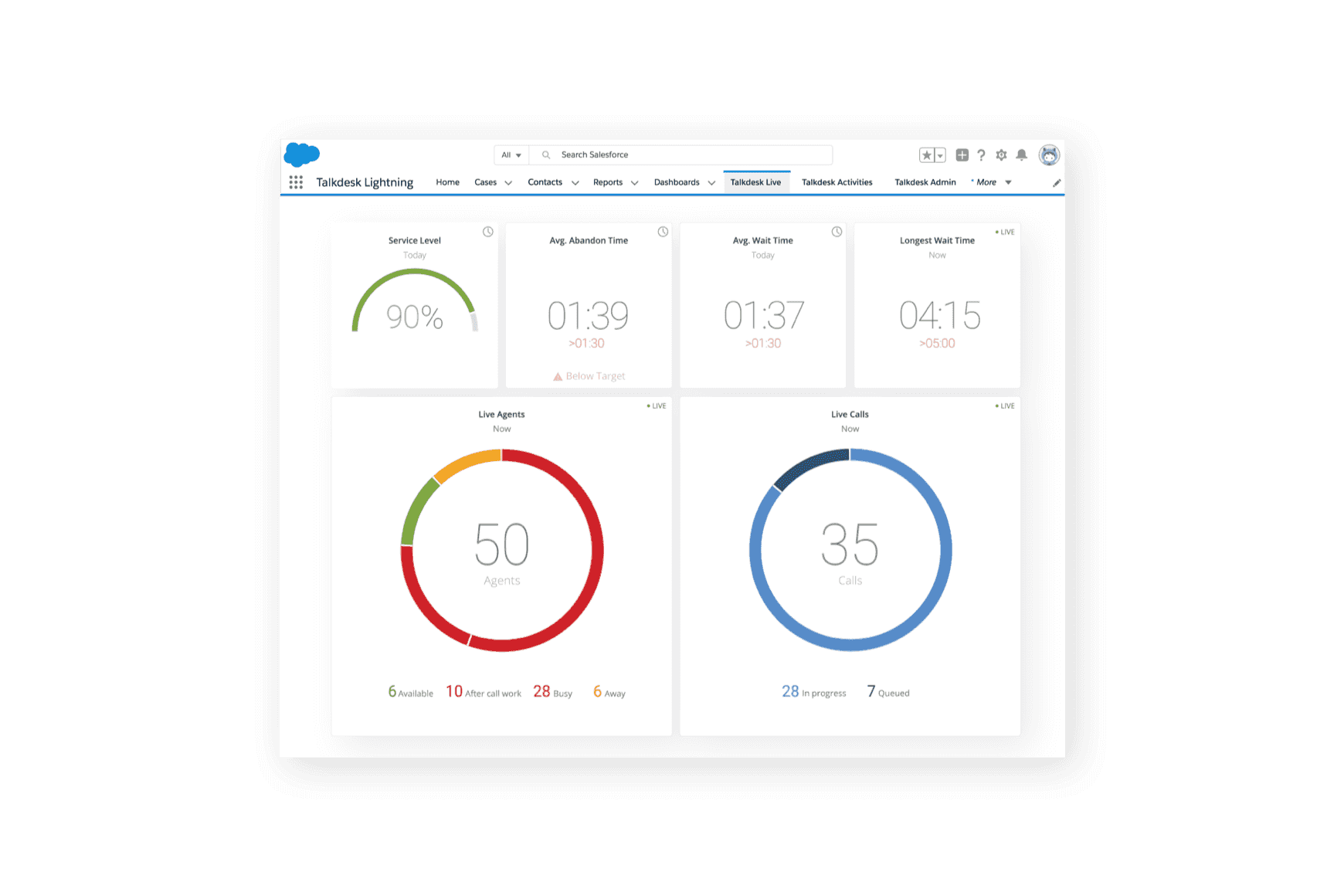 Comprehensive real-time and historical reporting.
Keep track of what's happening at each moment in your contact center. Real-time dashboards and detailed breakdowns of call center metrics give you information at-a glance, directly embedded in Salesforce.
Gain a deeper understanding of your team's performance and trends using Talkdesk's pre-built historical reports, or customize and create your own unique views.
Already using Salesforce?
Download Talkdesk for Salesforce from the AppExchange to start improving the customer experience and driving revenue.
Talkdesk for Salesforce features.
Please wait while we validate your privacy settings.