How long does it take for a phone number to call again?
An analysis of people who call into Talkdesk found that 9% of phone numbers call back within five minutes after the first call. Note that the sum of all bars in the graph below is greater than 100% because a phone number can call back multiple times.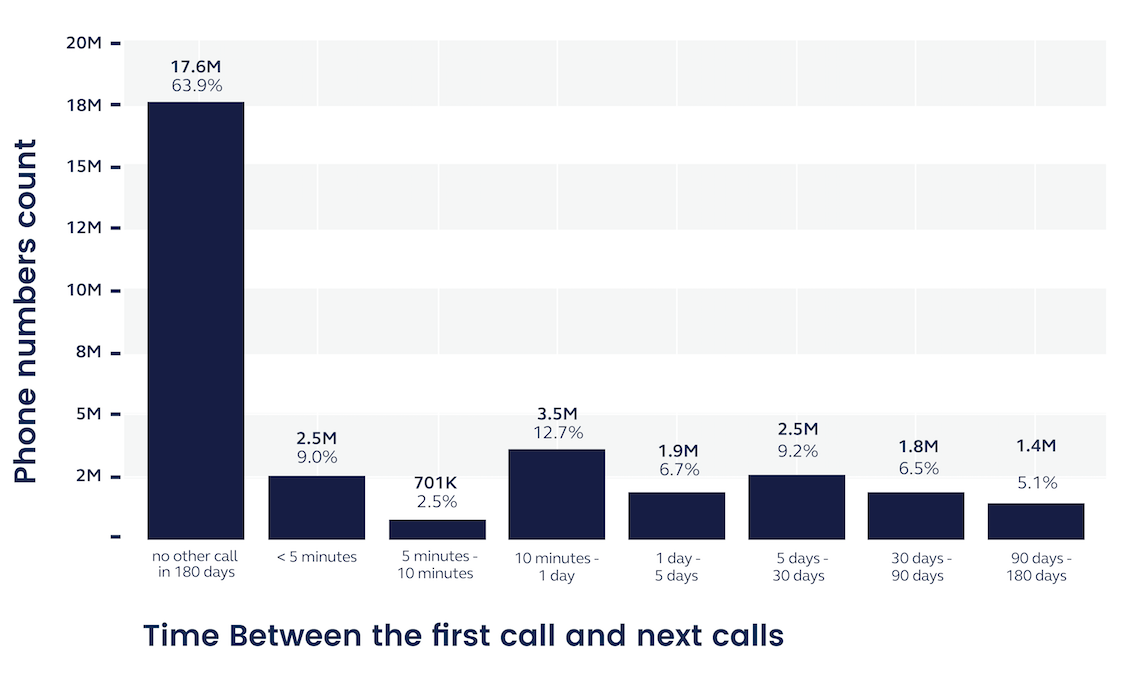 It's important to clean your data sets appropriately before analyzing as "phone number" and "contact" are different concepts.
A contact in Talkdesk can have many phone numbers associated with it. 53% of contacts in our database have at least one phone number and, in some cases, contacts can be associated with thousands of phone numbers.
A Talkdesk contact or phone number may have none or many calls associated with them. Contacts imported from third party applications may never "participate" in any Talkdesk call but are still stored in the system. 75% of contacts have appeared at least once in an inbound or outbound call. Additionally, it is possible for multiple contacts to share the same phone number.
An 18% reduction in call volume results in a 15% improvement in first call resolution. Companies that consistently measure FCR see major performance improvements. According to research conducted by The Ascent Group, 60% of companies measuring FCR for a year or longer reported improvements of up to 30% in their performance. Based on our findings, we recommend conducting a First Call Resolution analysis and setting up a process to consistently measure performance. Reducing repeat calls from 25% down to 20% can save the average call center $390K annually. From there, allocating resources to increase first-call resolution for "at risk" customers—the ones who call multiple times—will have a huge impact on your overall first call resolution rate and improve your bottom line.