The Talkdesk digital customer engagement platform for better CX.
Engage your audience at every step of the customer journey with our seamless platform that is designed to build long-lasting customer relationships.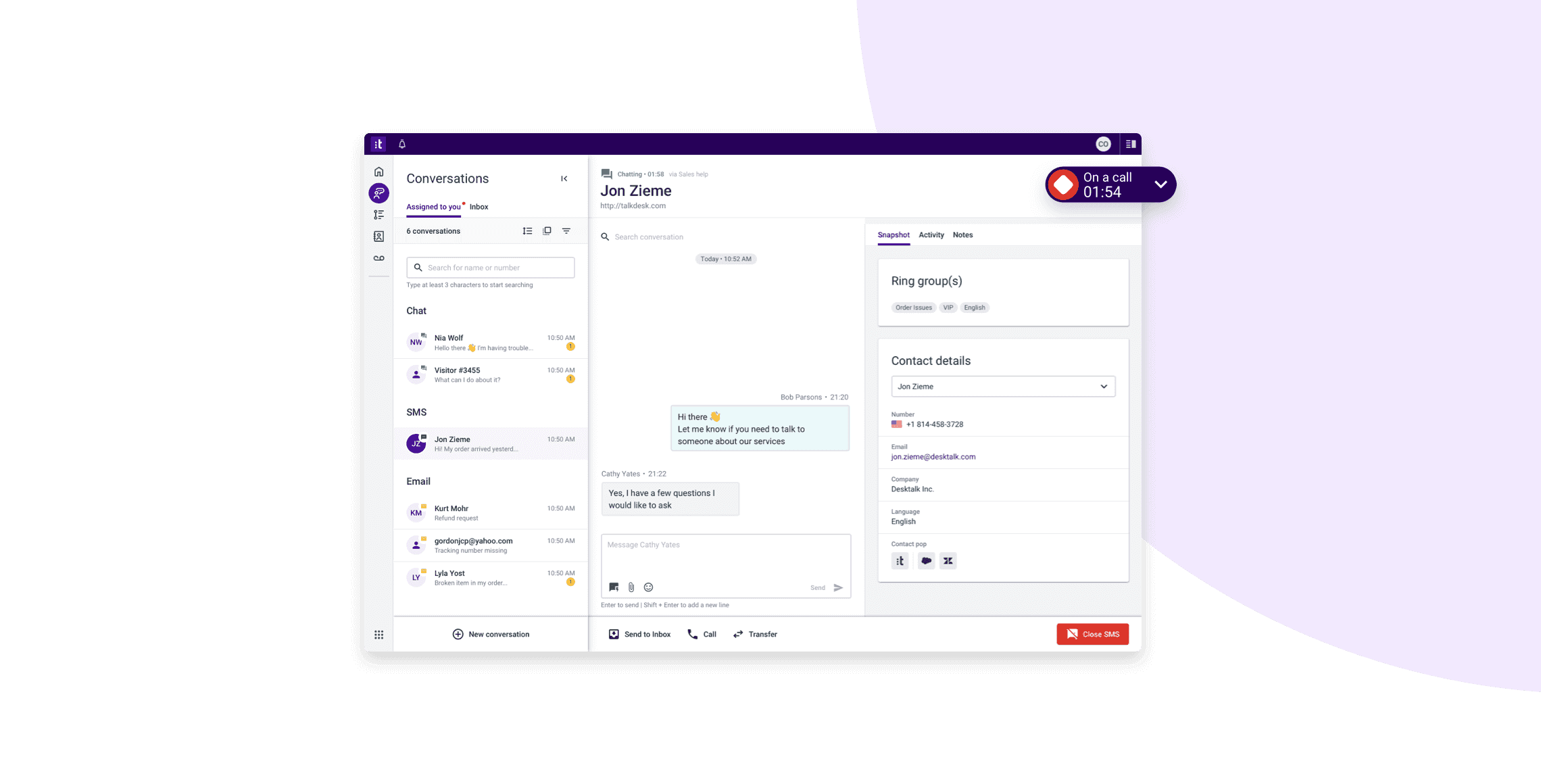 Meet your customers where they are.
Empower your contact center to engage with customers and prospects through their channel of choice with Talkdesk Digital Engagement™. Keep conversation context and personalize interactions across a wide range of communication channels.
Engage with customers on their channel of choice.
Talkdesk Digital Engagement provides integrated customer support through SMS, chat, email, social messaging, fax, and more. Engage with customers on one channel and seamlessly elevate a conversation across any channel without having to restart the conversation.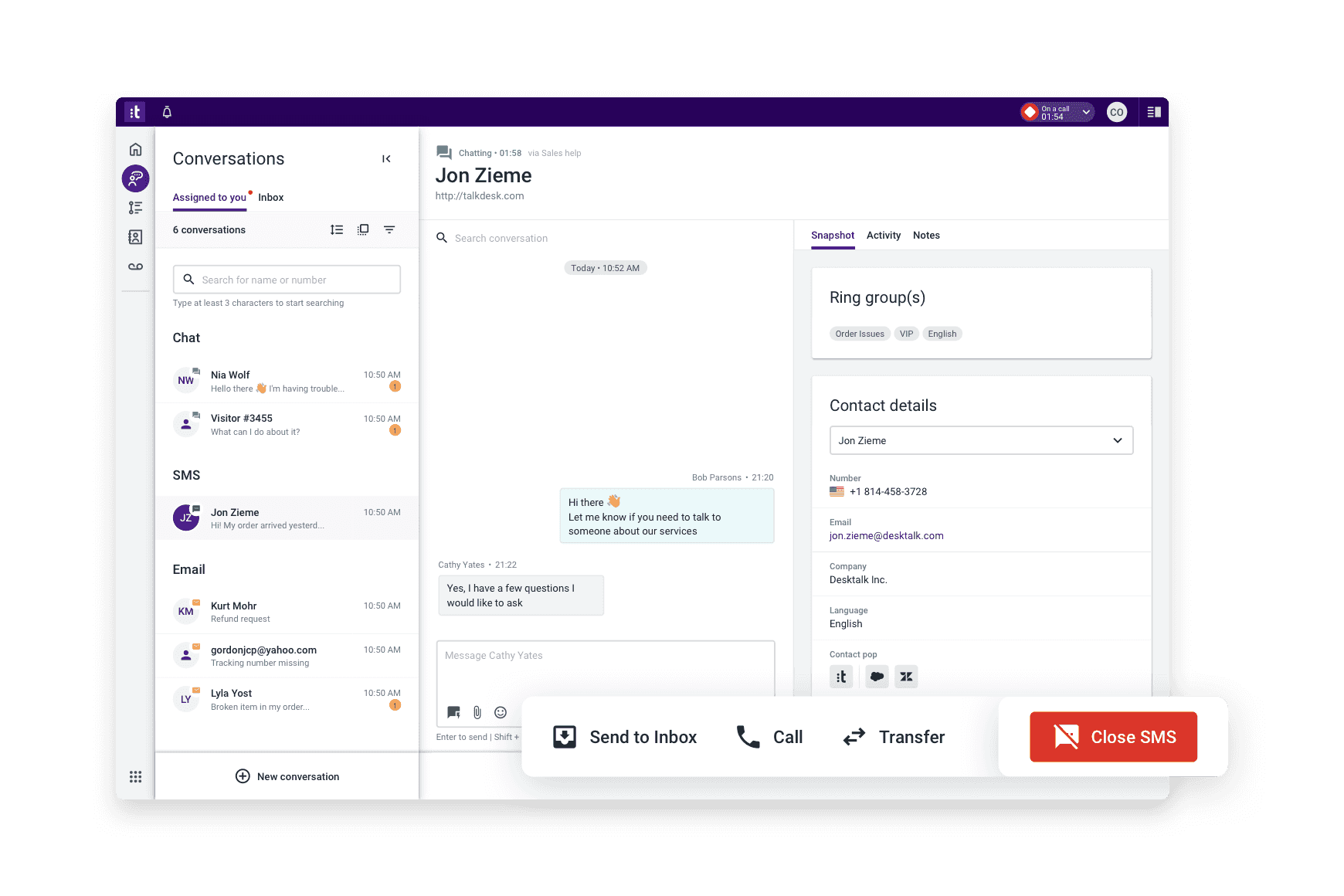 Simplify communications with contextual information and intelligent routing.
Enable agents to move seamlessly across all channels within a single interaction leveraging customer profile information for a more responsive, personalized experience. Connect customers with the most qualified agent with intelligent omnichannel routing.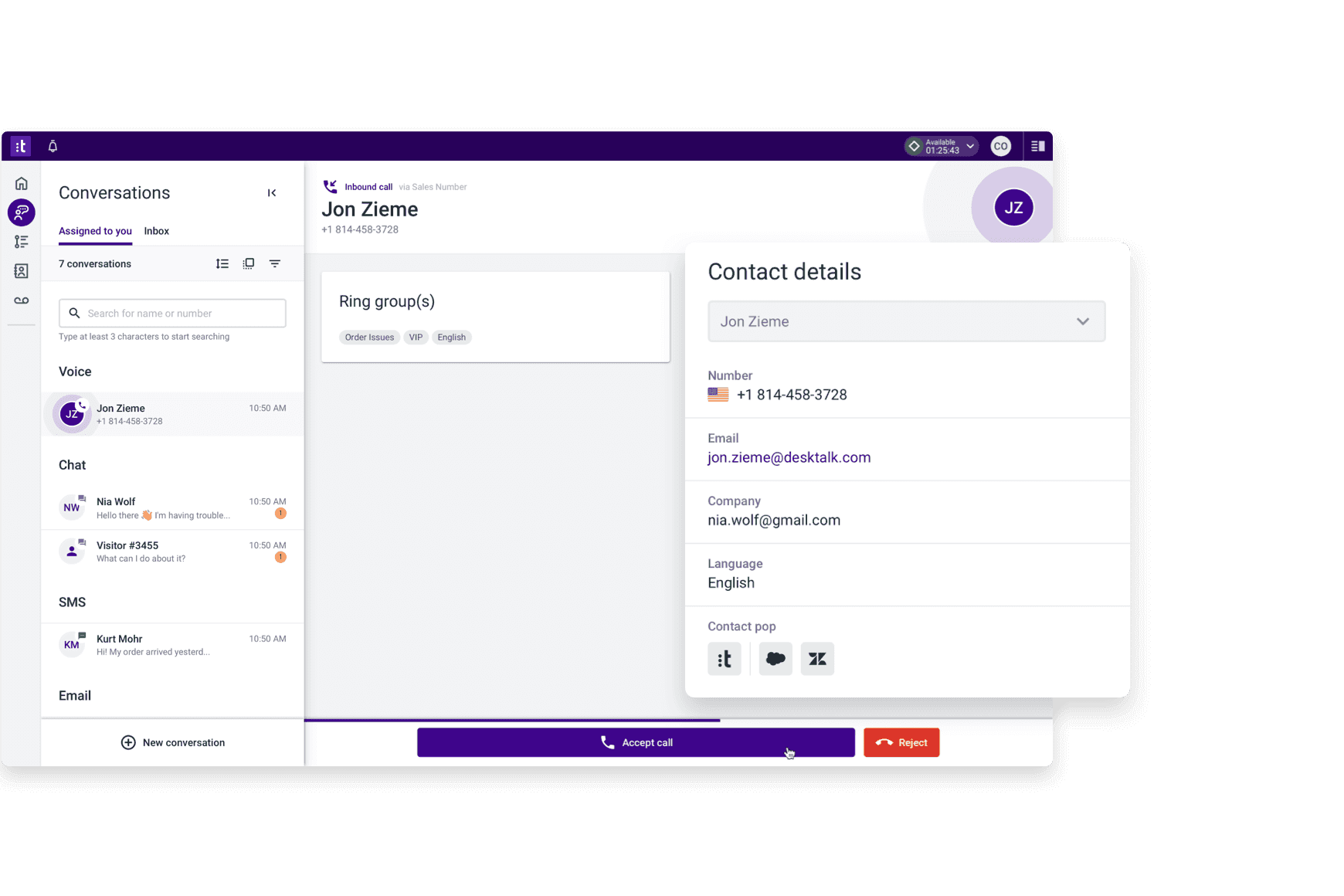 Enhance agents' experience with a "single pane of glass" for managing customer interactions.
Enable agents to manage all voice and digital interactions in a single, unified interface with Talkdesk Agent Workspace™.
"Talkdesk's Digital Engagement platform allows us to communicate with customers across multiple channels at the click of a button. Having all customer engagements in one space really helps us deliver a great customer experience, and the implementation was extremely straightforward as well!"
Joshua Quelch Technical Support Executive at Air Business
Never let a conversation go unresolved with Talkdesk Cases.
Transform conversations into positive business outcomes with Talkdesk Cases™, an omnichannel customer service ticketing system.
Gain complete visibility into every interaction.
Centralize reporting across all channels on one platform to improve customer journeys and agent performance.
Talkdesk Digital Engagement features.
Digital customer engagement FAQs.
What is digital customer engagement?
Digital customer engagement refers to the process of interacting with your audience to meet customer expectations and build better customer relationships. This can be done through various channels, including email, chat, and social media.
Why is digital customer experience important?
Customer experience is a key factor in whether or not a customer will return. That is why digital customer engagement is important. By building a good customer engagement strategy, you can make your audience feel valued and heard, resulting in higher customer satisfaction, the retention of more loyal customers, and the stimulation of brand advocacy.
What is customer brand engagement?
Customer brand engagement describes a bond between customers and businesses. This bond helps improve customer relationships over time and is formed through an accumulation of positive interactions at various touchpoints such as social media engagement, email newsletters, purchases, loyalty programs, website visits, and more.
Please wait while we validate your privacy settings.