Helpful and efficient customer interactions are crucial for the success of any business. For this reason, developing a call center coaching system with designated coaching agents is very beneficial.
How to effectively coach your call center agents.
Coaching call center agents is an essential task that is crucial to cultivating an effective team. In order to be optimized, coaching requires dedicated management effort, consistency, and the right knowledge. This blog post covers eight steps for coaching call center agents. Consistently applying them will take you one step closer to coaching excellence.
1. Prepare for coaching sessions.
Before you bring the agent into your office for their one-on-one coaching session, you must adequately prepare to meet with them. This involves setting SMART goals, developing a solid coaching framework, calibrating your approach to coaching with other managers, including the executive team on your strategy, and informing agents about what they can expect and how they can prepare for the coaching sessions. Once you have prepared for the coaching session, following the steps below will help enhance the coaching process.
2. Identify performance trends based on call type.
Knowing that your agent's performance is "average overall" is not as helpful as knowing they excel with returns and struggle with more technologically advanced customer service calls. Break down your agent performance analysis based on call type —customer service, outbound sales, inbound sales, returns, refunds, and more—  or a more probing analysis using disposition codes—bug, lost shipment, warranty, order inquiry, and others.  Analyzing this information will give a more comprehensive understanding of performance trends so that you can provide more targeted coaching.
3. Detect performance issues based on real-time observation and monitoring.
There is no better way to identify strengths and weaknesses than to observe agents interact with customers. Listen in on live calls to identify any performance issues— communication skills, difficulties adhering to the script, failure to adhere to company policy and procedures, or problems processing specific transactions. Leverage call center software that allows you to listen in on live calls without the agent or caller knowing so that you can assess the agent's performance, without their anxiety getting the best of them. You should also observe agents at their desks to identify when work habits or time management issues are contributing to a decrease in performance. Using the qualitative data that you compiled from these observations, you can gain a more comprehensive understanding of performance strengths and weaknesses and enrich the feedback you provide your agents.
4. Evaluate a few calls to obtain more reliable data.
When evaluating recorded and live calls, it is ideal to analyze a few calls rather than just digging deep into one call. This ensures the analysis of a more representative sample of the agent's performance and will offer more reliable data. Evaluating a few calls allows you to identify trends across calls, pinpoint consistent issues, and dig up huge red flags. The data gathered from this analysis is an indicator of true performance issues so you can provide your agents with reliable information.
5. Allow your customers to do the coaching.
Sometimes there is nothing more impactful than providing feedback from the customer's perspective. During your coaching sessions provide data compiled from post-call surveys and quotes from customer satisfaction surveys, customer emails, and call recordings. Make sure you include positive feedback as well as constructive criticism. Doing so will allow your agents to learn directly from the customers.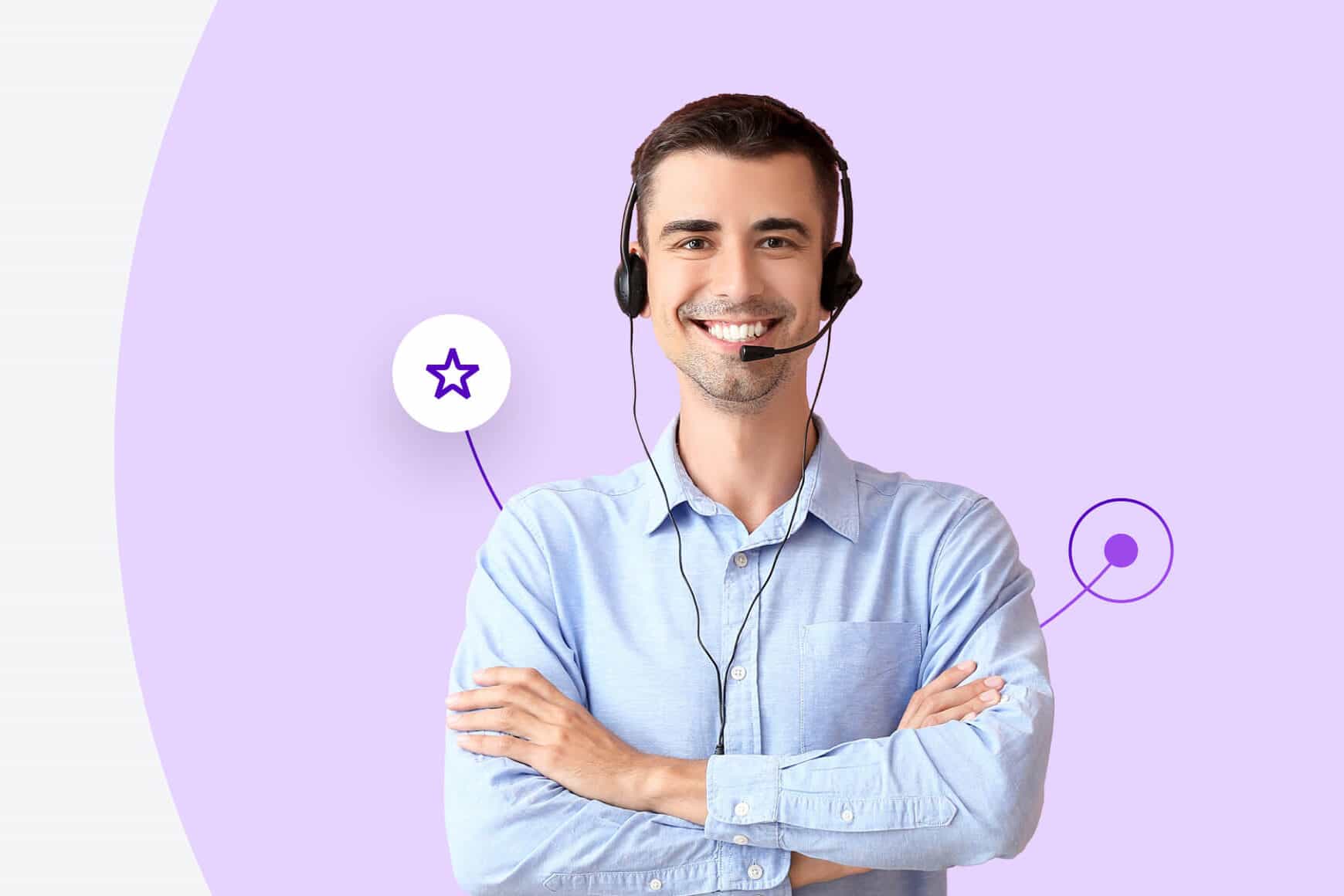 ON-DEMAND WEBINAR
Maximise agent productivity and reduce turnover
Ready to transform your contact centre for success in the hybrid work era? Join our on-demand Talkdesk session to discover actionable strategies and cutting-edge technology.
6. Provide effective feedback.
As a coach, providing effective feedback is critical. Make sure that when you provide feedback it is:
Specific— tie your feedback to a specific performance issue.
Data-driven—make sure your feedback is based on quantitative (metrics) and qualitative ( quotes from call recordings, customer feedback, and others) data.
Timely— provide feedback as close to the event you are referencing as possible.
Tied to an action plan—make sure your agent knows exactly how to improve their performance.
Providing effective feedback will go a long way to ensuring that the agent understands what is expected of them and is motivated to increase their performance.
7. Develop targeted action plans.
After providing feedback, collaborate with the agent to develop an action plan. This may include giving the agent more intensive coaching, completing e-learning modules, reading training materials, working with a peer mentor, reviewing additional call recordings to pinpoint areas for improvement, and revisiting the issue during the next coaching session. To be effective, action plans should include the following:
A specific, measurable goal. For example, complete an e-learning module on call etiquette.
Start date and time to completion. Start tomorrow and complete it before the end of the work day on Friday, December 2, 2022.
Duration of time allotted to achieve a goal. For example, two hours to complete the module.
When they can work.
Who they can work with. For example, shadow Jamie, a customer support agent.
Identify any anticipated roadblocks to achieving their goals and engage in preemptive troubleshooting.
Ensuring that your agents have a comprehensive understanding of how they should improve is essential to enhancing their performance.
8. Follow up with the agent before the due date on the action plan.
Before the agent is scheduled to complete the suggested changes, monitor their performance and check in with them. During this check-in session, make sure they are on the right track and ask if they have any questions. This enhances the likelihood that they will successfully complete the suggested changes within the defined timeframe.
Conclusion.
Coaching call center agents requires a sophisticated blend of art and science. By following these eight steps, you'll be well on your way to mastering coaching and your team of call center agents will excel under your guidance.
FAQs.
What is call center coaching?
Call center coaching refers to the educational steps that contact centers take to ensure quality service for their customers. The coaching agent will often provide advice on performance improvement, examples, and best-practice activities to the trainee.
Why is coaching important in a call center?
Humans aren't perfect and they often need constructive feedback in order to stop bad habits or to build long-lasting skills. This means,  in order to ensure high-level call center performance, both positive and negative feedback is critical for you and your agents.
ON-DEMAND MASTERCLASS
Unleash the power of AI in your contact center to save costs and improve CX.
Don't miss this opportunity to drive cost savings and enhance the customer experience. Take the first step towards AI transformation today!
Please wait while we validate your privacy settings.