Modernize the self-service experience with conversational AI.
Offering convenient and effortless CX means happier customers who stay loyal to your business. Talkdesk Virtual Agent™ uses the perfect mix of automation and human interaction for a smoother self-service experience. Relieve agents from repetitive, simple queries and drive better customer engagement by directing interactions to voice and digital chat channels powered by conversational AI.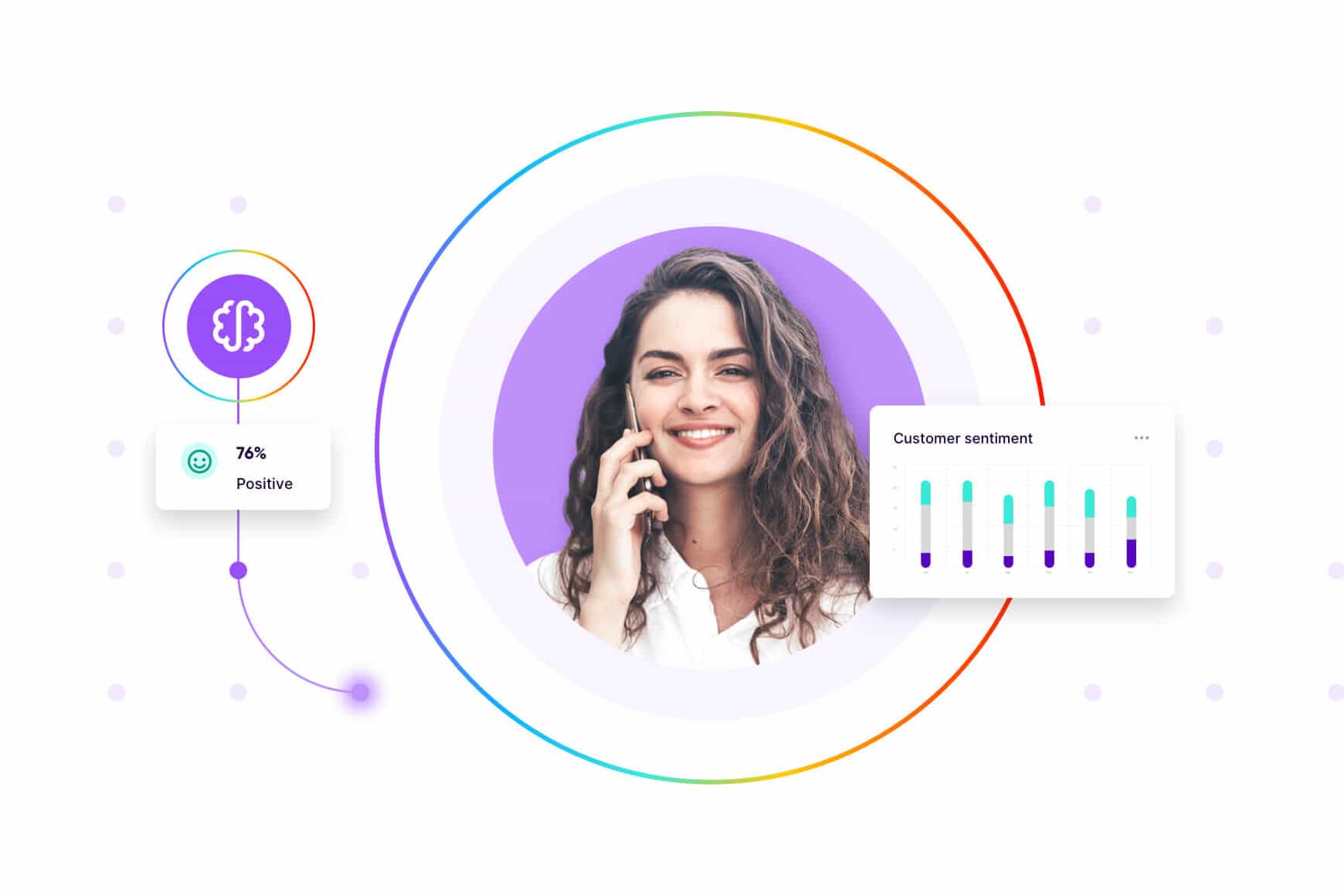 Reduce live agent escalation with a natural language IVR.
Move away from frustrating nested IVR menus. Instead, use natural language speech recognition technology combined with conversational AI to give your customers instant attention and identify their queries for a  faster resolution turnaround time.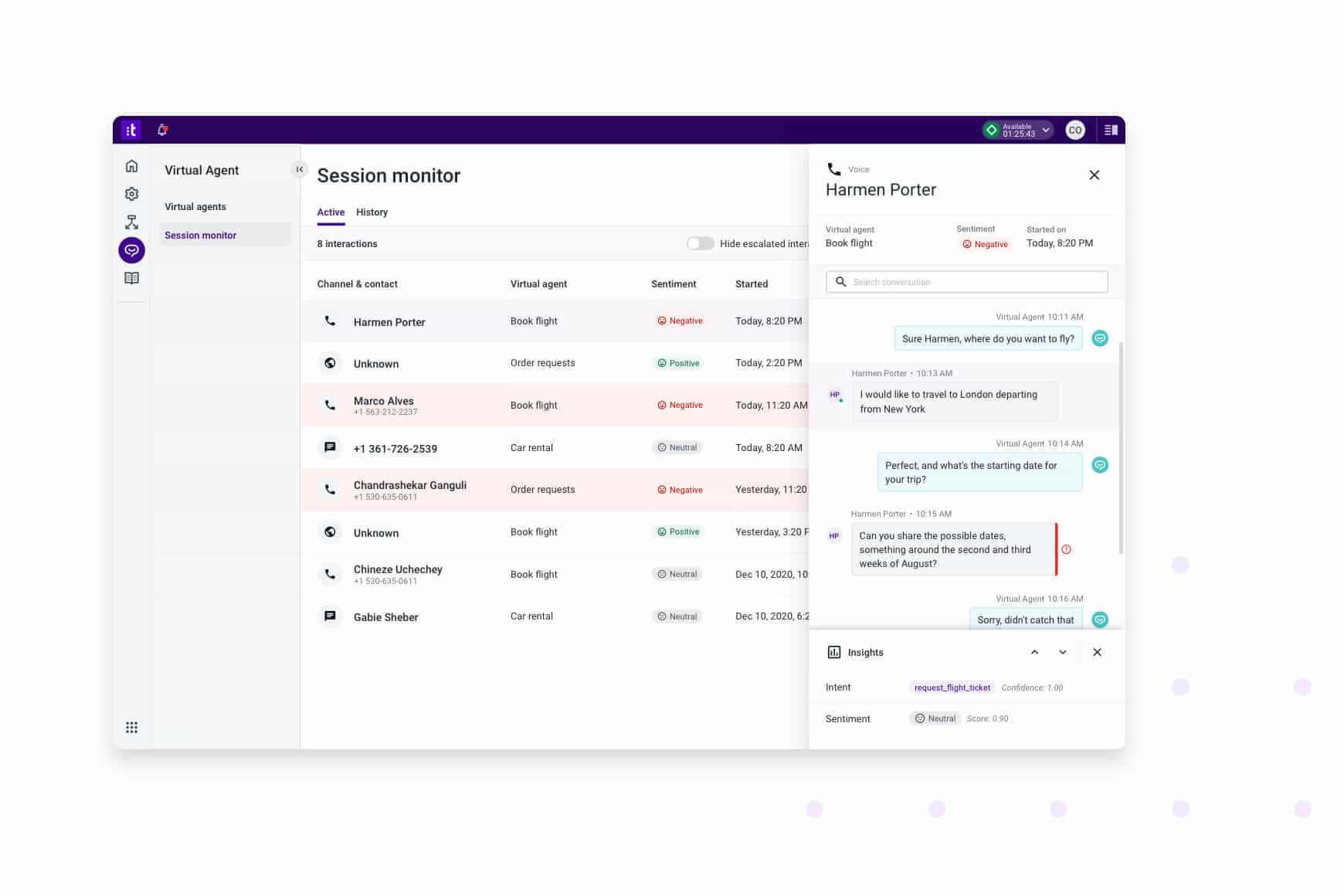 Intelligent intent detection to boost your first contact resolution rate.
Machine learning technology and natural language processing has reached a stage where it offers more effective interactions between AI and customers. Synchronize your conversational IVR with a chat or voice based self-service channel. The advanced capabilities of conversational AI means successfully resolving simple queries and increasing first contact resolution (FCR) rates.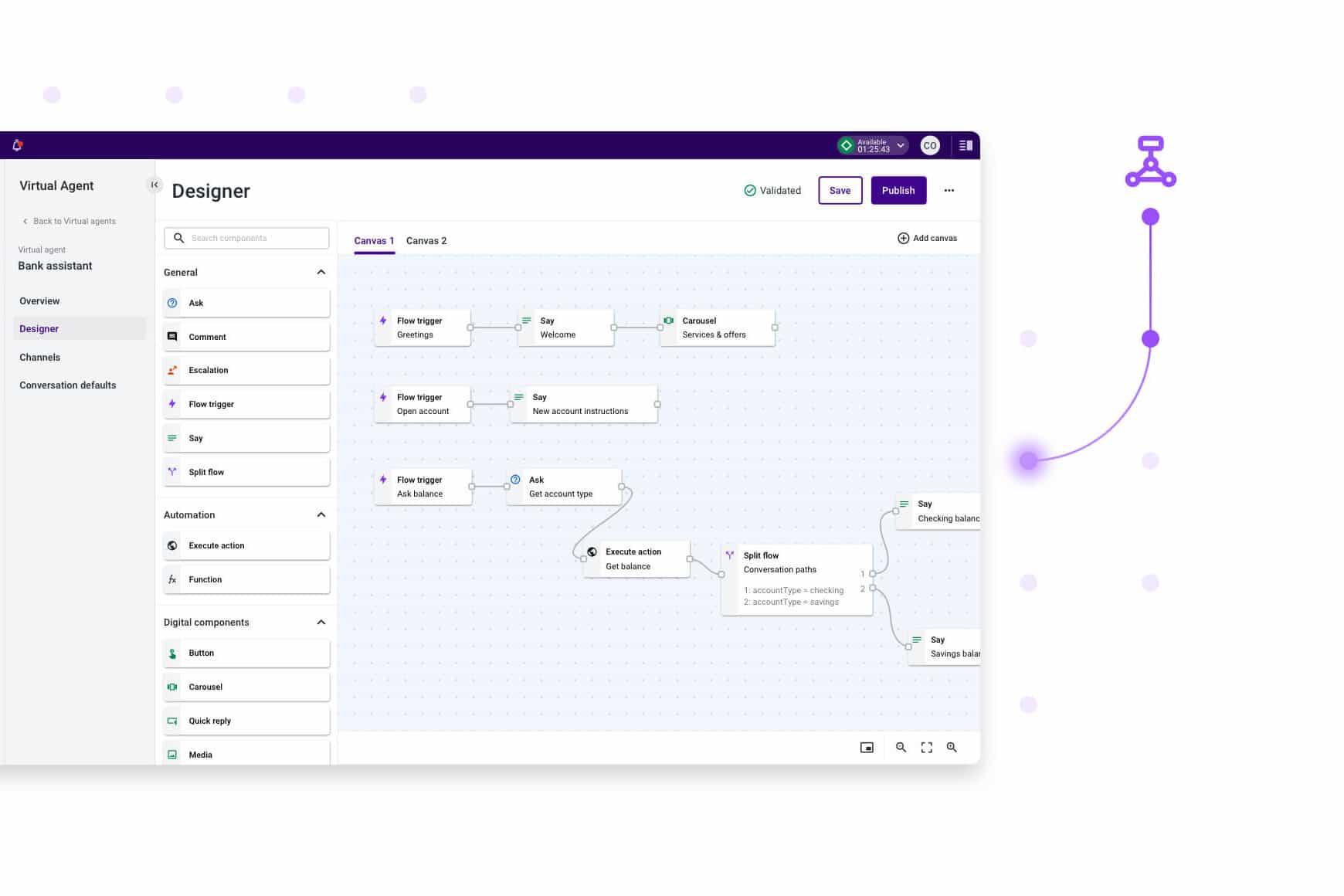 Design business process automations for a better self-service experience.
Frictionless self-service experiences need to be synchronized with business process automations. Talkdesk Automation Designer™ operationalizes the design process with a no-code visual interface, making it easy for any business user, including frontline staff, to design automations.
We advocate a conversational design that does not trap end-users when queries require live agent support. You can use Talkdesk Studio™ to predefine escalation exits based on intent or sentiment triggers set up in Talkdesk Virtual Agent.
Provide reliable self-service with human-in-the-loop AI training.
Talkdesk AI Trainer™ enables non-technical staff to maintain and improve the Talkdesk Virtual Agent™ outputs. With a no-code AI training tool, gain the agility to fine-tune the accuracy of the self-service experience to solve customer issues without depending on data scientists.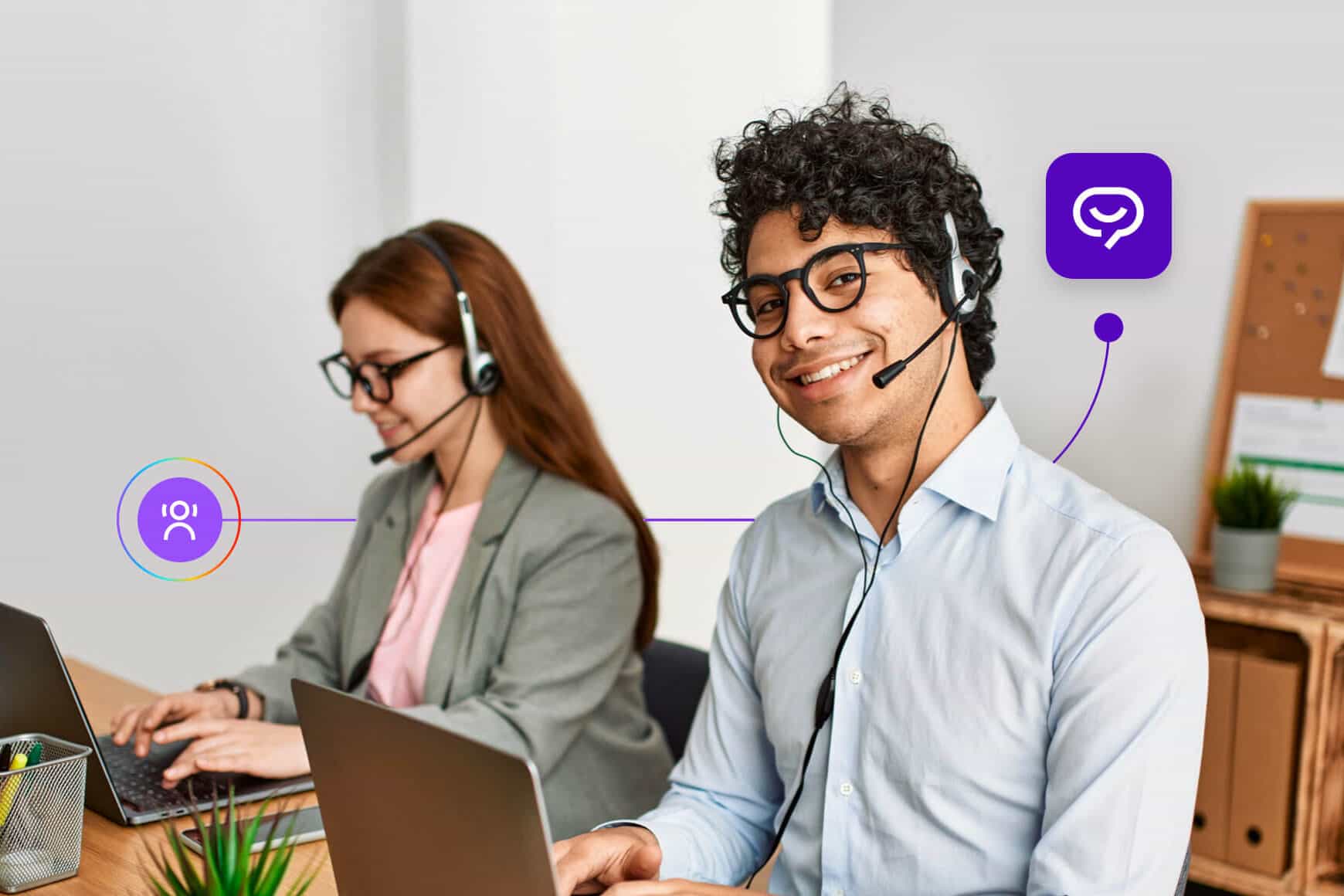 Control the cost per interaction with automated customer service agents.
The Virtual Agent handles common customer queries, like orders, returns and billing, and automatically responds with conversational answers. And when complex cases are detected that need human empathy and expertise, the virtual agent will seamlessly redirect customers to a human agent. Deploying a virtual agent means contact centers can offer a faster and frictionless customer service experience at a lower cost.
Talkdesk Virtual Agent features.
Virtual agents allow a contact center to boost productivity, offer new engagement channels, improve customer satisfaction, and so much more. Talkdesk Virtual Agent™ goes beyond the common features available in the industry to ensure your customers can have both routine tasks and complicated issues resolved when they contact your organization. Schedule a demo today to see the following Talkdesk Virtual Agent features in action.
What is a virtual agent?
Virtual agents powered by machine learning and AI technology are more than just payment processors and call transferers. They can provide full customer support using a conversational interface that's closer to a real human. The fact is that answering calls 24/7 means very little if clients aren't getting the help they need. In fact, a system that can't deal with customer issues is more likely to anger clients than serve them. Talkdesk Virtual Agent™ is the future of customer service.
What are the benefits of virtual agents?
Improving the customer experience is a 24/7 job, so you need a virtual agent solution that's ready to help the moment your clients need it. With natural language processing, and other AI tools, intelligent virtual agents can handle customer support requests regardless of when they come through. And even when you do have agents available, the Talkdesk Virtual Agent™ can handle simple customer queries, freeing up agents to deal with more complex tasks.
Do customers like interacting with virtual agents?
The majority of consumers have opted to use automated service options in recent years. In fact, many even prefer this route over waiting for live agents. Interactive chat and SMS allow your customers to seek support on their own terms. With Talkdesk Virtual Agent Digital, these interactions are both efficient and natural.
Is virtual agent easy to implement?
Yes. You can make an autonomous virtual agent experience feel more natural and pleasant for customers with this no-code tool leveraging conversational AI. Enable operational staff to train the virtual agent and save costs on tech experts, such as data scientists. Not only does the Talkdesk Virtual Agent™ conversational interface keeps your customers happy, but it is highly customizable to ensure it meets your specific needs.
Please wait while we validate your privacy settings.