5 benefits of an AI-powered insurance contact center solution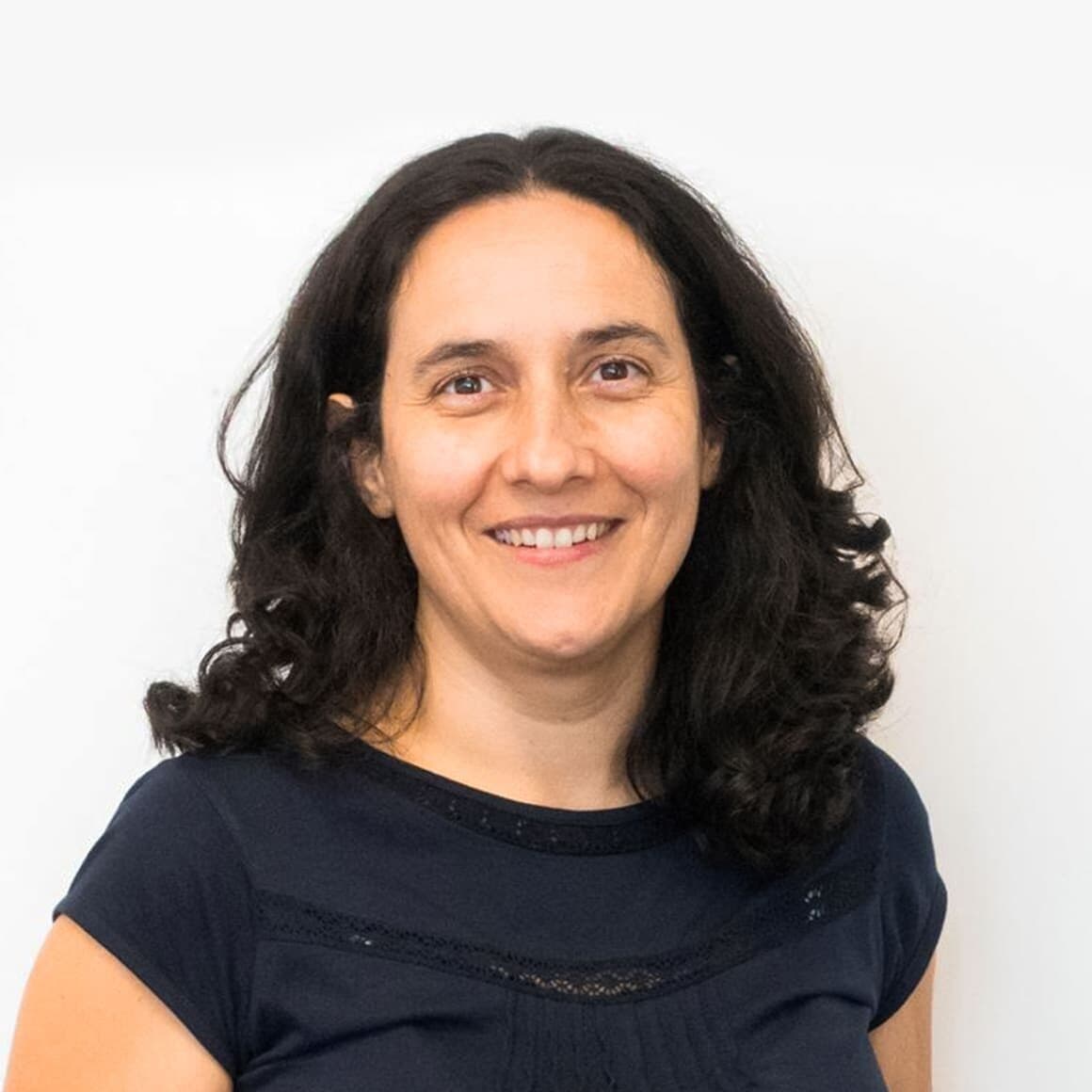 The insurance industry continues to face a challenging competitive environment and economic uncertainty. Extreme weather events, geopolitical strife, and rapidly rising inflation are all new variables that have placed significant pressure on profitability.
To drive new business, retain existing customers, and maximize profitability, insurers are looking to offer self-service and digital capabilities to meet customer expectations, remove friction points from the customer journey, and increase operational efficiencies. According to the latest Talkdesk Research™ report, 9 out of 10 (88%) insurance leaders report heightened customer expectations relative to a year ago, and 59% report decreased likelihood of customer policy renewals as a result of disjointed customer experiences.
Customer experience is a key factor in the success of any business and even more so for insurance companies. The insurance contact center plays a crucial role in delivering exceptional customer service by handling a large volume of customer inquiries, complaints, and claims. Plus, they have a new ally in artificial intelligence (AI), which is transforming the way insurance contact centers operate, providing numerous benefits to insurers and their customers.
Why do you need an AI-powered  insurance contact center solution?
Find out the benefits of deploying a contact center solution designed specifically for the insurance industry.
1. Improved customer service.
An AI-powered insurance contact center can significantly enhance customer service by providing 24/7 assistance through chatbots that offer quick and personalized responses to common inquiries. Conversational AI allows bots to understand the context of the conversations and provide accurate answers.
Chatbots reduce the need for customers to wait on hold for a human agent and can automate routine tasks, such as providing relevant information related to insurance products and services or handling policy renewals. Human agents are then freed up to focus on solving complex inquiries. Self-service allows customers to find what they're looking for at their own convenience.
AI also enables insurers to provide personalized customer service by analyzing customer data, demographics, purchasing behavior, and previous interactions with the company. This allows insurers to offer customized policies and services that meet individual customer needs.
2. Increased productivity.
An insurance contact center that uses AI technology can increase productivity by automating routine tasks such as basic policy changes or issuing an ID card. It can also help to identify patterns in simple, repetitive tasks—such as identity authentication—to enable the insurer to streamline processes and reduce costs.
ChatGPT and the latest advances in generative AI promise even more efficiency. Chatbots powered by the large language models behind ChatGPT will be able to triage incoming calls and   route them to the appropriate agent automatically. After call work will be all but eliminated. The first GPT-powered features in the contact center summarize every interaction in real-time and automatically select the most accurate disposition. This greatly decreases errors, increases productivity, and reduces costs.
3. Improved accuracy and consistency.
An insurance contact center that incorporates AI can enhance accuracy and consistency by avoiding data entry mistakes that can result in costly errors. Conversational AI improves not only the speed but also the quality and accuracy of answers to customer issues. Moreover, AI can accurately process and classify customer data, improve the accuracy of insurance quotes, claims processing, policy servicing, and more.
It can also analyze previous customer interactions and provide agents with recommended answers and next best actions to improve the customer journey as well as the employee experience.
4. Reduced fraud detection and improved prevention.
Every year, American consumers lose a minimum of $308.6 billion due to insurance fraud; therefore, it's critical that insurers protect customer data. The contact center plays a key role in protecting that data.
An AI-powered insurance contact center helps to identify potential risks and fraud, enabling insurers to take proactive measures to mitigate those risks. AI can analyze large amounts of data to quickly find patterns and detect irregularities. For instance, AI can analyze claim data and identify patterns of fraud or abuse and take preventive measures, such as flagging suspicious claims for further investigation.
5. Informed business decisions.
Insurance companies can also use AI to analyze large datasets of customer information, or even multiple datasets, to better understand their policyholders. There is a goldmine of customer data scattered throughout most insurance companies—some of it is stored in structured databases, but a lot of it is unstructured—voice calls, social media interactions, etc. AI can analyze all these disparate sources and identify valuable insights that can drive the business, whether that's through personalized interactions with policyholders or greater operational efficiency.
The Talkdesk solution for the insurance contact center.
Talkdesk Financial Services Experience Cloud™ for insurance solves critical pain points for insurance companies and provides a better experience for customers and employees. The end-to-end CX solution is purpose-built to unify the customer journey across policy servicing, claims, and new business. Deep integrations with claims management, policy administration, and CRM systems provide a single view of the customer and power time-saving workflows and automations. Pre-trained AI and insurance intent libraries combined with digital engagement channels enable seamless, personalized, and digital-first customer experiences.
Insurance customers can engage with insurers on the communication channels they prefer—voice, SMS, email, or social media. Pre-trained AI intent models that address the top insurance industry use cases—open a claim, update policy, and others—quickly identify why the customer has contacted the insurer and automatically route the conversation to the appropriate agent or self-service experience that can best solve the issue.
If customers want or need to switch channels during the conversation, they don't have to repeat their information to the next agent they talk to. The entire conversation is transcribed in real time and any notes taken along the journey are always available for future reference.  
AI-enabled self-service touchpoints can be embedded along the customer journey to provide customers alternative opportunities to rapidly resolve issues on their own without involving a contact center agent. This frees up agents to concentrate on more complex issues while keeping operations on track. Customers are also proactively informed of status updates on policy changes or progress on open claims. 
On the backend, a single workspace gives agents the exact information they need for handling all types of customer needs from simple policy updates to complex claims activity. The workspace is fully configurable to maximize productivity and ensure the right information is always front and center. 
Within the workspace, an AI-powered agent assistant trained for insurance automatically surfaces relevant documents and information based on the content of the conversation. If for example, a customer is calling in because a tree fell on their house, agent assistance would automatically surface the exact section of the policy covering natural disasters to the agent without even being prompted, and suggest the next best actions. 
Augmenting agent capabilities with AI-powered tools is critical for the insurance industry. The average age of an insurance agent in the United States is 46 years old—only 11% are between 20 and 30 years old. Bringing in, training, and retaining new talent to keep up with the speed of change will require new employee development techniques. The traditional model of in-office interactions and knowledge sharing has limited application in today's post-COVID work environment.
Closing thoughts on the benefits of an AI-powered contact center for insurance companies.
An AI-powered contact center designed specifically for the insurance industry allows insurance companies to immediately transform their customer experience and accelerate their return on investment. 
AI-powered virtual agents and chatbots, agent assistants, voice recognition software, automated routing, and a unified workspace allow agents to rapidly respond to policyholders with accurate and timely information. Pre-built workflows based on the most common insurance use cases help companies immediately derive value from their investment without putting a heavy burden on IT teams. 
As AI continues to evolve with the introduction of ChatGPT and other generative AI systems, insurance companies that stay at the forefront of this movement will have a competitive advantage in the industry, providing superior customer service and optimizing their operations to meet the dynamic needs of their customers.
See how the Financial Services Experience Cloud, a cloud contact center platform purpose-built for Insurance unifies the customer journey across policy servicing, claims, and new business.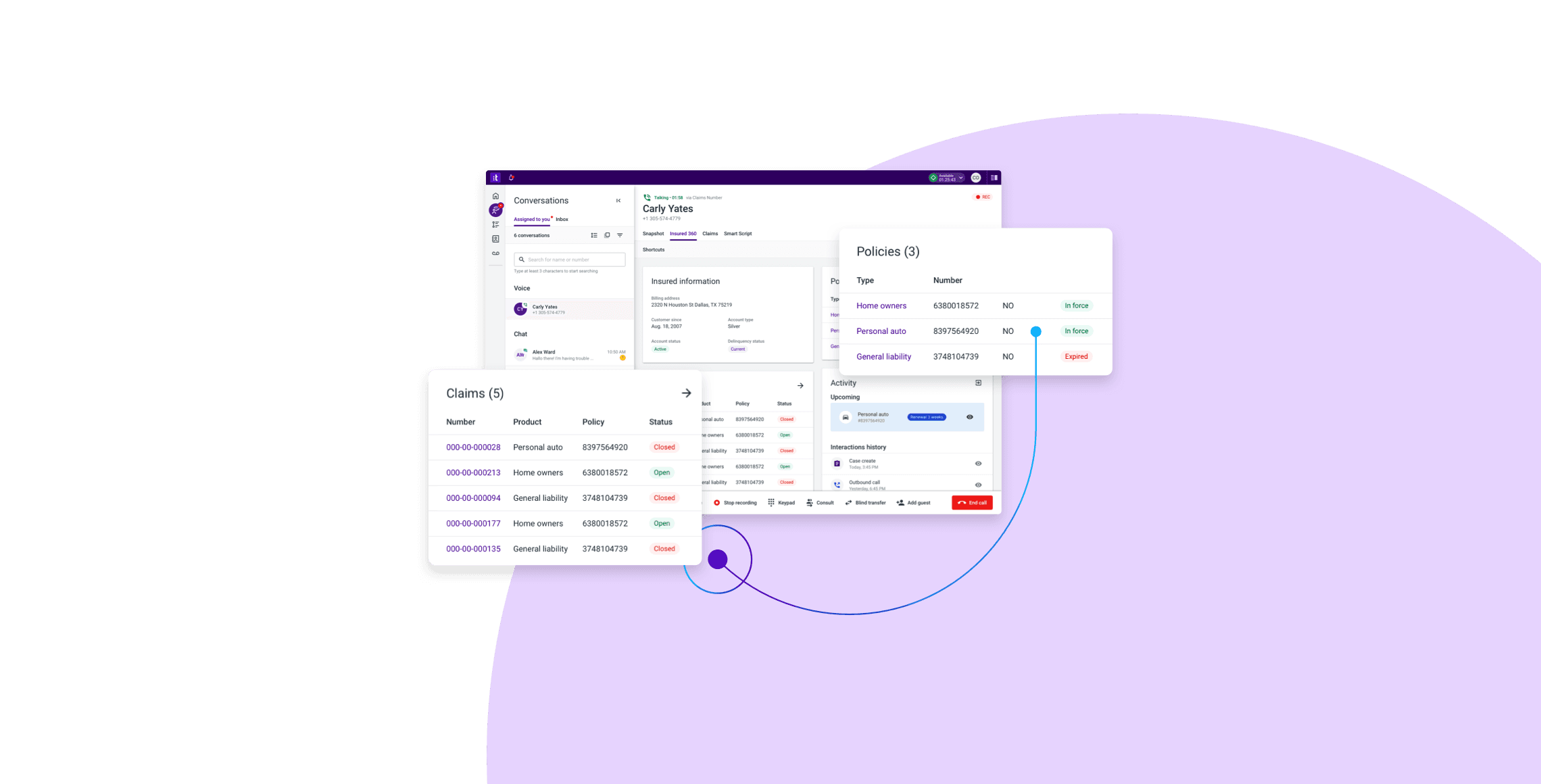 Insurance
Meet the contact center solution purpose-built for insurance.
Please wait while we validate your privacy settings.