Talkdesk: Personalized customer experience is something customers will come to expect of retailers in the future. Can you walk us through the way your agents serve customers, what that interaction looks like and how you prepare your agents to provide that exceptional experience when they call you?
Megan: First of all, we don't have an IVR. When you call it is, "We're here to help and someone will be with you right away." That person is trained to answer any kind of question. We don't have people who are assigned to billing and people who are assigned to product, we have ring groups set up in a way that—that's how we actually handle our Spanish calls because we have a Spanish translated website—we use that as an escalation cue. We also use those ring groups to throttle the volume that goes to newer agents so we're able to slow down a pace of calls coming to them when we're really busy. That way, they have a little bit of breathing room between calls and that works really well. As far as the way we train our agents, empowerment is one of our most important corporate values and it translates into the way the support team is structured and the way they're encouraged to make decisions. Their goal is to find a way to say yes and to help the customer. We've found that if they're given that empowerment and given that flexibility and trained on how to provide great service that they grab onto that and run. They really want to make people happy.
Talkdesk: Let's dive a bit deeper into the goals you set for yourselves and the path you took to achieve your ultimate goal of empowering agents to deliver high-touch customer experience. As you looked at how your contact center was operating with your previous platform and also to the tools that you had available to your agents, you said you noticed a few gaps in some things that might have been slowing down progress. Can you elaborate on those?
Megan: The first thing we were looking for was a way to display to the agents in the room what was happening: who was waiting, how long they had been waiting, what our service level looks like for the day, what their coworkers were doing and who was available, how long people had been on calls to see if anybody needed any help—we didn't have any of that and Talkdesk really solved for that. It was even better that we were able to customize those metrics. We actually run a large display on a wall in our call center and when we scale up for peak we are able to have that display in both locations because we have to split off into two rooms to have enough space. That way both rooms are able to see the entire picture and are able to make decisions based on the entire experience that's happening for our customers—and they love it.
The other factor for us was the ability to scale. When we do have to branch off into separate rooms, when we have to bring on twice as many temporary agents as we have permanent agents, what it allows us to do it to do that really quickly and not have to go through a lot of hoops with the system. We just add an agent, send them an email, log them in and teach them how to answer the phone.
We work with a Zendesk integration, which works beautifully for us because it ties together our written communications with our customers and our phone calls and we're able to have a complete customer history right there in front of the agent for a call. A lot of times our customers will text us and immediately call or send an email overnight and call first thing in the morning. The agents are able to see all of that as one big picture.
Talkdesk: As you were evaluating different platforms you realized you needed better tools and functionality to help your agents serve customers and it sounds like scalability was a big concern to you. As Zumiez evaluated different contact center platforms, what was it about Talkdesk that made it feel like the right fit for what you were trying to accomplish?
Megan: Honestly, this sounds really simple but I love the Talkdesk Live display. That is what is up on the display for our agents. It's simple, they can see what's going on and every single person in the room knows exactly the status of our queues, how we are toward meeting our SLA goals for the day and they're able to really make decisions about their workflow that help drive a better customer experience.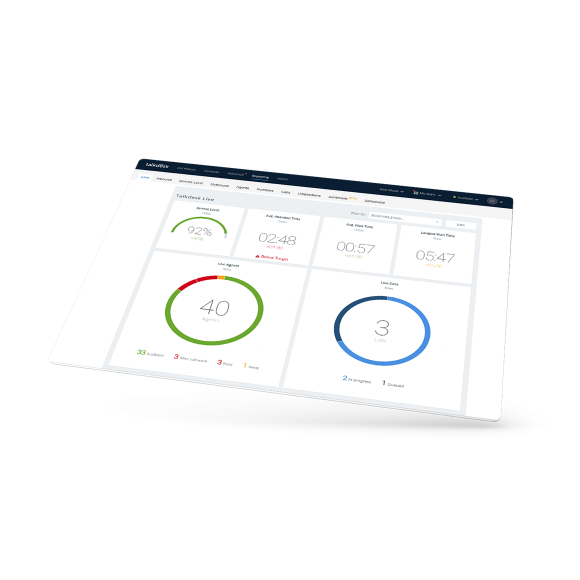 From the empowerment side of it, what we found from that is that if they're providing great service and fast service for answering the phone quickly, they have easier calls. The longer someone is on hold, the crankier they get, and nobody calls customer care because they love us. They're able to really take control of that experience and say "if I can be really responsive to when our customers are waiting, I'll have a better interaction with our customers." What we have found is that this has led to great employee satisfaction. We found the more we empower them and challenge them the more they blossom. We ask them to do better and we ask them to provide better service but we also allow them to decide how that looks. What it's created is a team of entry-level customer service agents where we're teaching them a lot about their future careers.