Path forward for government: Lessons learned from the unemployment crisis and great resignation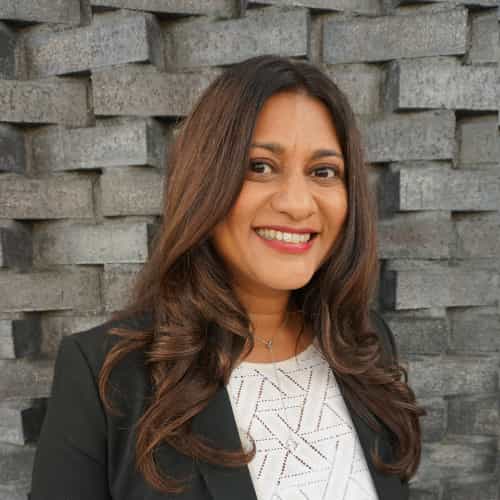 Five takeaways from the National Association of State Workforce Agencies (NASWA) annual summit 2021.
During the early days of the pandemic, over 22.1 million citizens lost their jobs. By April 2020, the labor force participation rate declined to 60.2%, a level not seen since the early 1970s. The government responded with a number of programs including the CARES Act, the American Rescue Plan Act, Pandemic Unemployment Assistance, and the Families First Coronavirus Response Act. The Department of Labor (DOL) and state agencies were critical in implementing these new programs while expanding existing ones. And they did it fast.
As one conference speaker remarked, "We stood up the largest temporary social insurance program this country has ever seen overnight."
The magnitude of what these programs addressed and what government agencies achieved is remarkable. Since March 2020, $850 billion in unemployment insurance (UI) payments have been distributed to over 55 million beneficiaries across regular and temporary programs. NASWA Summit attendees, comprised of state UI and workforce agencies, were on the front lines of handling the unemployment crisis and meeting the biggest demand for UI in the history of the program.
1. The time is now: system modernization can't wait.
Even though states have long recognized the need to modernize their unemployment and workforce systems, including benefits and appeals, taxes, and call centers, the need for a truly digital and resilient system has now become paramount. The pandemic exposed the vulnerabilities of the unemployment insurance systems as they were overwhelmed with a colossal number of claims. The introduction of new programs, rise in claimants, and increased inquiries resulted in unprecedented high call volume and strained agency contact centers. The massive amount of fraudulent claims further exacerbated the problem. Legacy systems and outdated technologies couldn't keep up.
2. Innovation and technology are the path forward.
"COVID challenged our department, but it also challenged us to do better. It has forced us to move faster and use technology," claimed a State's Department of Labor and Workforce Development Commissioner. Agencies pivoted service delivery quickly to virtual models to serve the needs of UI claimants and workers.
Overloaded resources and staffing challenges encouraged agencies to automate processes and accelerated the adoption of technologies such as cloud and chatbots. As another State's Department of Labor and Workforce Development Commissioner reflected,  "One silver lining of this pandemic is that it pushed us to innovate our service delivery. Now, we have reached more customers in a wider variety of ways to help us well beyond the pandemic." Virtual service delivery has allowed agencies to service a segment that prefers to do things online rather than in-person. As citizens increasingly prefer to communicate online and across channels, agencies acknowledge the benefits of an omnichannel framework.
WHITEPAPER
4 steps to contact center digital transformation for the public sector
3. Bridging UI claimants to the workforce requires quick action.
UI and workforce agencies play a dual role; part of their job is to help citizens access benefits, such as Supplemental Nutrition Assistance Program (SNAP), Temporary Assistance for Needy Families (TANF), and UI, and the second part of their jobs is to help these individuals find employment. As one speaker commented, "When someone applies for UI, we also need to give them a job lead, so that we don't have to pay them benefits in the future." Many people cycle through SNAP to TANF to UI benefits. Breaking this cycle requires bridging UI claimants to the workforce. Some ways to achieve this are through:
Early intervention for job seekers. It is easier to help people re-enter the workforce when they first get on UI. Reports indicate that it becomes much more difficult to attach a job seeker to an employer after seven weeks of unemployment. Ideally, within 72 hours of an applicant claiming UI or other benefits, they would be proactively contacted with job search assistance. System integration, cross-department communications, increased collaboration, and a modern contact center could help achieve these goals.
Focus on labor force participation. Agencies can encourage the adoption of work-sharing models to keep workers tethered to their employers thereby continuing participation in the labor force. Agencies should continue to increase awareness about available jobs, regularly update training and workforce programs, and make career centers more accessible.
Drive a sustainable workforce. Workforce development agencies should continue playing the role of quasi-educators—educate job seekers on what a good, sustainable job is, and educate employers on providing the jobs needed and access to the available workforce. Additionally, agencies can help fill the gap between open positions and the hidden workforce. In the U.S. there are more than 27 million hidden workers. This consists of people who would gladly, and capably, fill available jobs. But due to hiring practices, they are not often afforded the opportunity.
4. Customer service needs to be the focus.
The emphasis on customer service underpinned many of the discussions at the summit. One speaker expressed the need to improve communications, automate whenever possible, and focus on customer service. Another speaker claimed, "Everyone wants an Amazon-like experience." Yet another speaker shared the importance of anticipating customer needs to provide better service and improving service delivery through technology.
One week later, this sentiment reverberated in the executive order (EO)—Transforming Federal Customer Experience and Service Delivery to Rebuild Trust in Government— signed by President Biden on December 13, 2021. The EO directs Federal agencies to put people at the center of everything the government does. These actions include modernizing programs, reducing administrative burdens, and piloting new online tools and technologies that can provide a simple, seamless, and secure customer experience.
5. The great resignation prompts a great reset.
Labor and workforce officials are adapting to how their customer's mindset, needs, and expectations have changed. In the last few months, we have witnessed a dramatic change in the job market and a widespread labor shortage—the great resignation. Worker demands and expectations have evolved, requiring states to realign services to best serve job seekers and the future workforce. States heroically met the challenges of the pandemic-caused unemployment crisis and are now grappling with the new workforce market and its needs.
The relief packages offered during the onset of the pandemic gave many workers the financial cushion to pursue workforce development training and leverage higher learnings to obtain higher quality jobs or change sectors. This, along with the new COVID variant, awareness around racial and gender inequity in the workforce, re-evaluation of career choices, amongst other reasons, has contributed to the great resignation. In September 2021, a record 4.4 million Americans, representing 3% of the U.S. workforce, quit their jobs.
UI and workforce agencies are trying to understand the needs of the new worker and adjust or improve the role they play. It's increasingly important for agencies to:
Serve as connectors. Often workforce agencies are the voice of those looking for work and those giving work.
Influence employers. Workforce agencies can guide employers on the types of jobs to make available and structuring job descriptions in a way that resonates with applicants.
Start with equity in program design. Structural systemic racism and economic inequities can undermine opportunities for workers. Workforce programs can counteract inequities, but it is important to include equity at the onset of program design.
Make it easier to engage. UI claimants, benefit seekers, job seekers, and workers can find it challenging to engage with the appropriate government agencies and officials. At times, they find it difficult to locate resources and access information. Agencies need to make it easier for citizens to engage with them.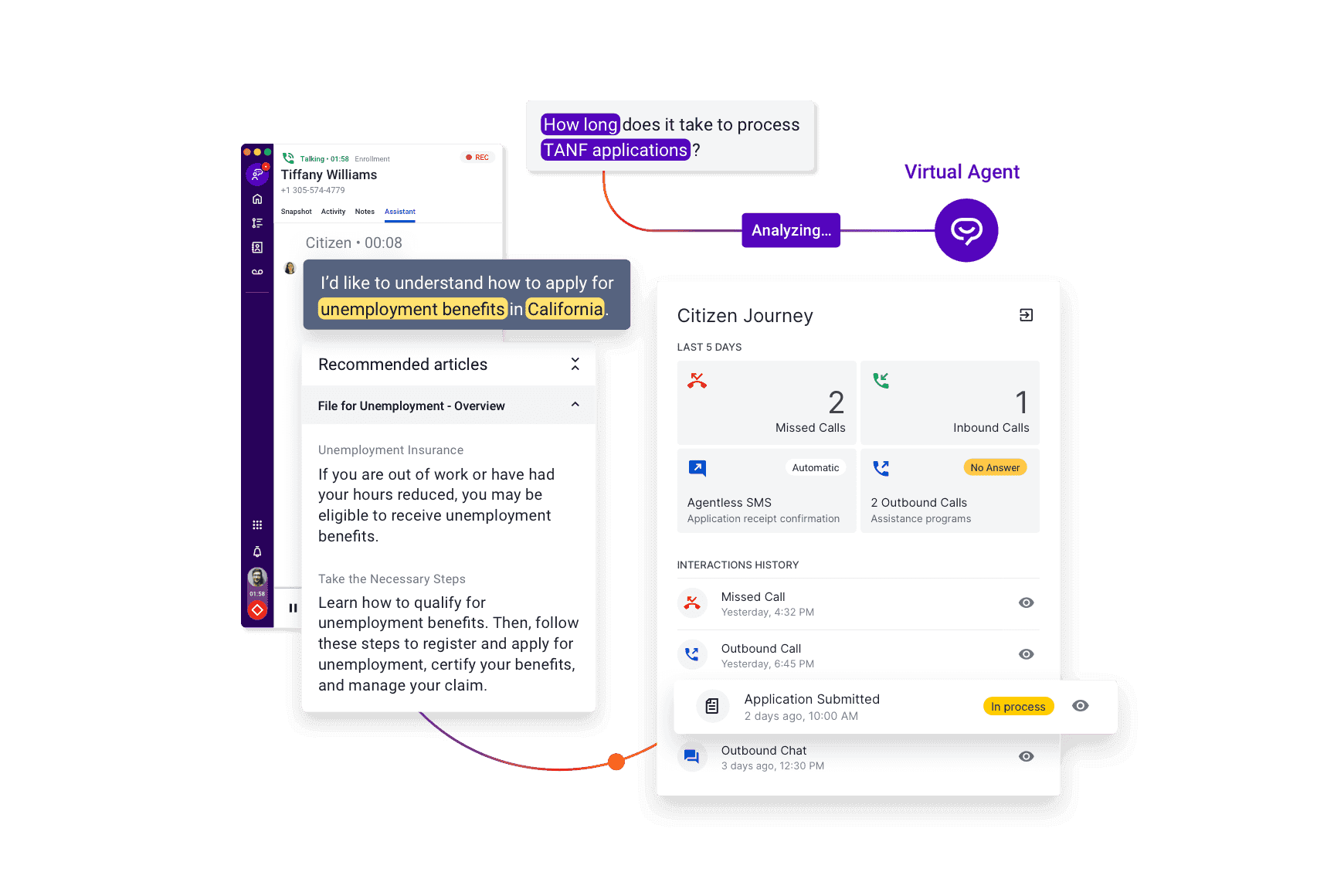 Transform government assistance program delivery.
Improve the benefits administration process and proactively communicate with constituents with the Talkdesk Citizen Engagement solution for government contact centers.
Please wait while we validate your privacy settings.