The post is an examination of a Call Center KPI from Talkdesk's 2018 Contact Center KPI Benchmarking Report. To view more content like this, download the full report.
Service level measures the accessibility of a company to their customers, and the company's ability to plan for call volume fluctuations and execute their staffing strategy. It is directly tied to customer service quality and inbound call center performance thus is often the cornerstone of inbound call center manager's metrics toolkit.
Service level is defined by Talkdesk as the percentage of calls answered within a predefined amount of time. Service level can be measured over any period of time (i.e. 30 minutes, one hour, one day or one week) and for each agent, team, department or the company as a whole.
The Service Level timer starts as soon as the call starts ringing an agent or enters the waiting queue, after your welcome greeting or IVR messages. Calls answered within your designated threshold meet your Service Level. For example, Talkdesk's default threshold is 20 seconds. If an agent answers all calls within the 20 second threshold the Service Level is 100%.
Service level is only calculated for inbound calls during business hours and considers only calls that are answered and missed. Abandoned calls and voicemails are not taken into account.

Once you obtain your Service Level for a certain timeframe, take a look at the information below to understand what that metric means to your call center.
Low Service Level could indicate:
Calls that take longer than expected

Less than optimal agent scheduling

Unplanned call fluctuations

Long after call work time
High Service Level could indicate:
Low call duration

Optimal agent scheduling

Accurate call planning

Low after call work time
Optimizing workforce management can go a long way in improving less-than-optimal Service Levels. Supervisors should work to optimize occupancy rates by accurately forecasting call volumes and then scheduling agent shifts (and ensuring adherence) accordingly. Be sure to build in some flexibility when scheduling; anticipate that unplanned events will happen and that call volumes will fluctuate.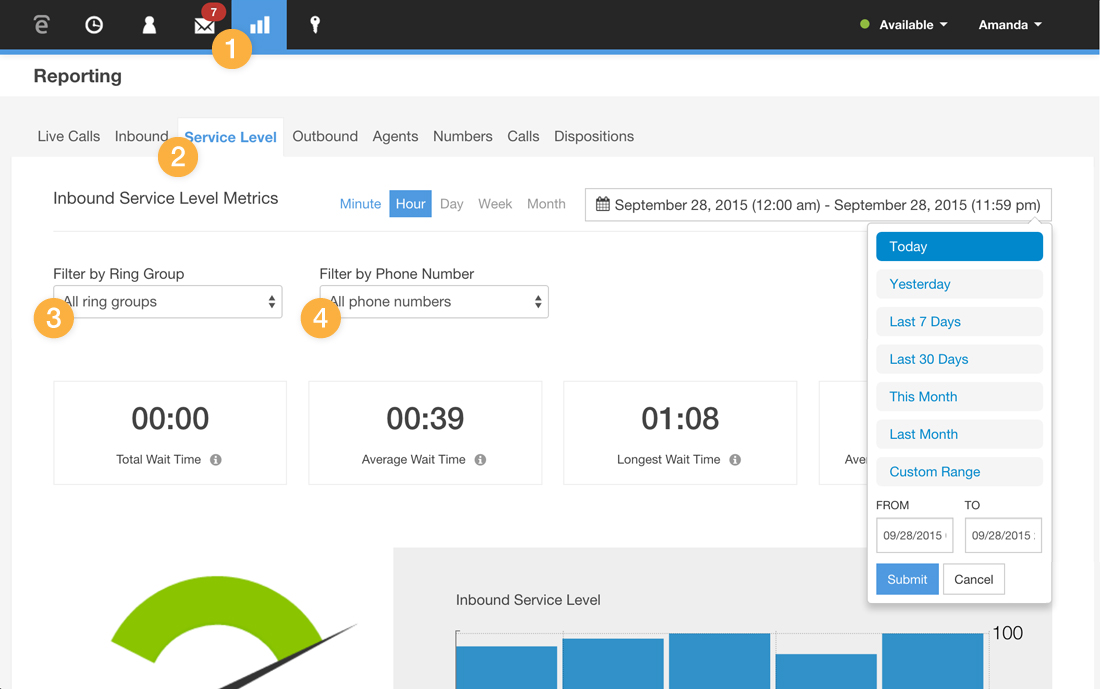 Other strategies to improve Service Level include enabling agent call-backs and employing on-call agents to handle fluctuations in call volume. Talkdesk allows configuration of callback from queue where callers can opt out of waiting in the call queue and instead receive a callback from the agent once they are available. This can dramatically improve both Service Level as well as customer satisfaction. Supervisors can easily ask on-call agents to field calls from queues that are over-burdened or add existing agents to additional ring groups on the fly to handle increased loads.