Keeping AI models accurate and adaptable is a challenge worth solving.
Many customer experience (CX) professionals appreciate the multi-dimensional value of artificial intelligence (AI) and its effectiveness at lowering resolution costs while increasing customer satisfaction (CSAT) scores. AI with machine-learning (ML) drives smarter, faster, and better contact centers, so it's important to know how to operationalize it for long-term success.
AI models power a system that learns from high-quality data. These are initially curated data sets, which include important business details like product names, terminologies, customer intent, and speech patterns. The accuracy of AI models depends on the completeness of training data, which is not static and must consider the variability of the business environment. 
The variants of change—which can include extending product lines, new markets, or disruptive world events, such as COVID-19 – impact AI accuracy. Sometimes, the inaccuracies may seem minor at first, but if left alone, can harm the customer experience and consequently brand reputation.
However, the far-reaching benefits of AI mean accuracy challenges are certainly worth solving. The solutions too should also be cost-effective.
Improving AI accuracy through continuous and incremental training.
Enterprise business models require operational processes to be well-oiled assembly lines. For the contact center, this means providing superior customer service at a sustainable cost. 
The use of AI-powered tools—like chatbots, virtual agents, and agent assistance—empower contact centers to set new customer experience standards in a cost-efficient manner by reducing the time it takes to resolve queries.   
But improving the accuracy of AI models needs to be baked into the way contact centers operate. Taking a leaf out of the IKEA lean management playbook, AI models will benefit more from small and incremental fine-tuning rather than larger-scale sea changes when problems are more prominent. This provides a systematic method that defuses early-stage issues before they occur more frequently and become more costly to fix.
Labeling data needs human action, but not a task for data scientists.
Businesses that can combine human intelligence and adaptability with AI and ML models will withstand disruption more easily, however big or small the impact. But the noise around big data has drawn plenty of attention to the role of data scientists and their skill sets to make AI successful.
Indeed, many AI tools are designed only to make it possible for such highly specialized experts to manage reliable output. And training AI models is historically the responsibility of data scientists.
But data scientists rarely work continuously, working rather in bursts when significant performance gaps demand their attention. They are a scarce community of experts, which justifies the high labor cost of their services. Moreover, many tasks related to training AI models require labeling data, which for a data scientist is a job they would rather not have to do.
Elevating the role of customer service agents to train AI models.
The most appropriate people to train AI models are those who know their business best. These professionals understand the problems their customers face and easily recognize the solutions. Customer service agents are often overlooked as staff who can offer multi-disciplinary skills and drive the adoption of new technology.
Agents have domain expertise, patience, and the desire to do more 'higher-order' tasks in the contact center. They require a solution that offers a non-technical way to train AI models.
Introducing the first no-code AI model training tool.
Talkdesk offers AI Trainer™—a human in the loop system (HITL) that operates within the data loop of the contact center. 
AI Trainer allows non-technical customer service staff, such as contact center agents and supervisors, with domain knowledge to train AI models, powering tools like chatbots, virtual agents, and agent assistance.
AI Trainer provides a quality assurance method ("agreement") that ensures supervisors and managers accept appropriate training data. The approval workflow helps supervisors to quickly review and feed new training data to the models. 
AI Trainer is an out-of-the-box solution that is easy to manage and integrate with the contact center conversational loop. This solution eliminates IT dependencies when troubleshooting accuracy problems and reduces call-out costs with data scientists.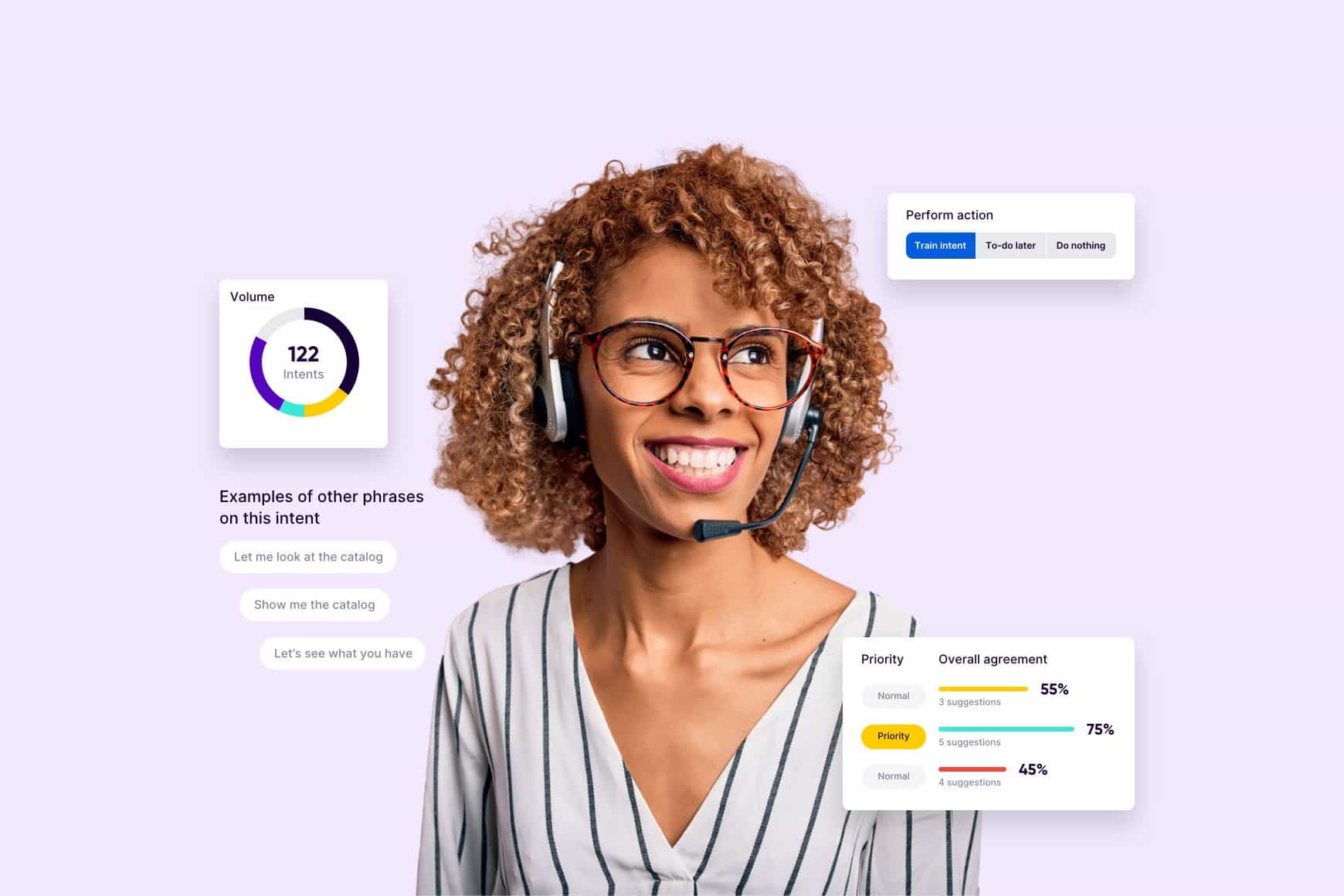 Learn more about how AI Trainer can help your contact center.
Please wait while we validate your privacy settings.