As the most popular messaging app in the majority of the world, and a close second to parent company's Facebook Messenger in the U.S., WhatsApp integration is key to the long-term success of any business. Users have flocked to WhatsApp for its end-to-end encryption security and simplicity for the user — despite having fewer capabilities that its competition. In fact, Business Insider suggested in a 2016 article that WhatsApp lack of bells and whistles works to its advantage in developing markets where data is expensive as it consumes a smaller portion of users' data plans. Evidence shown in the map below suggests that simplicity may be king in the messaging app market. With this level of ubiquity and widespread usage, the integration of WhatsApp Business is vital for providers of customer service, and customer service solutions.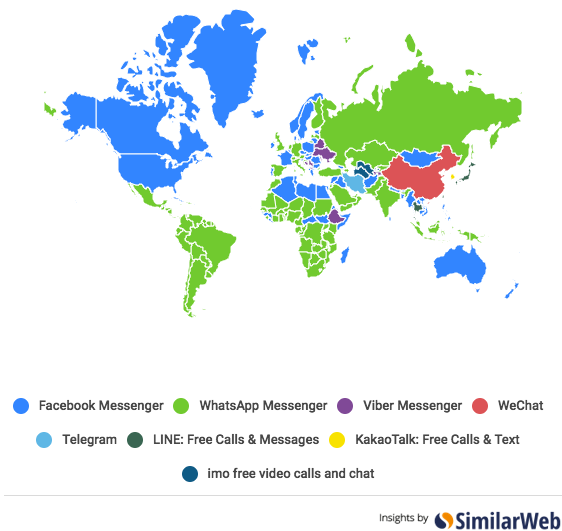 Based on consumer usage alone, businesses will be boarding the bandwagon and WhatsApp is already making it free and easy for them — provided they meet WhatsApp standards. According to CNBC, companies can use WhatsApp's chat function for free as long as they reply to the customer within 24 hours.
"With the recent WhatsApp Business API announcement, companies can now work with Talkdesk to open a customer care channel on WhatsApp," said Tiago Paiva, CEO of Talkdesk. "They can deploy an AI chatbot in WhatsApp to address their frequently asked questions, authenticate customers and decrease their overall human time invested in customer engagement. We are excited to demonstrate the WhatsApp integrations and use cases to businesses starting today."
WhatsApp Business enables customers to connect directly with a company to request helpful information, start a conversation with a click-to-chat button or get real-time support. These functions are immediately available through Talkdesk's integration, including any future additions and updates. Contact us today to learn more about Talkdesk's integration with WhatsApp.